The ceremonial handover of the 5,000th drum cutter unit from Erkat – part of the Epiroc construction tools division – cutter unit has taken place at the Passau, Germany, headquarters of construction machinery supplier Beutlhauser Group.
It was attended by deputy regional manager Günther Wallner, Epiroc sales representative Manfred Weppert and Erkat expert Ralf Schumann.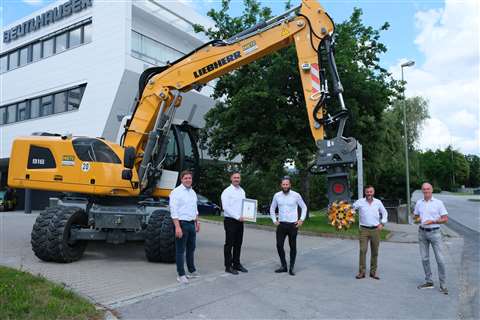 It was the ER 650- 3 model that shone in gold to mark the occasion
The ER 650-3 for the excavator weight classes from 15 to 28 t and with a nominal power output of 80 kW is described as a real all-rounder cutter unit. It is used in channel construction, for demolition work, in tunnel construction and special civil engineering, as well as underwater work. Its supporting bracket can be mechanically rotated.
It can also be used under water to depths of up to 30 m (102 ft) completely without modifications. It can tear up individual iron reinforcements up to a thickness of 12 mm (0.5 in) and has a rock strength of up to 60 MPa.
The pick box comes complete with wear-resistant and replaceable wear bushing.The easy replacement of the cutting heads means that conversion to a stump grinder or profiling cutter is possible.
In addition to the ER 650-3, the ER 1500, ER 50 and a wide range of Epiroc attachments including hydraulic hammers, demolition shears and grippers, are part of the Beutlhauser product range.