Once in a generation – Delta Group takes down Australia's iconic Hazelwood power station for client Engie
D&RI: What attracted you to the Hazelwood project?

Bartek Kogutowski, project manager: As the world transitions to a clean energy future Delta Group aspires to be at the forefront of generational change and the Hazelwood Mine & Power Station Demolition Project represented a once in a generation project.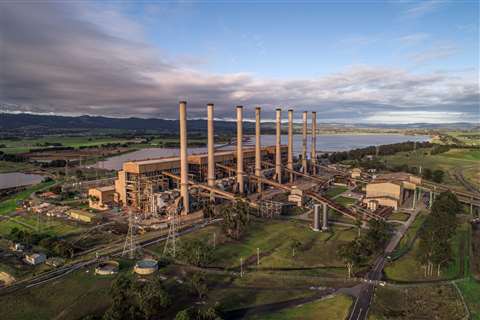 It offered us a rare opportunity to combine the experience we have acquired during more than 30 years in high-risk demolition works across Australasia, with a carefully integrated works programme involving our demolition, recycling, environmental, civil construction and heavy plant hire contracting services.
What were the major technical challenges involved?
Delta Group faced – and continues to face – several critical technical challenges following contract award in late 2018, including asbestos contaminated materials throughout the plant.
There were also severely compromised concrete chimney stack structures, which meant a one-off explosive demolition event was deemed the safest possible option. We applied engineered cut designs and fell techniques to minimise dust resulting from the fells that mirrored detailed wind and weather modelling conducted over 18 months to two years.
Located within 140 m (460 ft) of the fell zone is a critical piece of live infrastructure for the Australian electricity network that represented more than 30% of all electricity to the State of Victoria as well as a vital interconnector for Australia's vast eastern, central and Western electricity grids. Detailed computer-generated analysis of the combined 24,000 t plus stack fells within 140 m of live operational assets was carried out to ensure we did not compromise either the HSCC structure and adjacent switch yard.
The latest stage of the project involved the felling of the power station's iconic chimney stacks. What else had you done on the site before that?
We processed and recycling of more than 32,000 t of steel (with up to 100,000 t left to salvage); demolished 24 precipitators of 400 t each; four 15 m (49 ft) transfer houses and four boiler house coal handling rising conveyors.
In addition, the project called for the removal of more than 20,000 sq m (215,000 sq ft) of asbestos cladding, as well as 7,000 cu m (75,000 sq ft) of asbestos contaminated waste, and the installation of two 500 m (1,640 ft) long dust suppression water lines that were specific to the stack fells.
Other requirements included the construction and management of an onsite asbestos containment cell and the dismantling and demolition of four out of a total of eight steam turbines and the surrounding turbine hall structure.
Finally, we had to deconstruct and demolish the adjacent mine infrastructure, including 11,000 t of steel, 9,000 t of concrete, tripper stackers, slew conveyors and conveyor lines.
How big a problem was the asbestos in the chimneys and how did you make sure this was handled safely?
Asbestos was and remains a critical project issue that requires significant and ongoing risk reviews, planning and engineering.
According to independent engineering assessments, the volume ratio of bonded non-friable asbestos in each chimney was 0.0065%.
Asbestos in each chimney stack was also inaccessible as it had been poured in-situ of the concrete when they were built in the early 1960s.
While the ratio was considered a very low risk, the seriousness of ensuring this risk relating to exposure to onsite workers and the surrounding community was treated with the utmost importance and was not to be compromised in our planning.
The proximity of the Morwell and Churchill townships and their residents were a stimulus in this planning, which also included what we believe to be one of the world's first deep dive studies into dust plume modelling of such an explosive demolition event.
In the course of 18 to 24 months and stretching back as far as publicly available wind and weather data would allow, ERM Australia undertook a detailed study using Calpuff software to ensure our designs and methods for the fells event did not expose the local community, workers or adjoining business' to any identified risk.
In strict accordance with Australian law an independent occupational hygienist was engaged to ensure our modelling was accurate, using an onsite NATA (National Association of Testing Authorities) Accredited Laboratory for asbestos analysis and a team of 10 highly skilled, qualified and experienced hygienists drawing results from 125 air monitoring stations that were strategically placed around the site.
Our detailed planning, wind and weather modelling combined and custom-built dust suppression achieved a safe and successful outcome.
The project's Independent occupational hygienist, together with local Victoria government regulators confirmed our success by officially declaring that all asbestos monitoring results for the blast event were within the legislated limits.
Almost 50 organisations have been involved with the project to date.
Where does the job fit into your overall portfolio, in terms of size and difficulty?
Hazelwood is the largest ever project of its type to be carried out in the southern hemisphere and, as such, represents our largest project we have been involved in so far.
To carry out a project of this size has involved some of our most significant engineering challenges.
Our experience in high risk works and site preparation services allowed us to apply lessons learned from hundreds of past urban and industrial projects.
What impact did the Coronavirus pandemic have on how you approached the project in recent months?
Australia, like the rest of the world, continues to deal with the severe impacts of Covid-19.
Our team updated policies and procedures in line with government advice and regulations to protect the health and wellbeing of our people as well as our business.
One of the greatest challenges was ensuring the delivery, workmanship, standards and skillset of our international subcontractors weren't compromised as a result of restraints on international travel.
With this challenge a key driver, our delivery team made the necessary adjustments to the organisational structure, introduced modern communication technology and procured the highest skilled local staff to fill the gaps created by international Covid-19 restrictions and ensured the successful delivery of the works, as planned and proposed.
How many man hours have you committed to this? What equipment did you use?
We are fast approaching half a million work hours, with more than 900,000 work hours forecast for the project overall. A host of specialist equipment continues to be deployed to site – the majority of which is Delta owned and operated, for example:
excavators – 130 t, 120 t and 70 t long reach, 87 t, 70 t, 65 t, 47 t, 35 t, 20 t and mini
dump trucks – 50 t
water cart
Bobcats and forklifts
travel tower – 60 m
Manitous
boom/scissor lifts – 19ft, 130 ft
gantry cranes – 100t
crawler cranes – 150t.
What else is left to do on the site?
While the explosive demolition of the Hazelwood concrete chimney stacks attracted international attention, it was one milestone in the three-year programme and there is still much to do until we successfully deliver the project for Engie.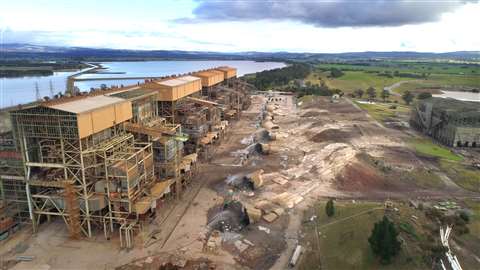 Particularly, there is up to 100,000 t of steel to process and recycle as well as more than 200,000 t of concrete, which will be crushed and screened onsite using specialist Delta Group mobile plant from our dedicated recycling division.
The works continue on a range of fronts, including the explosive felling and processing of four boiler houses and coal bunker annexes. Each boiler house contains two 1,800 t hanging boilers, is approximately 65 m (213 ft) in height and has a total footprint of approximately 6,000 sq m (64.500 sq ft).
Also there is the explosive felling of four bucket-wheel dredgers up to a weight of approximately 2,000 t; demolition of the remaining four steam turbines and associated turbine hall; structural modification and strengthening works to a three-level critical infrastructure asset which is currently dependent of the turbine hall.
The 30,000 t reinforced concrete coal bunker needs to be demolished, as do all assets in the open cast mine, and we need to safely remove all the remaining asbestos containing materials from the site.
Article first published in the June-July issue of Demolition & Recycling International