BIM software shows the future
Few would deny that construction has fallen well behind other industries that have adopted technology and used it to boost their own productivity levels.
Take large-scale manufacturing, where production lines are now routinely 'manned' by robots; they can perform relatively complex tasks with ease – and at speeds no human can match.
The difference between manufacturing and construction is that the same process is repeated time and again in manufacturing, a situation that lends itself very well to automation. In construction, every project is unique and comes with its own never-before-seen challenges.
That said, it must also be conceded that there is an inherent reluctance to change the way things are done in construction – and it is becoming clear that technology has answers to some of the biggest productivity questions found in the industry.
Could BIM (building information modelling) be the answer? It is a prime example of how, without making too big a leap – at least in terms of the job site – a host of benefits can be gained at every stage of a major project.
As the name suggests, building information modelling begins with the creation of a three-dimensional virtual model of a proposed structure.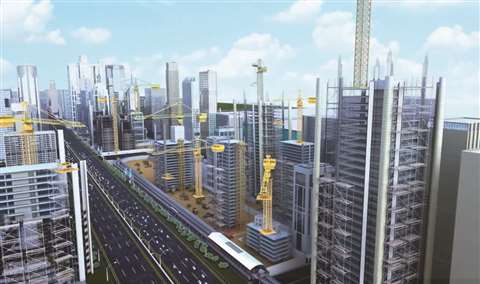 This is the first advantage as, when it comes to tendering, a BIM model demonstrates that a contractor has the requisite technological know-how to deliver a project in a timely and efficient manner. In other words, it breeds confidence.
It also shows with great accuracy the materials that will be necessary for the build and can accurately forecast the total cost, both in material terms and manpower.
Practical applications of BIM in construction
The German company TÜV SÜD provides integrated services for planning, building and operating infrastructure projects. It has been offering its clients BIM services for a number of years and insists it is now the backbone of any serious project.
Tobias Schmidt, the company's senior BIM consultant, says the cost and time of construction can now be monitored in real time, to ensure that the building is built within the planned budget and to a concrete timescale.
He says his company can not only design structures using digital technology, but can also optimise it and simulate their lifecycle.
Regarding the wider potential of the technology, he says, "In BIM we see the first approach to make cities smarter and more innovative. In former times we needed to program simulations towards energy efficiency, which costs a lot of money and was very time intensive.
"BIM allows us to understand the design effects of a building, or infrastructure. I can say that, if you use BIM at the design phase, for sure, you will have a much faster project. We have seen time savings from a few weeks up to two months."
Another key benefit of using BIM is clash detection. A clash occurs when components within a built asset are not spatially coordinated and conflict with each other; in other words, they are found to occupy the same space, or one component in some way interferes with another's operation.
Clashes detected within the virtual BIM design can be simply resolved, without the need to hold up construction, waste valuable resources or incur the expense of purchasing replacement components or materials.
Of course, clashes should not occur in modern construction. However, as a project moves from architectural design, through structural, environmental, mechanical and electrical engineering, to the construction itself, there are many opportunities for errors to creep in.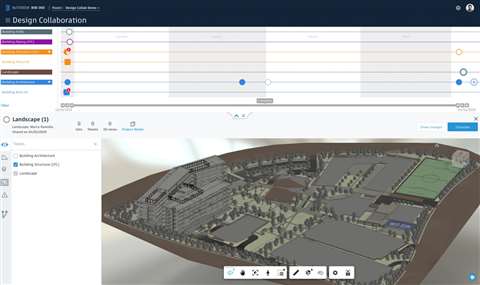 These opportunities can be drastically reduced when all stakeholders are working on and viewing the same structure – as a 3D visualisation – at the same time.
UK-based company NBS provides cloud-based systems that enable architects, engineers and designers to reduce the risk of unfortunate clashes within built structures.
The company says, "In a Level 2 BIM process, a range of federated models are produced and coordinated data drops used to inform a master model. BIM modelling software and BIM integration tools allow designers to check for clashes in their own models and when models are combined."
NBS continues, "Clash detection software is becoming increasingly sophisticated, allowing the user to check for clashes within specific subsets (structural elements against walls, for example) and for these to be flagged on screen."
Impact of Covid-19 on construction technology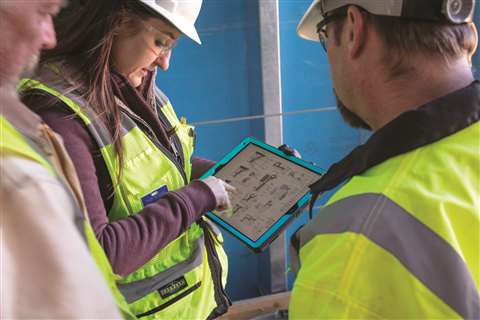 Autodesk is one of the world's leading proponents of BIM technology and recently launched a European data centre to support the increasing popularity of its services – especially its new BIM 360 Design software. According to the company this is now used in more than 150 countries and on some 40,000 projects.
In fact, Autodesk says subscribers to the system have doubled in Europe in the first quarter of this year, and leapt up by around 350% globally since working conditions shifted from the office to home, due to the spread of Covid-19.
BIM 360 Design uses the cloud to allow collaboration between disparate project teams – across architecture, engineering and construction disciplines.
Alex Mortiboys, head of BIM at Dutch architecture firm Office of Metropolitan Architecture, says, "We are always looking to drive efficiency in our design process, so we have put cloud-based collaboration at the core of our practice."
In basic terms, current users of Autodesk's Revit 3D design software can now use BIM 360 Design to effectively manage permissions for all stakeholders in a project, making it much easier – and more secure – to share files across different disciplines and between different organisations, wherever in the world they are working.
Complex construction projects benefit from use of BIM
Nicolas Mangon, vice president of Autodesk's AEC business strategy and marketing, says the exponential growth in BIM 360 Design users over the past two years is an acknowledgment of the, "increasing complexity of projects and the teams working on them."
He adds, "In these unprecedented times, there's a greater need for project continuity and flexibility of teams to stay on track from wherever and whenever they must work."
Topcon Positioning Group is a global construction technology leader, specialising in geospatial solutions through both software and precision measurement hardware.
The company's business development manager for vertical construction, Adam Box, says that while there is still some way to go for the technology to propagate the whole delivery cycle of a construction project, "a number of BIM's key principles are now seen as 'business as usual'."
He says the value BIM has brought to producing well-coordinated, buildable models cannot be argued with. However, he cautions that the industry needs to be aware that, "delivering that value through the construction phase and into asset ownership and maintenance still represents a challenge."
He adds, "Within the delivery space, BIM has yet to realise its full potential. This is evident from the enormous strides being made to bring technology to the construction site to drive use of the BIM data and spatial information. Ensuring that construction data is easily accessible to all and that it remains accurate and current is certainly an area that Topcon is heavily focused on.
"This ranges from helping companies embrace autonomous or assisted construction machines, to offering solutions that provide a near real-time, as-built model as construction takes place – factors that are essential in helping to get the full BIM vision onto the construction site."
Last year, Topcon released the GTL-1000 scanning robotic workstation, which Box says is the kind of tool that can give companies more confidence on their BIM journey.
Box comments that the workstation, "puts everyday as-built verification into the hands of the site engineer." He adds that without this continual verification of the installed geometry, "the value of the 3D model diminishes throughout the project, making it almost impossible to deliver an accurate Building Information Model to the client.
4D modelling for social distancing
Technology puts 'virtual bubbles' around personnel
UK-based contractor Balfour Beatty is using 4D modelling technology to ensure the health and safety of staff working on Junction 3 of the M4 motorway in England.
In simple terms, the models (including a time/scheduling – hence 4D – element) incorporate people with their own 2m-radius 'virtual bubbles' around them; this allows the team to plan socially distanced operations.
When the software highlights a task that requires workers to be in close proximity, the team is given advance warning, allowing them to devise alternative methods of completing the job.
Doka shows its technological form
New solution optimises safety, time, and costs
BIM models are increasingly being used as the basis for formwork planning and, working closely with Autodesk, Doka has taken the step of
launching its own automated planning product, DokaCAD for Revit.
The BIM model of a planned structure requires a detailed representation of the formwork. Doka has established a BIM competence centre, which employs some 50 designers worldwide, working in the fields of planning, visualisation and simulation of formwork solutions.
The plug-in allows automated formwork planning in BIM software, enabling 3D planning using positioning guides and providing access to more than 40,000 model solutions.
Doka says its new solution can optimise safety, time and costs, and includes calculations of required materials.
How BIM kept HS2 on track
Collaboration was key to creating design concept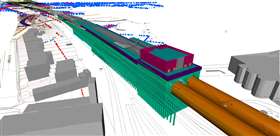 The group developing HS2, a huge rail infrastructure project underway in the UK, is committed to applying global best practices in design and construction and has set strict data and modelling requirements in accordance with Level 2 BIM standards, as mandated by the UK Government.
As part of the project, a joint-venture partnership of Skanska Costain Strabag (SCS) was contracted to perform civil works on a 230km stretch of line, between London and Birmingham.
The first order of business was for the contractors to collaborate with designers to create a conceptual design for 26km of high-speed railway – including 20km of tunnels and several bridges – within a 14-month timeframe.
SCS needed interoperable technology to implement a collaborative BIM strategy to accommodate the existing British railway systems and approximately 6,000 utility assets, as well as to coordinate a geographically dispersed, multidiscipline team.
The group initially created a content plan to define the model structure, starting with the asset to be added to the model, and then the elements to be incorporated.
The contractors and designers created a library of components, which they shared via the cloud-based ProjectWise and OpenBuildings Designer solutions developed by Bentley Systems.
Using these products, plus Bentley's AssetWise software, the SCS team established a common data environment, which they were able to share with other stakeholders, including Network Rail, London Underground and Crossrail.
With this data library in one location, the team established effective workflows and the custom component library ensured all elements were identical and enabled certifying consistency and accuracy for estimates, planning, constructability, and safety.
The SCS team has estimated that using Bentley's applications to implement this collaborative BIM strategy has brought about a reduction in design time of 50%, a 75% reduction in resources, a 30% reduction in planning time and early error detection, saving up to €1.1 million (US$1.3 million).