Holzer adds Hyundai A-Series machine
By Leila Steed03 September 2020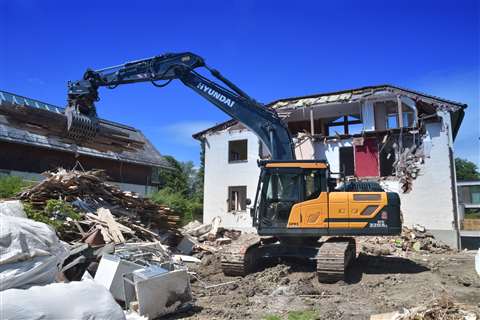 German civil engineering and demolition company Holzer Erdbau has taken delivery of a new Hyundai A-Series excavator.
The tracked HX220AL model has an operating weight of 22.1 and a maximum digging reach of 9.9 m (32 ft 6 in). The excavator also features a Cummins B6.7 engine and is Stage V compliant with Hyundai's all-in-one exhaust aftertreatment incorporated.
Jakob Holzer, owner of Holzer, said: "When it was time to get our next heavy-line excavator for demolition and civil engineering work, we had no doubt that we wanted to invest in the latest generation of machines from Hyundai – the A-series."
The HX220AL machine, which also includes the manufacturer's Electric Positive Flow Control (EPFC) and Eco Guidance for improved fuel consumption and efficiency, was purchased from dealer Fischer u Schweiger in Zusmarshausen, Germany.
Georg Schweiger, managing director of Fischer u Schweiger, said: "Construction equipment is at a very similar high-quality level, so service, support and quick help when there is a problem are very important. We know that many of our customers, like Jakob Holzer, do not have a stand-by machine at their disposal. This makes it all the more important for us to always keep the excavator at the highest level of availability."