Middle East: A perfect storm of headwinds
Prior to the onset of the Covid-19 pandemic, the Middle East was one of the fastest growing areas of the world economically. Currently, the region not only faces considerable economic impact as a result of the disease, it must also contend with a perfect storm of headwinds that include a weak oil market and contracting non-oil sectors.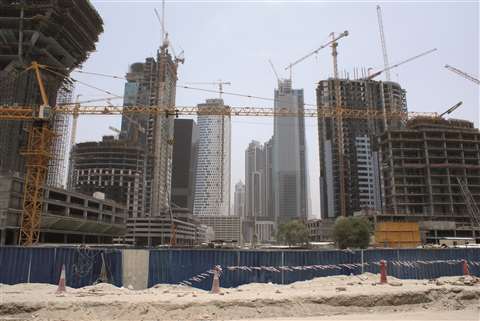 "The oil price is the main factor and Covid-19 is the second main factor affecting the market," states Gaby Rhayem, regional director Middle East and Africa for Doosan Bobcat EMEA. "The regional economy is driven by oil. Oil is less than $50 a barrel which means no new projects, no investments, and projects reduced only to ensuring they get finished."
In illustration of these troubles, data and analytics firm GlobalData has cut its construction output growth 2020 forecast for the Middle East and North Africa (MENA) region to -2.4%, down from its previous forecast of 1.4%.
"Construction activity for the remainder of 2020 is set to see poor performance," states Yasmine Ghozzi, economist at GlobalData.
"While there is usually weak construction activity in the holy month of Ramadan and during the hot summer months of June, July and August, this is usually compensated by strong performance at the beginning and end of the year. This will not be the case this year due to the strict lockdown policies that extended until the end of May."
Looking forward, the sector is expected to see a slow recovery in 2021, but the pace will be uneven across countries in the region.
"Fiscal deficits and public debt levels will be substantially higher in 2021," Ghozzi continues. "Fiscal consolidation will hinder non-oil growth across the region, where governments still play a considerable role in spurring domestic demand."
In addition to this, public investment is expected to be moderate at best, translating into fewer prospects for private sector businesses to grow, such as infrastructure.
Worsening struggles for UAE
Even without the onset of the Covid-19 pandemic, the construction sector in the UAE had been struggling due to project delays and cost overruns, not to mention a tepid adoption of technology. Those challenges have now been exacerbated by the effects of the coronavirus on this country's workforce.
Home to the international city of Dubai, the government of the UAE classified construction as a critical work sector at the outset of the pandemic, but there were many projects that had to be suspended or even cancelled due to preventive measures intended to protect workers.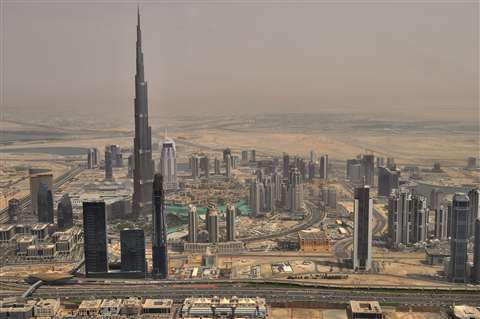 According to a report from MEED Middle East Business Intelligence, the UAE initiated a nationwide disinfection campaign on 26 March, with strict curfews in place.
The UAE's construction industry was one of the few sectors exempted from the lockdown during the nationwide sterilisation campaign. Project sites remained active, although operations were not spared from disruptions due to the virus with some countries in the Middle East still totally or partially under lockdown.
"Before the real impact of Covid-19 was felt, we already found ourselves in a construction industry that was under tremendous pressure due to a lack of cash in the system," Sean McQue, director of construction at UAE contractor Alec, was quoted as saying in the MEED report.
"Businesses were unable to perform and deliver as they were carrying extensive legacy issues caused by non-payment for works they had already executed. The effects of Covid-19 have exacerbated this problem."
The tradition of bidding at unrealistically low prices to win work leaves little margin to accommodate unexpected challenges down the line, McQue states. Contractors now find themselves struggling to absorb costs and fulfillment burdens.
The economic slowdown has added strain on financial resources, including government spending for major infrastructure schemes, resulting in increased pressure around payments and cash flow.
"On the back of what was an already shrinking market, the current Covid-19 situation, along with lower oil prices, is resulting in a low level of new project opportunities for designers and contractors, which is likely to lead to reduced volumes of work over the coming 12 to 24 months," Jason Sams, construction divisional manager at UAE-based contractor Khansaheb was quoted as saying in the MEED report.
"The low-price strategy being seen across the market is placing pressure on key parts of the supply chain, causing instability and unreliability, particularly financial, on resources and overseas procurement."
According to GlobalData's Covid-19 Sector Impact review, the UAE construction sector posted growth of 3.3% in real terms in 2019, and was expected to grow by 4.3% in 2020, driven by government initiatives. However, following the Covid-19 outbreak and subsequent drop in oil prices, the firm now expects construction output to contract by 1.9% in 2020 with a recovery to 3.8% in 2021.
US-based McKinsey Global Institute makes a similar prediction. "If things go well, construction activity could be back to pre-crisis levels by early 2021," says Ghassan Ziadat, vice president of major projects at McKinsey & Company. "But longer-term lockdowns could mean it takes until 2024 or even later."
Saudi Arabian giga-projects
The Kingdom of Saudi Arabia's government implemented a 24-hour curfew from 23 March 2020 to help prevent the spread of Covid-19, with only workers in healthcare or critical sectors allowed out of their accommodation at certain times.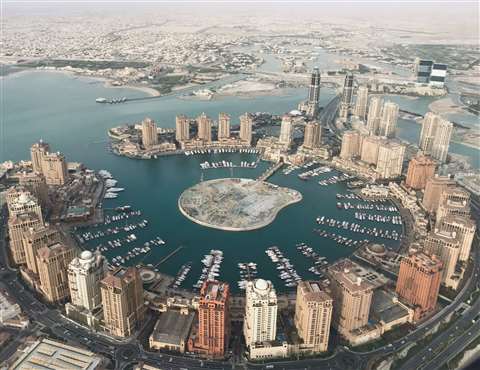 Construction was not deemed to be a critical sector and while some permits were issued to allow essential projects to continue, construction projects were largely suspended.
"Projects have been cancelled or are on hold," notes Doosan Bobcat's Rhayem. "Many investments are postponed or reduced to a strict minimum. We are seeing a big drop in the machinery industry, resulting from the project cancellations."
Not surprisingly, GlobalData has cut its forecast for construction output growth in Saudi Arabia to -1.8% from its previous forecast of 2.9% in 2020, but expects a recovery of around 3.3% in 2021.
At the start of this year, a series of government-backed 'giga-projects' were ready to move into their construction phase. These included the US$500 billion Neom future city project as well as a series of tourism developments.
These projects were in addition to a raft of major government infrastructure schemes including roads, airports and railways, which were ready to start moving into construction.
The commencement of these projects were put into doubt when the Organization of the Petroleum Exporting Countries (OPEC) and its non-OPEC allies failed to reach an agreement on oil production cuts as global demand weakened due to measures to contain the spread of the virus.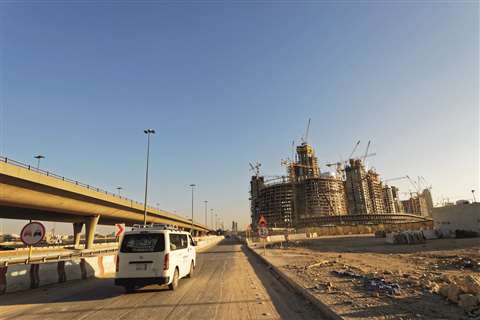 However, it was recently reported that Saudi Arabia's Red Sea Development Company (TRSDC) is preparing to award a further SR3.5 billion (US$933 million) of contracts by the end of the year on its Red Sea Tourism Project.
"Construction companies in the Gulf have been eagerly waiting for the next generation of Saudi projects to move into the construction phase since they were launched in 2017," notes Colin Foreman at MEED.
"In the years that followed, as those project delivery teams prepared masterplans and designs and appointed consultants, contractors that were desperate for new work felt frustrated by the lack of progress on site. In 2020, the lesson to learn is that developing large master-planned projects is a marathon not a sprint."
The TRSDC has already awarded about US$1.25 billion of work on its project so far, and by the end of this year, it intends to award another US$1 billion in contracts, according to reports.
Smaller Middle East players face struggles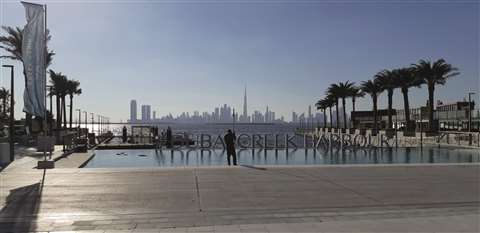 Smaller countries in the Middle East have not been spared the ravages of challenges similar to those faced by their bigger brethren.
"GlobalData has cut further the growth rates for Qatar, Kuwait and Oman in 2020 to -3.4%, -7.8% and -8.1%, respectively," Ghozzi says. "Qatar's economy this year will be affected by decline in tourist arrivals, low consumer spending and low oil prices. Nevertheless, strong fiscal stimulus and spending on infrastructure projects should provide support.
"The negative outlook for Kuwait is weighed down by lower oil prices and the prospect of a higher fiscal deficit, possibly compromising the government's capital spending on construction and infrastructure," she adds.
"Business unfriendliness constitutes a barrier to reforms in the Kuwaiti economy; the extensions in tenders' deadlines compounded by an inflexible bureaucratic procurement setup that slows decision-making will delay progress for several Kuwaiti megaprojects."
Meanwhile, Iran's construction sector has a bleak outlook. A slowdown in economic activity caused by the pandemic and a possible wave of further US sanctions (in the event Trump wins a second term) suggest a drastic effect on construction activities and a continued negative impact on the economy.
It's impossible to predict the long-term effect that current circumstances will have on construction in the Middle East. With many governments in the region indicating their desire to push on with planned projects, not only to deliver on commitments already made, but also to provide necessary stimulus to the wider economy, the way of delivering such projects will likely be far removed from how they had been conceptualised.
Forecasters within the region are generally predicting that construction costs will fall on any new projects that start in the near term. With current restrictions and social distancing measures predicted to continue for the foreseeable future, however, it's difficult to see how costs calculated against productivity under the traditional way of doing business can fall under the current circumstances.
UAE construction giants consider merger
New entity will be one of the largest oil and gas and marine services companies
Two of Abu Dhabi's largest contractors, National Petroleum Construction (NPCC) and National Marine Dredging (NMDC) are reportedly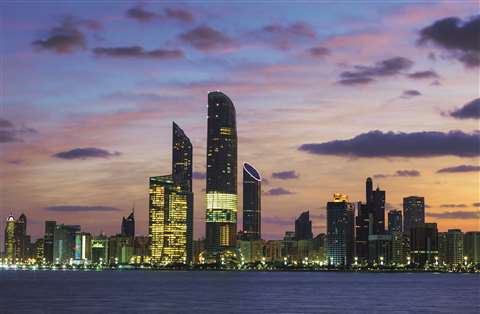 considering a merger.
Under the proposal, Senaat – NPCC's largest shareholder – and other minority shareholders of NPCC would transfer the company's entire issued share capital to NMDC. In return, NMDC would issue to Senaat and the other shareholders an arrangement convertible into 575,000,000 ordinary shares in the combined group upon closure, valued at US$1.19 per share.
The new entity will be one of the largest oil and gas and marine services companies in the Middle East, with combined revenues of approximately US$2.4 billion.
The deal could close toward the end of this year, subject to regulatory approvals.
EXPO 2020 Dubai postponed to 2021
Construction costs have been estimated at around US$7 billion so far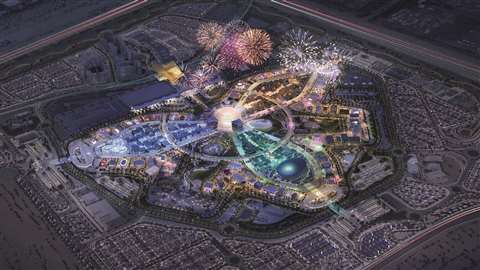 Expo 2020 Dubai in the UAE has been postponed for a year due to the impact of Covid-19 and is now slated to take place between 1 October 2021 and 31 March 2022.
The event, which was expected to attract some 25 million visitors, 70% of whom were coming from outside the UAE, was originally planned to start on 20 October, 2020.
The global event is meant to be a celebration of the UAE Vision 2021 through support for the growth of tourism, the development of innovative businesses in the UAE, and enhancement of the country's international reputation as a location to do business.
There were to be more than 200 participants including nations, multi-lateral organisations, businesses, and educational institutions, according to the organisers. Some 192 countries had confirmed their participation.
The deferment is expected to have a significant impact on the UAE economy and on workers involved in a wide range of projects related to the fair. Expo construction costs have been estimated at around US$7 billion so far.