HSC delivers for Cluysenaar
By Alex Dahm25 November 2020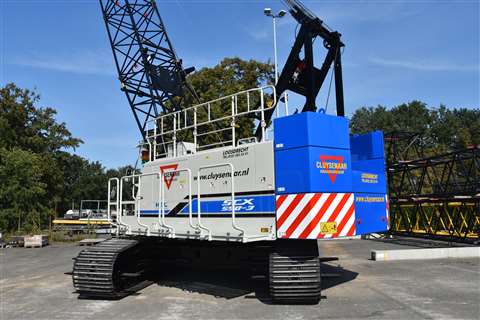 Dutch customer Cluysenaar Kraanverhuur was the first in Europe to receive an SCX550-3 crawler crane with EU Stage V engine.
Sumitomo Heavy Industries Construction Cranes (HSC) built the 55 tonne capacity lattice boom crawler. At the end of September it was supplied by HSC distributor Hitachi Construction Machinery Netherlands (HCME).
Cluysenaar has been renting out crawler cranes since the company was founded in 1979. Including the latest addition the fleet is now seven crawler cranes. One is a Hitachi KH230-3 and there is a Hitachi Sumitomo SCX550E. Customers want tough and reliable machines but requests are also increasing for cranes to meet higher exhaust emission standards.
The new crane was ordered with the full main boom of 49 metres. It is also possible to use the 6 metre jib Cluysenaar already had. The longest jib available is 15 metres and it is mounted at a fixed angle of 10 or 30 degrees.
Power is from a 138 kW four-cylinder Hino J05E-VB diesel engine to comply with EU Stage V exhaust emissions.
The SCX550-3 was put straight to work on a job in Lelystad, lifting precast concrete elements for new houses. Configured with a 37 metre boom the crane was lifting parts weighing up to 6 tonnes. Cluysenaar used its own Iveco tractor and trailer to transport boom sections to the site. One load was a 9 metre and a 3 metre section together, with two connected at 6 metres on top.
To move the basic machine a 3 metre boom section was left on between the bottom boom and the head. This unit, with catwalks and hand rails, weighs 56.4 tonnes, with all the ballast left on. It is okay to do this in the Netherlands, HSC said.
Dismantling the counterweight to transport the base machine with only the boom (no boom head) reduces the weight to 35.2 tonnes. Total counterweight is 18.6 tonnes, in two basic parts with a block on top each side. The 8.7 tonne baseplate has the 6.4 tonne second part on top. With counterweight assembled the crane is 3.2 metres wide and tail swing is 3,850 mm.
Transport dimensions are a maximum width of 3,350 mm and height of 3,250 mm. The length is 10,900 mm. Chamfered 885 mm wide track shoes were fitted for low ground pressure and reduced damage to hard ground surfaces. As standard the SCX550-3 has two Eco hoisting winches with 63.7 kN line pull and a free fall mode. These and the Auto-Idle / Auto-Stop function help improve fuel efficiency.
An Orlaco camera in the head of the boom was specified to give the operator an even better view of the load.