All Aircraft & Shipbuilding Articles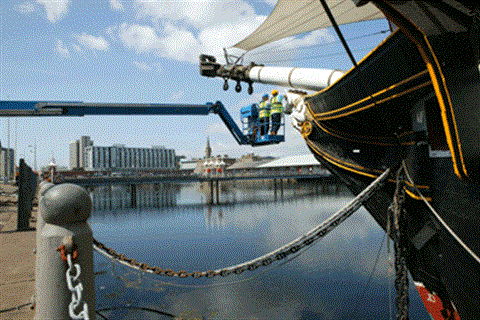 The world's sixth oldest ship has been fitted with a striking unicorn figurehead put in position from a Genie S45 boom lift supplied by UK rental company Nationwide Platforms.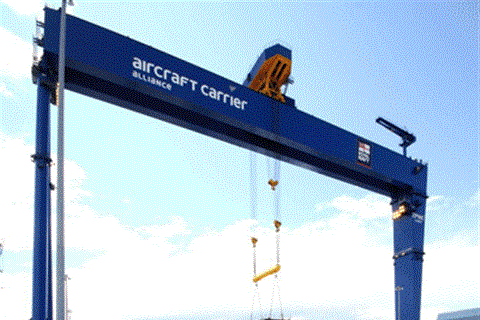 The new 1,000 tonne capacity gantry crane at the Rosyth Dockyard in Scotland, UK, has been assembled and is undergoing load testing prior to starting work in September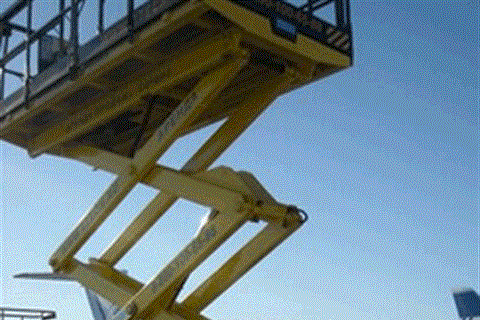 Russian access dealer and rental company, LTECH-Lifting Technology, has supplied an Airo SF920 E 2E self-propelled electric scissor lift to the airline carrier Volga-Dnepr. Volga-Dnepr specialises in transporting oversize and heavy cargo.
Heavy transport and lifting company ALE based in the UK has been awarded its largest contract to date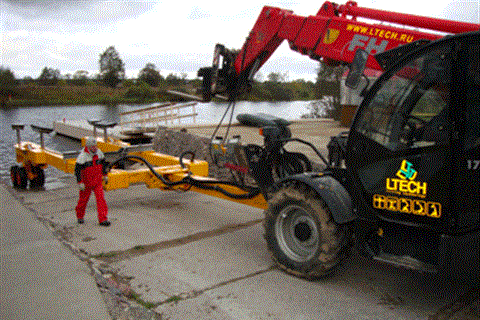 A prestigious yacht club near Moscow approached Ltech with an unusual challenge. The FordeWind Yacht club wanted Ltech to convert a Faresin FH17.40 telehandler into a hauler for a special boat transporter trailer.
When the Royal Navy says that the historic HMS Victory must be revamped no cost nor effort is spared. The HMS Victory which originates from the 18th century is the oldest ship in the British naval service. It achieved prominence as Admiral Nelson's flagship in the naval battle of Trafalgar. The Victory can now be visited in Portsmouth in a dry dock at the Historic Dockyards.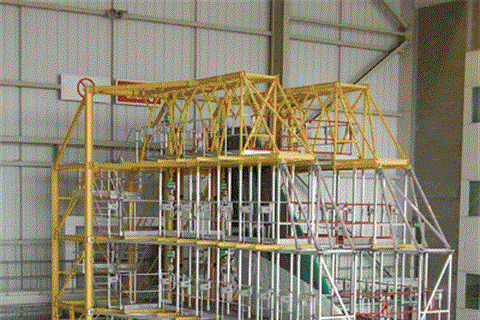 UK based design and engineering company, Semmco has officially launched a specialist access solution for aircraft maintenance. The tail docking system encases the aircraft tail and consists of a series of platforms which allow engineers to work at four height levels from 2.5 m (8 ft) to 9 m (30ft).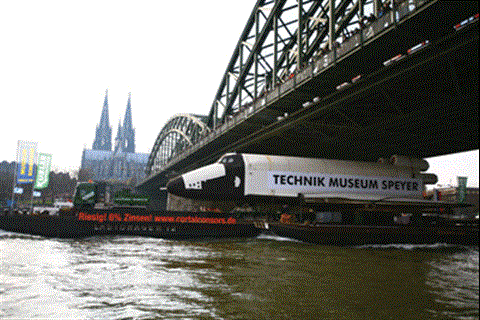 In October 2008 the Technik Museum Speyer in Germany opens a new hall fully dedicated to space travel. Highlight is the Buran, Russia's answer to the US Space Shuttle. Moving the spacecraft over water and land to its new home in the south of Germany, was a major challenge. Heavy transport specialists Kübler tackled the job, as Gino Koster reports
The heavy and specialized transport industry is increasingly challenged to find solutions to carry extreme loads to their destinations. In solving those challenges ingenuity is often the key word. Gino Koster presents some examples on the basis of the ESTA 2008 award winning jobs and other typical entries