All Financial results Articles
Vinci's revenues rose +16,8% last year, compared to 2006 to a total of € 30,4 billion. The company says revenues grew more steeply outside France last year, with a +21,4% rise to € 10,7 billion. This was largely due to a string of acquisitions, including the purchase of Soletanche Bachy, Entrepose Contracting and Nukem by its Construction division.
Bilfinger Berger saw its net profit rise +46% in 2007 to € 134 million. Revenues were up +16% to € 9,22 billion – a new record for the company. Bilfinger Berger also says that its order book is the strongest it has ever been. Over the course of last year it received € 11,3 billion of orders - +13% more than 2006, driving its backlog to € 10,8 billion, +23% higher than it was at the end of 2006.
Holcim's sales increased +12,7% last year to CHF 27,1 billion (€ 16,9 billion). The company's net profit rose +57,2% to CHF 4,5 billion (€2,8 billion), although CHF 1,3 billion (€ 810 million) of this was attributable to the sale of a stake in its South African business.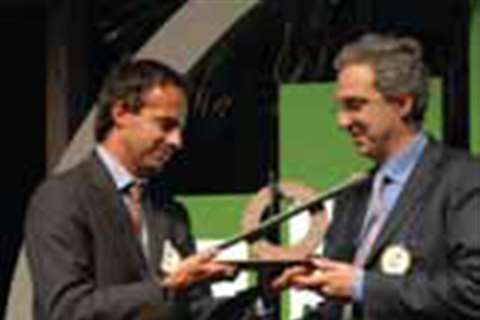 Alexandre Saubot, chief executive officer of the Haulotte Group, is the 2007 'Entrepreneur of the Year' for the Rhône-Alpes area in France. Haulotte's headquarters is located in the region at L'Horme, near Lyon.
Caterpillar enjoyed its best third quarter ever this year, with sales of US$ 11.4 billion and profit of US$ 927 million for the three months ending September 30.
Terex's revenues hit US$ 2.20 billion for the third quarter of the year – a +15% increase on the same period in 2006.
Sales at Terex Cranes were US$ 527 million for the third quarter of the year – a $98 million, or 23% increase on the same period in 2006.