€1.4 billion Russian space race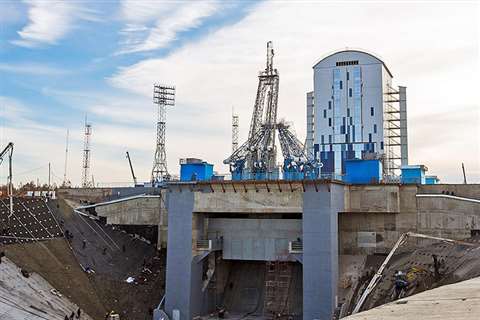 Some of Russia's biggest companies are fighting to win a stage two contract to build Russia's first civilian spaceport.
Estimated to be worth RUB100 billion (€1.4 billion), stage two of the project will see the Vostochny Cosmodrome's major launch infrastructure finally being built. The budget includes a RUB40 billion (€545 million) provision for the building of the Angara super-heavy rocket launch pad.
According to an official spokesman from Russia's space corporation, Roscosmos, some of Russia's largest construction corporations are expected to bid for the government contract. Crocus Group, Strovgazmontazh and OAO Strovtransgaz are all anticipated to submit tender proposals for the government project.
Between them, the companies have worked on some of Russia's biggest construction projects, including the Crimea Bridge, the Far Eastern Federal University and venues for the 2018 World Cup.
After eight years and almost RUB92 billion (€1.3 billion) of investment, work on stage one of the Vostochny Cosmodrome has now been completed.
The cosmodrome is located less than 200km north of the city of Blagoveshchensk in the country's far east region of Amur Oblast.
Russia's President Vladimir Putin signed off on the spaceport in November 2007. However, work on stage one of the cosmodrome did not begin until 2011. According to the Moscow Times the project was further delayed by a series of embezzlement and corruption scandals.
The Russian government will announce the winner of the stage two tender at the end of April.