£1m Kubota order for Michael Colmer
UK rental company Michael Colmer Plant Hire has made its biggest-ever equipment order, investing £1 million (€1.15 million) in a range of Kubota mini excavators.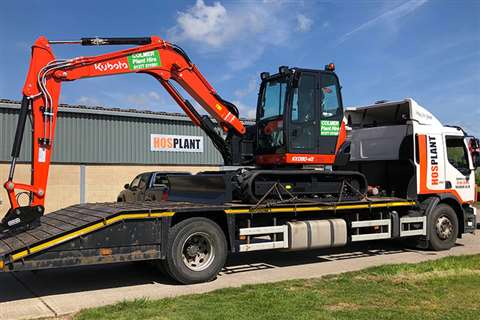 The company's order included Kubota's U10 compact micro zero-tail swing product and its 8 tonne KX080-4a, among others. The machines were supplied by Kubota's dealer Hosplant Sales. Michael Colmer Plant Hire now boasts more than 60 Kubota products in its fleet.
Managing director, Michael Colmer, said, "The construction sector in South East Essex is booming, with huge investment going into building new homes and other key infrastructure projects. In order to ensure we are well placed to meet the needs of our customers, it was essential we bolstered our machinery fleet and I am delighted to have had the final machine delivered as part of our £1 million order in partnership with Hosplant and Kubota.
"We are extremely proud of the business we have created here. Customers come to us because they know we only provide high spec excavators, and by doing this at a price more in line with standard spec machines, it gives us a major advantage over our competition."
Meanwhile, Gary Mold, partner at Hosplant Sales Ltd, added, "Michael Colmer Plant Hire is a business that is going from strength to strength in the construction market. This latest order, the biggest in the firm's history, is testament to the quality of the service it provides."
Michael Colmer is based in south east England, and offers plant and onsite equipment for rental in the UK.