€2 billion road project moves ahead in Norway
By Catrin Jones17 March 2022
The Norwegian Public Roads Administration (NPRA) awarded Sotra Link a NOK19.8 billion (€2 billion) public-private partnership (PPP) contract.
Sotra Link will be responsible for the finance, design, build and operation of the new Sotra Connection.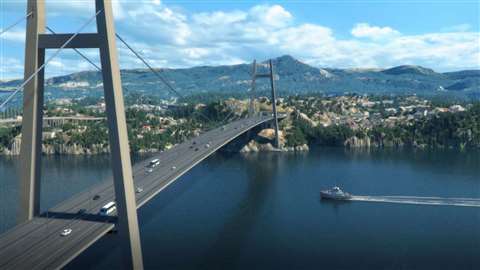 The project, signed last year, will include the construction of a 9.4 km four-lane road between Bergen and the island of Sotra.
Sotra Link will also build a new four-lane suspension bridge of about 900m, with a separate pedestrian and cycle path. 
The entire road system will include 22 bridges, 23 portals and four twin-tube tunnels. It will also feature separate lanes for public transport.
The 11km of road tunnels along the route will include the 950m-long Kolltveit Tunnel, 850m-long Straume Tunnel and 750m-long Knarrvika Tunnel.
Sotra Link - a consortium of Macquarie Capital (70%), South Korean civil engineering company SK ecoplant (20%) and Italian industrial group Webuild (10%) - will be responsible for the operation and maintenance of the link for 25 years after it is opened for traffic in 2027.
The contract is the largest ever entered into by the NPRA and the largest infrastructure contract awarded in the EU in 2021, said the NPRA.
The NPRA estimates that construction time will be five years and the total cost limit for the project is NOK23.1 billion (€2.36 billion) - including the preparatory work that has been undertaken since 2018.
Director General Ingrid Dahl Hovland, who signed the contract on behalf of the NPRA, said, "It was a great pleasure to sign the contract for the new Sotra Connection. Contract value, contract form and complexity are all quite exceptional. We are now looking forward to the construction work really getting started next year."