Accès Industrie acquires Matelev
By Euan Youdale01 October 2018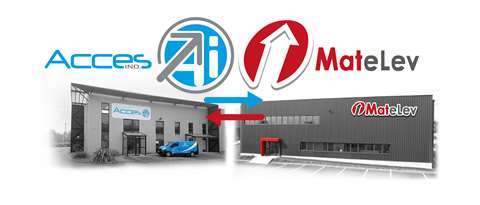 Accès Industrie has acquired fellow France-based lifting and handling rental company Matelev.
Matelev has a fleet of nearly 800 machines and revenue of €7.5 million and specialises in industrial and construction rental and sales in the centre of France.
The buyout comes a year after the majority takeover of Accès Industrie by Parquest Capital, with CM-CIC Investissement and IRDI as minority owners, and the delisting of the company.
With a network of 29 branches, and from last year, a machine sales subsidiary, Accès Industrie Sales, the acquisition enables Accès Industrie to expand its handling equipment range to provide a complete offering to customers.
Former Matelev owners Vincent Robert and Stéphane Thibault will remain with the business, with Metelev effectively becoming the 30th branch of Accès Industrie.
Accès Industrie said the two companies shared the same vision, skills and know-how and was in line with its accelerated growth strategy.
"This first acquisition marks another step in the development project initiated a year ago with the entry of our new shareholders", said Eric Lacombe, Chair of the Board of Accès Industrie, "Since then, we have benefited from new resources to finance an era of sustainable growth that includes the renewal and expansion of our fleet of machines and external growth to integrate new skills."