'Disappointing' earnings for NCC
By Thomas Allen03 April 2018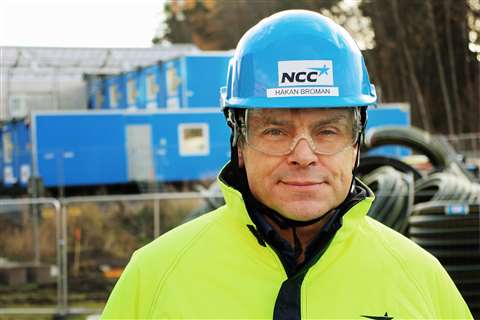 Swedish-based construction company NCC is looking to focus on profitability-enhancing measures after its two largest business areas – building and infrastructure – weighed heavily on the company's 2017 full-year results.
In response to this, NCC has downgraded its growth ambitions, which were stated in the company's strategy launched at the end of 2015.
Total operating profit came to SEK1.242 billion (€120.61 million), down on the SEK1.453 billion (€141.1 million) recorded in 2016. While the operating profit for NCC Building increased from SEK489 million (€47.49 million) in 2016 to SEK515 million (€50.01 million) in 2017, that of NCC Infrastructure took a hit. The business segment made a loss of SEK137 million (€13.3 million), compared to a profit of SEK162 million (€15.73 million) in 2016.
In the third quarter of 2017, an impairment loss of SEK150 million (€14.57 million) was recognised for the Björnegård Tunnel project in Norway. In the fourth quarter, NCC Infrastructure's earnings were charged SEK260 million (€25.25 million) for the revaluation of the ongoing project portfolio.
Total orders received by NCC in 2017 came to SEK56.99 billion (€5.53 billion), just up from SEK56.506 billion (€5.49 billion) the previous year.
Drilling down, orders received by NCC Building were valued at SEK25.092 billion (€2.44 billion), representing a decrease from the SEK28.728 billion (€2.79 billion) achieved in 2016. Meanwhile, the business segment's order backlog stood at SEK29.671 billion (€2.88 billion), slightly up on SEK29.159 billion (€2.83 billion) in 2016.
NCC Infrastructure recorded SEK21.81 billion (€2.12 billion) of orders received, compared to SEK18.664 billion (€1.81 billion) in 2016, and its order backlog came in at SEK19.711 billion (€1.91 billion), up from SEK16.423 billion (€1.59 billion) the year before. These increases were mainly attributed to large-scale infrastructure projects in Sweden. The Swedish market was said to have accounted for 81% of orders received in 2017.
The company's net sales for the year were SEK54.608 billion (€5.3 billion), up on SEK52.934 billion (€5.14 billion) in the previous year. The decrease in NCC Building's net sales from SEK25.681 billion (€2.49 billion) in 2016 to SEK24.727 billion (€2.4 billion) in 2017 was attributed to lower sales from operations in Norway, Denmark and Finland. However, NCC Infrastructure's net sales increased from SEK17.007 billion (€1.65 billion) in 2016 to SEK18.552 billion (€1.8 billion) in 2017. Earth and groundworks, as well as roads, jointly accounted for just over half of NCC Infrastructure's sales.
Håkan Broman, acting president and CEO, said, "Earnings for 2017 were disappointing and lower than in 2016. To reverse this negative trend, we focus considerably on profitability-enhancing measures."
Although NCC's strategy was said to stand firm, its short-term focus is now primarily on improving the operational efficiency of its construction and civil engineering operations.
The outlook for 2018 was said to be generally favourable, with growth of 3% expected over the year in the Nordic construction market.