'Very, very tense' as UK dam suffers partial collapse
By Mike Hayes06 August 2019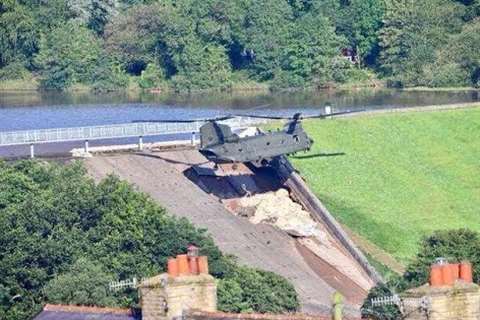 A Chinook helicopter drops aggregate to shore up the damaged dam
A dam in England's Peak District has come dangerously close to total collapse, as excessive water has eroded the spillway, causing concrete ballasts to crumble and fall.
Heavy rains in the Derbyshire region last week caused the water level to rise in the Toddbrook reservoir, before it began cascading over the dam's spillway.
The reservoir holds approximately 1.3 million tonnes of water.
Built in 1831, the dam is an earth-filled construction, with a high concentration of clay. As the clay beneath the dam's outer structure was undermined, the police determined there was an imminent threat of severe flooding in the nearby town of Whaley Bridge and commenced an evacuation of around 1,500 residents.
Meanwhile, engineers brought in 22 pumps to drain water from the reservoir at a rate of 7 tonnes per minute.
A Chinook helicopter was also brought in to drop 400 tonnes of aggregate onto the surrounding watercourses, to prevent further water entering the reservoir.
By Sunday, the water level in the reservoir had been reduced to around 65% of its capacity, but more heavy rain has been forecast for the area.
Deputy chief constable Rachel Swann of Derbyshire Police told the BBC that a multi-agency taskforce had drawn up a plan to address damage to the wall.
"At this time," she said, "the future of the dam wall remains in the balance and I would remind people of the very real danger posed to them should the wall collapse."
Gavin Tomlinson, the fire incident commander, said, "On Thursday night it very nearly went. It was leaking and we were in a situation where we had five times as much water going in than we could take out. We absolutely thought it could fail. It was a very, very tense night."
Member of parliament for the area, Ruth George, said the dam had undergone significant structural repairs a few years ago, but the region had seen "an unprecedented amount of water" in recent days.
BBC science correspondent Rebecca Morelle said engineers should be able to repair the dam, but the work will take months and the police have not, as yet, given residents the all clear to return to their homes.