10 most innovative eco projects in Europe
By Leila Steed13 October 2021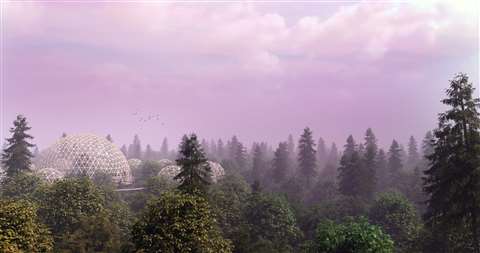 Ten of the most innovative and environmentally friendly buildings and building projects in Europe have been revealed in the run up to COP26.
Part of a virtual reality online exhibtion for the Build Better Now project, which is jointly owned by over 100 partner organisations from across the built environment sector and is being overseen by the UKGBC, the buildings were selected following an international open call for project entries.
UKGBC said the Build Better Now online exhibition would demonstrate "the opportunities for tackling the Climate Emergency and [for] limiting the environmental impact of the buildings and cities we inhabit".
Projects in the exhibition, which is intended to "act as global call for climate action", were chosen by an international judging panel of sustainability experts.
The judges represent organisations such as the Green Building Council of Australia, the German Sustainable Building Council, the Global Green Growth Institute and the World Green Building Council of the Africa Regional Network. 
Julie Hirigoyen, Chief Executive at the UK Green Building Council, said, "With COP26 in November, the world is ready to tackle climate change and the built environment has a crucial part to play. We know why we must accelerate climate action and Build Better Now shows how we can get there."
While the virtual event, which is open to all, will feature a total of 17 green buildings from countries around the world - including Rwanda, Australia, Brazil, Kenya and Indonesia - 10 of them are in Europe. 
10 of the most eco-friendly projects in Europe 2021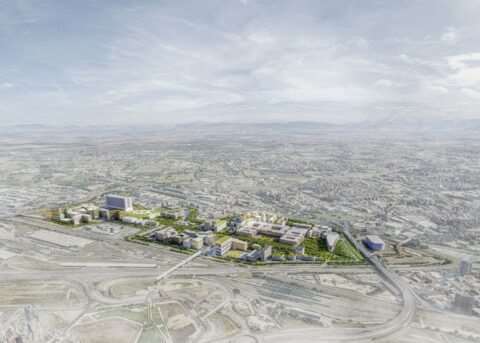 1. Milan Innovation District, Milan, Italy
The biggest project on the list, the Milan Innovation District (MIND) will be built on the former 2015 World Expo site and will provide over one million square metres of space. 
While the wider project involves multiple partners including the Italian Department of Justice, Canada Pension Plan Investment Board and Lendlease have agreed to jointly invest around €400 million for the "development and long-term ownership of approximately 150,000 square metres of the 480,000 square metres that Lendlease has private development rights for". 
Lendlease said, "MIND is planned to be a zero-carbon precinct powered only by renewable energy sources; a private smart grid is being developed on site as well as a next-gen low temperature, high efficiency district heating and cooling network. Renewable electricity will come from a variety of sources including solar panels on site." 
With an "estimated development end value of circa €2.5 billion", MIND will also be home to the new 500-bed IRCSS Galeazzi hospital and Statale University's new campus, which will accommodate more than 18,000 students.
2. The Natural Capital Laboratory, UK
Located in the Scottish Highlands near Loch Ness, this five-project will see the restoration of 100 acres of forest and reintroduction of lost species.
The project is being undertaken by AECOM in partnership with the Lifescape Project, and aims to identify, quantify and value the impacts of re-wilding.
It will see the use of new digital tools such as artificial intelligence (AI), drone technology, automated robot rovers, earth observation data, GIS data and thermal imaging to track the live environment. According to AECOM, the complex data will help tackle both climate change and biodiversity loss. 
3. Bridges of Laminated Timber (BoLT), Amsterdam, Netherlands
A timber bridge concept that is said to embrace circular economy, BoLT was developed by Arup, Schaffitzel and Heijmans following a "request for proposals by Dutch highways agency Rijkswaterstaat".
Arup said, "While timber-concrete composites are being increasingly used on bridge superstructures, BoLT goes a step further by replacing the traditional concrete superstructure with laminated timber. This results in 75% of the superstructure's total weight being a renewable material." 
4. The Hope Rise development, Bristol, UK
Hope Rise is an environmental and socially focused housing development that aims to deliver affordable council housing for young people at risk of being made homeless.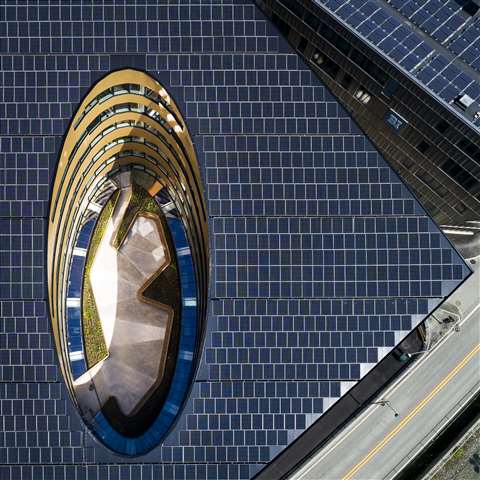 Spearheaded by Bristol City Council and ZED PODS and carried out in partnership with Avie Consulting, Vale Consulting and Below Ground, the development aims to solve the city's housing crisis by rethinking land use and by incorporating green technology to reduce the environmental impact.
Hope Rise comprises one- and two-bedroom zero-carbon modular apartments with solar panels, which have been built on a podium above a car park. 
5. Powerhouse Brattørkaia, Trondheim, Norway
Powerhouse Brattørkaia is an 18,200m2 office building developed by property company Entra, Skanska, environmental organization ZERO, Snøhetta architecture and design office, and consulting company Asplan Viak.
Described as "the biggest new energy-positive building in Norway", the new structure generates more energy in its operations than it consumed through the production of building materials, construction, operation and disposal of the building that once stood in its place.
Incorporating the use of solar energy and other sources of renewable energy, the low energy consumption of the structure means it has an energy-positive impact on the environment. 
6. NCH2050 Homes, Nottingham, UK
Described as a "whole house retrofit" project, housing developer Melius Homes is currently installing energy-reducing facades to 155 homes in Nottingham.
The compay was appointed by Nottingham City Council following a successful 10-house pilot scheme and is using the net zero energy approach developed by Energiesprong, which transforms existing buildings into low energy homes.
It involves the installation of prefabricated facade panels - made of "advanced timber panels" - and renewable energy systems, which form an "external envelope" around a building.
The project is being carried out in partnership with Focus Consultants, Studio Partington, Energiesprong UK, Nottingham Trent University and Lincoln University.
7. Sara Cultural Centre, Skellefteå, Sweden
Made entirely of locally sourced timber from nearby sustainable forests, the Sara Cultural Centre in Skellefteå, in the north east of Sweden, is described as "an international showcase for sustainable design and construction."
The 20-storey high timber skyscraper was designed by White Arkitekter and Florian Kosche and its development was spearhed by Skellefteå Municipality in partnership with HENT AS, K Botnia, WSP, Incoord, Martinssons AB and Derome
Said to be one of the world's tallest timber buildings, removes more than twice the carbon emissions produced by the operational energy it uses and the embodied carbon from the production and transport of the materials used to construct it.
8. TECLA, Massa Lombarda, Italy
Designed by Mario Cucinella Architects in partnership with the School of Sustainability Bologna, TECLA is a £D printed eco house made from "technology and clay".
Incorporating a "twin-circular" design, TECLA is a prototype for sustainable living that was "created using entirely reusable, recyclable materials taken from the local terrain".
9. University of East Anglia Enterprise Centre, Norwich, UK
The £11.6 million (€13.6 million) Enterprise Centre at the University of East Anglia, which achieves the Passivhaus standard and a BREEAM outstanding rating, incorporates low embodied energy and carbon construction technologies and its construction involved the use of "natural and bio-renewable materials sourced through local supply chains".
It was designed by Architectural design company Architype for the University of East Anglia, and its construction was carried out in partnership with BDP, Morgan Sindall, and Churchman Thornhill Finch. 
Architype said, "The Enterprise Centre provides space for business support workshops, networking activities, open plan offices, incubation and hatchery space (research and development activities) for new graduate startup companies and other businesses in the Knowledge Economy."
10. 107 Niddrie Road, Glasgow, UK
Consisting of eight flats, 107 Niddrie Road is part of a research project that will see the existing building completely refurbished in order to investigate the use "innovative and sustainable approaches to housing".
Works will include the installation of new internal finishes and fittings, "as well as a comprehensive upgrade of external elements such as roof, stonework and rainwater goods".
One of only two projects to be awarded £250,000 (€295,000) in funding from the Scottish Government funding via the Scottish Funding Council, the retrofit project is being carried out by John Gilbert Architects in partnership with NBM Construction Cost Consultants, Design Engineering Workshop, Graham Drummond, WARM, CCG Construction, Glasgow University and the University of Strathclyde.