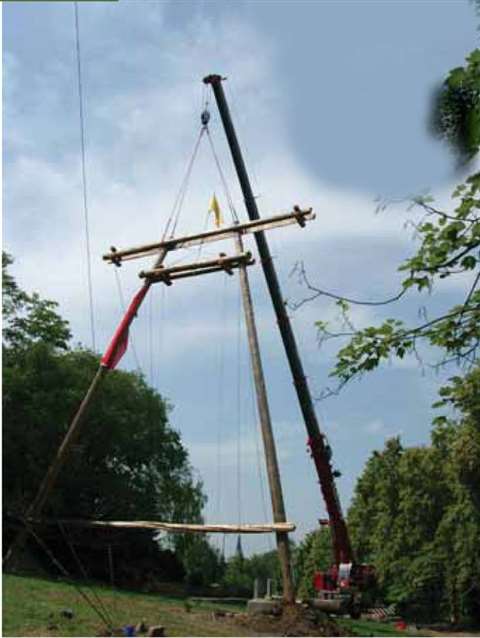 The all terrain crane market is booming with the introduction of new machines to fill ever smaller gaps in the range and to replace older products. This is most evident in the four and five axle 100 tonne capacity range, which has become the centre of attention.
Applications include anything from tower crane erection to general construction, steel erection and assembling prefabricated components.
It used to be that 40 and 50 tonne capacity models were the most popular in the all terrain sector, but the focus has shifted to the 80 to 120 tonne range on four and five axles. Higher capacity five axle models lifting up to 220 tonnes are also popular, in areas such as power plant construction.
Michael Preikschas, product manager at Grove says almost 50% of all terrains sold are in the 100 tonne capacity range. According to Preikschas, Grove has a 15% share of the all terrain market, which places it second behind Liebherr, which has more than 40%.
Different demands
Customer requirements vary widely between regions and that is one of the reasons Grove now offers five models on four and five axles. The manufacturer splits the world into three sections; EMEA - Europe, Middle East and Africa; the Americas; and Asia Pacific.
The new five axle 110 tonne capacity Grove GMK5110-1, due for launch in early 2008, is expected to be popular in the US, among other markets, where Grove's biggest selling all terrain, the GMK5100, has already seen booming sales - due to the country's stringent axle load and spread regulations.
According to Preikschas the difference between four and five axle all terrains is an important one. The four axle crane, he says, is narrower, meaning it can more easily access and travel between jobsites. This is compared to the less manoeuvrable sister product. "With five axles you have more stability. The core is heavier, with a better centre of gravity."
Part of Preikschas' remit is to visit jobsites all over the world and speak to rental companies about the products they need in the future. This, he says, could lead to a range of new models in the market or, conversely, may result in once standard models becoming deleted from the range.
"Customers are demanding today better lifts with longer booms - so we try to find out a way."
In 2006 Liebherr delivered more than 1,300 all terrain cranes to more than 50 countries around the world, more than 90% of which were sold to crane rental companies, according to Wolfgang Beringer, head of sales promotion at Liebherr-Werk Ehingen in Germany.
The company has a product line of 18 models, in 35 tonne to 1,200 tonne lifting capacities. It presented three new models at Bauma 2007; the LTM 1050-3.1, LTM 1130-5.1 and LTM 11200-9.1.
While Beringer says that the whole range is selling well, the 100 tonne segment is very popular. "These 100 tonners have the load capacity to do a lot of different jobs, and they have long booms. "Nevertheless they are still compact cranes, which can drive even in narrow construction sites. And the 100 tonne five axle machines can carry a big portion of counterweight within the legal axle loads.
Concerning the standardization of all terrains across the market, Beringer adds, "all manufacturers have to design their cranes according to the legislation, for example, 12 tonne axle loads in most countries worldwide. But there are still some countries with different requirements, for example, axle loads, total load and axle spacing."
Getting bigger
At Terex Demag Christian Schorr-Golsong agrees that the 100 tonne range is a very popular section of the market. He adds, however, that high capacity models in the 200 tonne range are also popular with sales picking up as rental companies demand extra lifting options.
A good indication of the market is that 10 years ago four axle 100 tonne capacity all terrains were the heavy lifters of their day, now that has increased to about 220 tonnes.
Schorr-Golsong says larger applications are warranting additional vehicles to travel separately from the crane to carry additional attachments. This means higher capacity cranes that cannot carry their own counterweight are becoming an easier choice.
Another option for the transportation of counterweight is the company's version of the tag axle. Its modular axles are fully integrated into the crane's steering system and include brakes connected to the main system. "It allows you to have much more counterweight legally."
Having new models is all well and good but the demand for new machines is such that getting them built and delivered quickly enough is a problem. Koichi Tadano, Tadano president and CEO, comments on delivery times, "It is one year to 18 months, depending on the model but we will try to improve that - three to six months delivery time is the target."
Tadano plans to increase production by about 30% with the construction of a new factory in Tadotsu, opening in July.
"There are three trends," Tadano adds, "one is that cranes are getting bigger, second is that all terrains are becoming more popular and, three, there is a revival of the truck crane."
Tadano continues, "There are two directions at the Tadano Group. One is product strategy in that we are going to widen the range of all terrains, rough terrains and truck cranes. The other is related to geography. Historically Japan is our biggest market. Our mid-term plan is to increase business volume outside Japan, all over the world - the US, Europe, etc. We want to maximise the value of the Tadano brand and raise our position in each market - raise the profile, improve product support. We are still not number one in Europe, in the US. We want to get closer to the market. To expand product support by getting more people in Asia-Pacific, we have added in the Middle East, US, etc.
Product support will be a differentiating factor in future as will technology. Tadano has a reputation for strong, simple and reliable cranes."
Products
The majority of the new all terrains launched in the last twelve months made their debut at the Bauma 2007 exhibition in Munich, Germany in April. One was the 50 tonne capacity Liebherr LTM 1050-3.1, successor to the LTM 1045-3.1, of which almost 500 units have been built since 2002. At 38 m the telescopic boom is 4 m longer than the previous model and load capacities are an average of 12% higher. With its 16 m two-part swing-away jib, the LTM 1050-3.1 reaches a maximum hook height of 54 m. At 12 tonnes per axle the 36 tonne overall weight of the three axle crane includes the two-section swing away, 5.8 tonnes of ballast, 16.00 tyres, an eddy current brake, a 6 x 6 driveline and the hook block.
In the same capacity class Tadano Faun has the new 50 tonne capacity ATF 50G-3 with 40 m main boom, which is 6 m longer than the model it replaces. Smallest of the new all terrains is the ATF 40G-2, a 40 tonner on two axles. Maximum hook height with the 9 m extension on the 35.2 m main boom is 46 m. Up the range in the "busy sector" is the ATF 90G-4, a 90 tonner on four axles. An 18 m bi-fold jib is an option for the 51.2 m boom.
New in the class from Terex Demag is the 100 tonne capacity AC 100/4, which, the manufacturer says, has the most variable extension system available, along with it being the strongest four axle crane in all working configurations and that it is the only four axle crane with only 2.55 m width on 16.00 R 25 tyres.
It can carry 6.9 tonnes of counterweight within the 12 tonne axle load and 21.3 tonnes within a 16 tonne axle load,
In the last 12 months Manitowoc Crane Group's Grove has introduced a number of four and five axle all-terrain mobile cranes between 90 and 130 tonnes; the GMK4100, GMK4100-L, GMK5095 and GMK5130-2.
The GMK4100 and GMK4100-L are similar, with the GMK4100-L offering a longer boom option at 60 m instead of 52 m. The crane made its first public appearance at Bauma 2007. Its sevensection main boom telescopes to full height in less than nine minutes. With the addition of a jib, tip height can extend to 83 m. Close cooperation between engineers at Manitowoc Crane Group means the GMK4100-L is perfect for erecting many Potain tower cranes, according to the manufacturer.
The GMK4100-L shares several features with the GMK4100, including Grove's new carrier cab first shown in April 2006. The cab includes Grove's ECOS electronic control system and a high-visibility control panel, among other ergonomic features. Of further benefit for users is improved fuel consumption compared with other cranes in its class, the company claims.
Five axle addition
Another new Grove in the 100 tonne class launched at Bauma 2007 was the GMK5095, a five-axle all-terrain crane. This latest Grove builds on the company's position in the five axle class. It also has the new ergonomic carrier cab unveiled last year.
TheGMK5095 has a 60 m main boom in seven-sections with Grove's patented Megaform boom and Twin-Lock pinning system. Tip heights of up to 83 m are available with the use of an hydraulic luffing bi-fold swingaway. Other features include counterweight options up to 27 tonnes, Megatrak suspension, all-wheel steer, and Grove's ECOS control system.
With its 60 m boom, the GMK5095 is well suited to applications that require lifts over 50 m, the manufacturer says, and, especially the erection of Potain tower cranes. As with many Grove all terrain cranes, users can operate the GMK5095 as either a 'Taxi' crane for mobility or a 'Maxi' crane for heavier lifts.
A further new five-axle Grove all-terrain mobile crane on show at Bauma was an updated version of the 130 tonner. The Grove GMK5130-2 has improved load charts and the new cab that also features on the GMK4100, GMK4100-L and GMK5095.
Positive feedback
Frans Vanwinkel, vice president of sales and marketing for MCG in EMEA, said the new cab was designed with customer productivity in mind. "We introduced our new cab last year and to date the feedback from the market has been very positive," he said. "MCG recognizes that good cab design is crucial to the success of any crane. Putting the operator in optimum conditions is essential to maximizing productivity."
In addition to the new cranes on the stand, Grove also announced at Bauma that it will launch the GMK5110-1. The company says that this new all terrain mobile crane will reinforce the company's market-leading position in the 100 tonne class. The five-axle crane will have a 110 tonne maximum capacity and share many features with the GMK5130-2.
It will have a five-section 51 m main boom and an 11 or 18 m swingaway jib for additional reach. There are two 8 m inserts to boost reach up to a maximum of 85 m. As with all Grove cranes, the jib may be offset, under load, via controls in the crane's cab.