2019 sets record for supertall buildings
By Andy Brown16 December 2019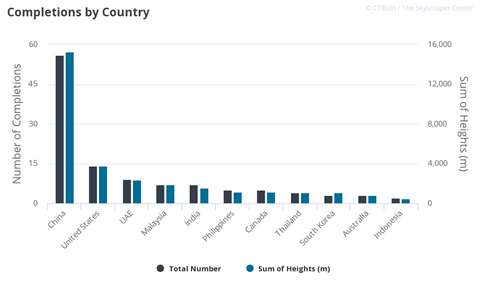 A record number of supertall buildings – defined as buildings of 300m and above in height – were constructed in 2019, according to a report by the Council on Tall Buildings and Urban Habitat (CTBUH).
According to the report, 2019 saw 26 supertall buildings completed. This is the most that has ever been completed in one year, and a large increase from 2018's 18 supertall buildings. It is also the sixth year in succession that at least one building of over 500m has been built.
The tallest building to complete in 2019 was the Tianjin CTF Finance Centre, in China at 530m – the firth year in a year that the tallest building to complete has been located in China.
In fact, China represented 45% of the supertall buildings that were completed in 2019. The US was in second place of supertall building completions followed by the UAE, Malaysia and India.
Regarding individual cities, and Shenzhen, China, was once again the world champion, besting its own record for the fourth time in a row.
The city accounted for 11% of the global total, surpassing all other countries besides China, let alone cities. The next-most prolific city was Dubai, with nine completions.
Looking at 2020, CTBUH currently projects a similar range for the expected number of completions of supertall buildings.