3,000 tonne transportation job
By Christian Shelton14 March 2019
Heavy lift and transportation specialist Mammoet claimed to have set a new record in Nigeria by transporting a 3,000 tonne regenerator for the Dangote Refinery construction project. According to Mammoet, it is the heaviest item ever to be transported on a public road in Africa.
Transporting the 1673 tonne reactor
The regenerator measured 56 metres long, 23 metres wide, and 25 metres high. It arrived, along with a range of other cargo, at the new Dangote Quay Lekki – which was specifically built for the Dangote Refinery construction project. The components were either received from the ship's hook onto SPMTs or directly loaded off from Ro-Ro vessels.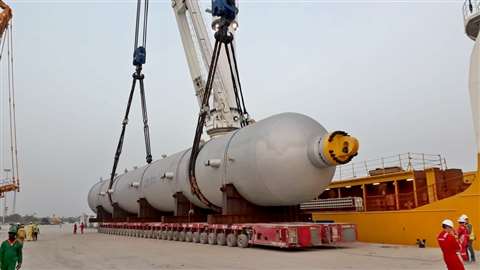 The regenerator was offloaded from the ship using the roll off method. This required 108 axle lines of SPMT in 3 x 36 lines configuration. Similarly, a 1,673 tonne reactor, measuring 44 metres long, 16 metres wide and 17 metres high, was transported using 78 axle lines in 3 x 26 lines configuration.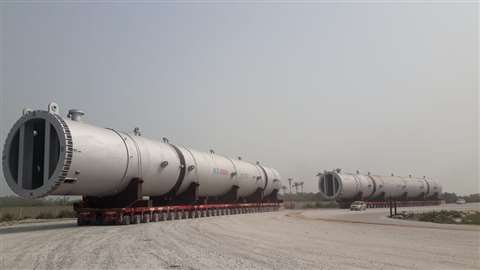 The components were transported over a 10 km route on public roads. Once on site they were placed into storage on Mammoet's Enviro-Mat ground reinforcement system, which was also used to provide the main crane hard stands.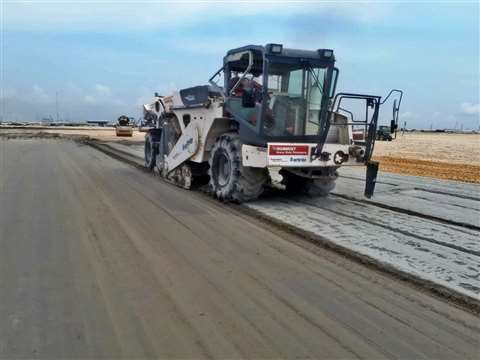 Mammoet said lifting and installation of the refinery equipment will commence later in March. To optimise the construction process, Mammoet said it will use SPMTs, and mobile and crawler cranes ranging in capacity from 250 to 1,250 tonnes. Mammoet will also have its largest super heavy lift ring cranes onsite – the PTC 200 DS and PT 50.