30 years and strong
By Lindsey Anderson09 August 2017
Hydro Mobile has long been a player in the mast climbing work platform market. The company, which was founded in 1987, manufactures six models, and has recently undergone a transformation since it was purchased in 2010 by AGF Group.
AGF Group, a Quebec-based company that specializes in the production and installation of reinforced steel, began a strategy of acquiring access companies and formed the AGF Access Group in 2016. Now, Hydro Mobile is a division and a brand within AGF Access Group along with Jamco, Hydro Rents, AGF Access, Winsafe and the Special Projects Group (SPG).
The Group employs 540 people and there are currently 12 branches of AGF Access in Canada, plus one in the U.S. The AGF Access division is focused on the rental, sales and service of access and scaffolding equipment, including Hydro Mobile and Winsafe. Plus, the company has five branches of Hydro Rents in the U.S. Hydro Rents is focused on the rental, sales and service of Hydro Mobile equipment.
In the U.S., there are 20 independent dealers all of which carry Hydro Mobile mast climbing work platforms, and most have specialty products such as lifts, masonry equipment and supply and construction equipment rentals.
"Our growth strategy is to expand our presence in the U.S. by establishing additional independent dealers," says Vincent Dequoy, president of AGF Access Group and Hydro Mobile. "We have transitioned from having a sales-only approach to also provide equipment rental with the Hydro Rents locations."
Dequoy sat down with Access, Lift & Handlers and discussed AGF Group and the future, including the company's 40 percent increase in manufacturing space and its doubling of offices. Here's what he had to say.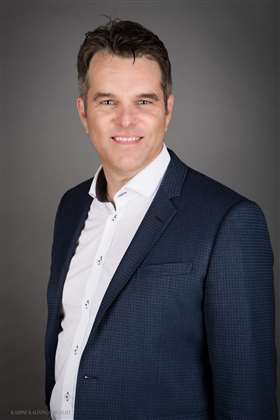 ALH: How many platforms do you produce annually?
Dequoy: We produced 450 units last year. This year we are targeting over 500.
ALH: How many models do you manufacture?
Dequoy: AGF Access Group has two manufacturing divisions: Winsafe and Hydro Mobile.
Winsafe manufactures safe, reliable, engineered suspended access and fall protection solutions. They specialize in the development of temporary and permanently installed equipment for the building maintenance, restoration, construction, power generation and industrial markets. Most Winsafe products are custom designed to fit the needs of the customer.
Hydro Mobile designs and manufactures mast climbing work platforms that contribute to creating hazard-free work environments offering increased worker safety and security. Hydro Mobile manufactures six models:
M2 Series
The M-Series is the workhorse of Hydro Mobile's mast climbing work platforms. It is the perfect tool for any facade work that requires high capacity, whether for new construction or restoration. With a load capacity of 20,000 pounds, and a climbing rate of 3 feet per minute, it is perfect for masonry (brick or block), stone or marble facade work from 20 to 250 feet in height.
P Series
The P-Series mast climbing platform is the perfect tool for smaller jobs that require high capacity or for restrained work area where mast-climbing work platforms can't fit, whether for new construction or restoration. With its high load capacity (6,000 pounds at 28 feet of length) to size ratio, it is ideal for multi-residential or small commercial masonry jobs between 15 and 100 feet in height.
F Series
The F-Series mast climbing platform is specifically designed for projects 100 feet in height and more. With a load capacity of up to 12,000 pounds and a speed up to 38 feet per minute, it can accommodate the needs of a wide variety of types of work: windows, EIFS, stucco, painting, and even bricklaying. What's more, trades can work on separate platforms at different heights. It's ideal for either new constructions or restoration.
E Series
The E-series mast climbing work platform combines low ownership and rental costs with versatility, reliability and safety. This work platform is the ideal access solution for a wide variety of trades: glazing, EIFS, painting, roofing, caulking, restoration, inspection, cleaning, maintenance and more.
S Series
The S Series is simplicity of design, reliability and safety brought together. Powered by two electric motors on 230V it can lift 8,000 pounds at 30 feet per minute. The S Series is a solution for a wide range of projects.
F and S Series – Transport Platform
Hydro Mobile's new economical and secure access solution for workers and material, the Transport Platform, offers an intelligent, cost-effective complement to current systems. Any material required by a subcontractor can be easily and rapidly transported (internal framing and finishing, doors and windows, HVAC, plumbing, electrical and more, including debris removal).
ALH: What units are most popular with customers and why?
Dequoy: The most popular is the M Series, or masonry unit. The masonry industry was the first to be introduced to mast climbing work platforms years ago. They adopted the system and it is now an industry standard. The M Series was the only model available at Hydro Mobile for many years, so we have done an excellent job at building awareness. The other products are niche market products or fairly new. That said, our new Transport Platform (TP) is seeing great market growth.
ALH: Any plans for new products in the coming year?
Our research and development team is working on improving the new Transport Platform.
We are also working on a major redesign of one of our flagship products but that is all I can say right now.
ALH: What partnerships do you have and why?
Dequoy: We have two great partnerships with Raxtar and Construction Robotics.
I met Raxtar President Pascal Matheeuwsen back in 2007 at Bauma in Munich where they were showing new construction elevators. There was really nothing like it on the market. We have worked together on some pretty significant projects, such as the World Trade Center in New York City, and we have a very successful partnership together. Our companies have a lot in common, such as shared values like innovation, honesty, reliability, quality products and a similar company culture. We are continuing to grow together and we benefit from working together. We have a natural chemistry so it works really well. Today, some Raxtar and Hydro Mobile products share similar components so it makes it even easier to mix and match the solutions.
We also work with Construction Robotics for their masonry robot. By using a Hydro Mobile platform, the robot increases masonry productivity by two to five times. The product is also a fantastic bridge between the veteran masons and the young generation who love working with technology. There is a labor shortage in masonry right now so this is an excellent solution. The product is available for direct sale, or by rental.
ALH: Do you have plans for further partnerships in the coming year?
Dequoy: Not at this moment.
ALH: Any plans for expansion – whether it be entering new territories, manufacturing footprints or other?
Dequoy: Yes, we are starting construction to expand our presence in Montreal. We are adding 40 percent of manufacturing space and doubling the offices spaces of Hydro Mobile. We are also putting the right dealers in place to provide a strong local presence. As always, we are looking for the right people.
ALH: Where are you seeing growth for your company? Is there a certain sector or application you're targeting more? Why?
Dequoy: Definitely our new Special Projects Group (SPG) which is a whole new direction for us. The SPG was announced at ConExpo this year, becoming its own division. They concentrate on bringing AGF Access Group's different products and services together to offer our customers an efficient and economical one-stop shop. I expect these massive industrial projects, such as bridges, nuclear power plants, and dams, to double revenue annually. Right now, we are bidding on approximately 20 different projects. These have a long sales cycle of several years.
ALH: What's the biggest challenge in the industry and how do you approach it?
Dequoy: Right now, there is an incredible economic momentum in business overall, which is good for everyone, but things are moving very quickly. When things move this quickly, it's a challenge to bring the industry up to speed on safety. Corners get cut, there is a lack of trained resources, maintenance is overlooked.
For us, safety is everything. We focus on training and educating our customers. Hydro Mobile is doing a lot of work to grow safety awareness, through our culture, through our people and through our dealers. More and more GCs are realizing the importance of training and safety. One fatal accident has a huge impact on a company. I hope we are able to wake people up, and move in the right direction. There needs to be better rules, better guidance for the operators, better guidance for the GCs. The industry needs to get to another level. This is a big thing. We are working to make this happen.
ALH: Are your units being used on any impressive jobsites currently?
Dequoy: Hydro Mobile is present on many job sites in the U.S. and Canada, from box stores to commercial high-rise and residential projects. We are particularly proud to have been selected for several bridges projects including Ironton Russell in Ohio, Tappan Zee in New York and the Champlain Bridge in Quebec. These projects feature custom-made solutions combining Hydro Mobile, Winsafe and Raxtar products. Our ability to provide a 360 degree solution from standard and custom equipment definitely was a major reason why we got these jobs. We have also developed an expertise in bridge construction in the past few years, which allow us to partner with our customer in order to offer them the most efficient access solution. We will share more about the Champlain Bridge project from Montréal during the SAIA Convention in July.
ALH: How is the 2017 MCWP market shaping up and how you expect the next 18 months to compare?
Dequoy: The MCWP market is well accepted. There was a large amount of equipment sold in 1997 and 1998. We are approaching a massive fleet replacement cycle. And people are trusting the economy right now. They are less afraid of making an investment. We are expecting at least two to three years of good economic growth.
ALH: What degree of competition do you have? What do you offer that competitors don't?
Dequoy: I feel we are different in the marketplace because we offer a total package. We provide high-quality products, training, engineering services and distribution.
ALH: What trends are occurring in the industry?
Dequoy: There is a trend towards increased automation and more robotics. I feel we are following in the footsteps of the automotive industry. We aren't there yet, but we will be, especially with the growing labor shortage in masonry.
ALH: Lastly, what's happening with your company that we haven't already discussed?
Dequoy: I think our most significant development is the Transport Platform (TP). The TP is a hugely important product for the North American market and for Hydro Mobile. Our industry identified a market sector of the construction industry which seemed underserved by product development and innovation. The TP market was traditionally a market where the complexity, cost and mobilization requirements of a 'construction elevator' installation far outweighed the scale of the project, leading to the use of more traditional methods and related detrimental productivity and safety performance.
The industry got together and collaborated on a new ANSI Standard, A92.10, for the TP design and use in the U.S., and in Canada, the CSA standard B354.6 is scheduled for release this year.
Hydro Mobile has worked tirelessly to facilitate the introduction of the TP into the market, and in cities, states and provinces where local regulation exists for hoists and elevators, we are working individually with those regulators to position the TP under or out with their auspices in order to maximize and retain the essential productivity and safety benefits of the product.
This integration strategy has resulted in the explosive growth in the use of the TP.