3D printing: building in a new dimension
By Mike Hayes03 September 2018
It is generally accepted that the technology of 3D printing is in its infancy, but this is far from the truth. Large-scale objects can already be rendered in an array of materials and with impressive tensile strengths and lifespans.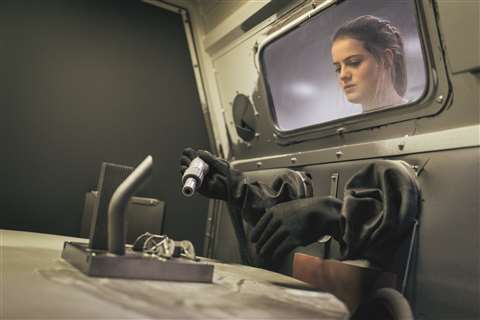 One company taking advantage of the technology is construction engineering firm Aecom. The firm is working with a transport authority on its underground lines.
Aecom's project director Dan Smith commented, "They were keen to reduce the time and costs of installing a visual signalling system.
"We looked at replacing the traditional bolt and screws method and came up with the concept of an arch that didn't bolt to any of the existing tunnels.
"The concept was a 3D printed structure – and this is where things get extremely exciting; we're looking at printing large-scale structures that support the signalling equipment.
"The size is 5.5m in height and 4m in width. With our partners, Scaled, we can actually print anything up to 20m in length and 4m in width on their machine, which I believe is Europe's largest 3D printer."
The Scaled printer has the capability to print in concrete and graphene-enhanced concrete, but is currently being used to test different types of composite, glass fibre and carbon fibre – in total, around 60 materials are being researched for various construction applications.
For the project, Aecom is working in glass fibre-reinforced plastic. Using this lightweight material, the signalling structure can be carried into position by just two people at ground level, with installation completed in one shift.
Compare this to the current signalling installation, which requires more manpower, four shifts and the assistance of a scissor lift, and it's clear why the authority in question is so excited about the Aecom concept. In terms of reduced cost of production and installation, time savings and enhanced safety, it looks like a clear win for 3D printing.
At the other end of the construction spectrum, Caterpillar (Cat) has been developing its 3D printing operations since 1994. Initially, the firm established engineering cells, which primarily undertook pure research, before moving into prototyping and the printing of assembly-line tools.
This innovative early work has allowed Cat to move into the commercial production of almost 100 components, with all but one made from polymers.
Don Jones, the company's general manager, global parts strategy and transformation, said, "We've made a lot of progress with this technology, but not to the point where we are comfortable putting it into, for example, safety equipment or the manufacture of large metal parts, although we are doing a lot of research in that area."
This development of 3D printing in metal and metal alloys is now seen as a key next step for the discipline, at least from a technological perspective.
Jones added, "The rapid advancement of technology has allowed us to do what we're doing now with polymers. We believe that recent advances in metals will give us the opportunities to really support our aftermarket."
3D printed excavator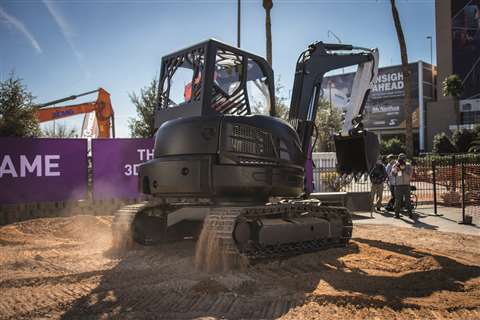 PORNL's 3D printed excavator is put through its paces
Cat and other OEMs will doubtless be aware of the work being done by Oak Ridge National Laboratory (ORNL) in Tennessee, where a fully-functional mini-excavator has been constructed, with significant elements produced using additive manufacturing. The machine was put through its paces for a solid week, during 2017's Conexpo event in Las Vegas, US.
For the project, the laboratory used three different printers, materials and processes to create the excavator's cab, stick and heat exchanger, demonstrating how the disciplines could be integrated.
The cab, which was printed in just five hours, is made from a carbon fibre composite. An aluminium alloy was used to print the 5.9kg heat exchanger.
The stick was printed in one piece from steel. ORNL used thermal and mechanical modelling to analyse where areas of stress might occur, giving the researchers the necessary information to determine how the material should be deposited by the printer's nozzle, for maximum performance.
New parts
Volvo CE is another OEM with well-developed 3D printing capabilities. Jasenko Lagumdzija, the firm's manager of Business Support, said, "It's especially good for older machines where the parts that have worn out are no longer made efficiently in traditional production methods. Producing new parts by 3D printing cuts down on time and costs, so it's an efficient way of helping customers."
Currently, Volvo's 3D-printed parts include elements within the cab, plastic coverings, and sections of air conditioning units. The company uses its own archive of drawings, 3D models and product information to feed into the printer to produce the parts.
"The customer is getting exactly the same part in replacing plastic with plastic," said aftermarket branding manager, Annika Fries. "We do a lot of quality assurance – the 3D parts have the same specifications and go through the same process as the original, and get the same warranty, so customers can be confident they are getting a genuine Volvo approved part."
Daniel Kalfholm, Volvo CE's project leader for Aftermarket Purchasing for the EMEA region, said, "Lead times are significantly reduced with 3D printing and since there are no minimum order quantity requirements, we benefit from quicker delivery of parts, lower inventory levels in our warehouses and an improved ability to balance supply and demand."
Metals hold the key
While the business case for switching to 3D printed replacement parts seems persuasive, it is this area of the discipline that is, to some extent, holding back further development.
Caterpillar's Jones said, "All of us are trying to perfect a business model that allows us to protect our intellectual property."
This question of safeguarding one's costly and time-consuming developments is clearly unresolved, but is perhaps not the biggest elephant in the room – that would be metal.
Jones expands, "We think, for our industry, the advance in metals is where the real disruption is occurring. Caterpillar machines use a lot of iron and other alloys. The advances that have happened in polymers are interesting and will help us with, for example, inside the cab, fasteners, grommets, etc – so there are some wins there.
"But it's the ability to produce high quality metal at a cost-point that's attractive that's the real game-changer in the industry. Once that evolves – and it is evolving, very quickly – it opens up a lot of opportunities."
German construction giant Liebherr is making strides in the 3D printing of metal components, although, like many OEMs – understandably – it is reluctant to disclose precisely where the technology is taking it within the field of construction equipment.
At its Lindenberg facility, Liebherr can produce and deliver 3D printed parts with authorised release certificates
At its Lindenberg facility, Liebherr's aerospace division is working with the 3D printing of titanium. Earlier this year, the firm installed its second machine, so now has one for production and another purely for research and development.
The parts coming out of the facility are of such a high quality that they have actually been licensed by Germany's Federal Aviation Office.
Following the success of the Lindenberg components, Liebherr established an internal training programme, to ensure a sharing of knowledge about the technology and its potential applications across the group.
Given the seemingly inexorable advance of technology in construction, there are many issues that need to be addressed by the industry, sooner rather than later, including the declining need for manpower. While autonomous vehicles are already a reality, the potential for a large percentage – if not, someday, the entirety – of construction equipment to be 3D printed is clearly on the horizon.
It is not a great leap to imagine autonomously-built autonomous vehicles, transporting 3D printers to construction sites with little or no human intervention necessary. As an example, NASA's planned interplanetary habitats are intended to be built on Mars, using Martian materials gathered from the planet by autonomous machines. The notion is that the habitats will be constructed prior to the arrival of any human team.
With projects such as this planned for Mars, it will surely not be long before 3D construction techniques become commonplace on planet Earth.