3D-printed hotel and homes to start construction in Texas next year
By Neil Gerrard14 March 2023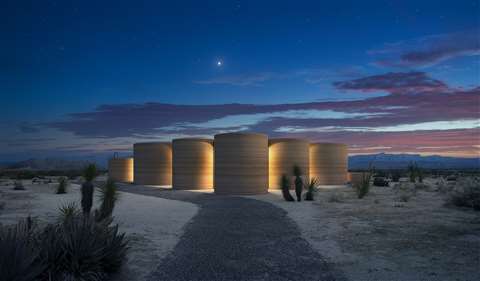 US housebuilder Icon, which specialises in large-scale 3D printing, is to build a 3D-printed hotel and homes in Texas.
Construction on the project in Marfa, Texas, is set to start in 2024.
Denmark-based architecture practice BIG-Bjarke Ingels Group has redesigned El Cosmico, currently a 21-acre campground hotel.
BIG-Bjarke Ingels and Icon will relocate and expand El Cosmico to more than 60 acres for hotelier Liz Lambert.
The new development will showcase new architectural approaches made possible by 3D concrete printing, including domes, arches, vaults and parabolic forms.
It will also feature a pool, spa, and shared community facilities.
The project will also assess the opportunity to 3D-print affordable housing in Marfa.
Meanwhile, the teams are also building a 3D-printed performance pavilion in Austin, Texas, to coincide with the announcement about the construction of the hotel and homes in Marfa.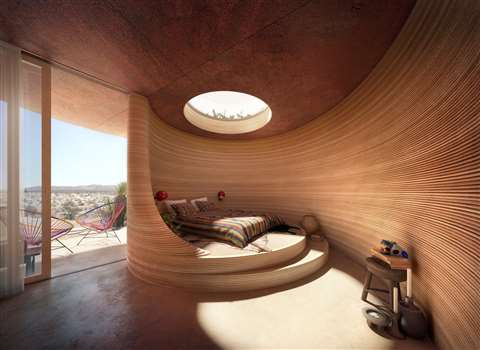 The pavilion will reflect the architectural design themes of the Marfa development.
Jason Ballard, co-founder and CEO of ICON said, "The truly unique and divergent architectures made possible by 3D printing are really just beginning.
"One of the great joys of ICON is putting our technology into the hands of great creatives and seeing what possibilities emerge."
Icon has developed a large-scale construction 3D-printer called Vulcan that is capable of printing entire homes on location. It can be moved from site to site and prints directly onto the ground or a poured slab.
A portable factory feeds the printer on location. It ingests dry 'Lavacrete' concrete, a proprietary material developed by Icon to be suitable for printing. The factory hydrates the Lavacrete and then adjusts the formula in real time based on conditions at the build site. Once mixed, the factory pumps the Lavacrete to the Vulcan printer for printing.