3D printing at Volvo CE
By Sandy Guthrie04 April 2018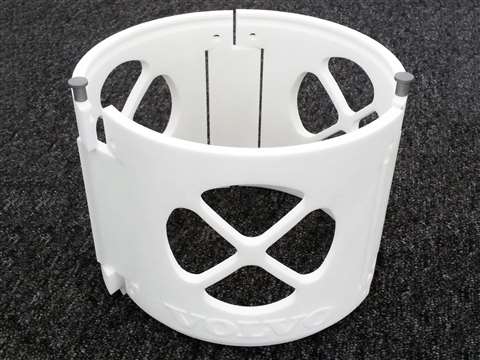 Volvo CE has introduced 3D printing, which it said would help to deliver spare parts to customers more quickly and efficiently, while the company is also investing in 3D printing methods in the research and development of its prototype machinery.
Jasenko Lagumdzija, manager of business support, said, "We are supporting customers through the lifecycle of their equipment.
"It's especially good for older machines where the parts that have worn out are no longer made efficiently in traditional production methods. Producing new parts by 3D printing cuts down on time and costs, so it's an efficient way of helping customers."
Additive manufacturing – as 3D printing is also known – is the process of repeatedly layering a molten material or liquid in a specific pattern that is set by the printer's software, until it solidifies into the required three-dimensional shape.
For its aftermarket service, Volvo CE commissions the creation of spare parts made of thermoplastics to send to customers who require the replacement of a part that has worn out through natural usage.
Volvo said that parts could be made in any shape and size, and for any unit in the company's range of off-road machinery.
Typical parts made by 3D printing so far include parts of a cabin, plastic coverings, and sections of air conditioning units. The company uses its own archive of drawings, 3D models and product information to feed into the printer to produce the correct new part.
'Same part'
Annika Fries, aftermarket branding manager, said, "The customer is getting exactly the same part in replacing plastic with plastic.
"We do a lot of quality assurance – the 3D parts have the same specifications and go through the same process as the original, and get the same warranty, so customers can be confident they are getting a genuine Volvo approved part."
The creation of new parts via the 3D printing process can take as little as one week, according to Volvo, adding that the ability to supply new parts to replace those that have gone out of normal production may also extend the lifetime of the machine as a whole. Parts made of metals through additive manufacturing may also be offered in future.
Daniel Kalfholm, project leader for aftermarket purchasing for Volvo CE's EMEA (Europe, Middle East and Africa), said, "Lead-times are significantly reduced with 3D printing and since there are no minimum order quantity requirements, we benefit from quicker delivery of parts, lower inventory levels in our warehouses and an improved ability to balance supply and demand."