7 of the world's biggest rail megaprojects under construction
Strong government spending on transportation infrastructure has led to a glut of rail megaprojects around the world.
A focus on sustainability, combined with an increased emphasis on operational resilience and the need to connect urban populations have all helped to drive demand.
When it comes to sustainability, rail projects generate relatively low CO2 emissions as compared to more carbon-intensive road transport.
But as some of the projects below demonstrate, keeping a lid on rail megaprojects' budgets and maintaining the construction schedule originally envisaged can prove challenging.
Here are seven of the world's biggest rail megaprojects under construction:
1) Dankal Tel Aviv Light Rail, Israel: US$13 billion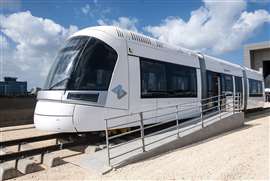 The Tel Aviv Light Rail project, also known as Dankal, sees the construction of two more light rail transit lines – the Purple and Green lines to complement the Red line, construction of which started in 2011. The Red line opened this year (2023) at a reported total cost of nearly US$5 billion.
The Green line will run for 39km (24.2 miles), including 4.5 km (2.8 miles) of underground line under the centre of Tel Aviv, and include a total of 62 stops. It will stretch from Rishon LeZion, northwards through Holon to central Tel Aviv before splitting into two branches, with one to Herzliya in the north and another to Ramat HaHayal in the north east.
Meanwhile, the Purple Line runs for 27km (16.8 miles) with 43 stops, entirely overground. It will connect Sheba Hospital through Giv'at Shmuel and Kiryat Ono, as well as connecting Arlozorov in Tel Aviv to Yehud and Or Yehuda through Ramat Gan.
The Light TLV consortium consisting of construction company Shapir and engineering company CAF has won a €1 billion contract to design, build, finance and maintain the Purple line, which is due to be running by 2027. The contract includes maintenance of the line for 25 years.
Meanwhile, a consortium comprising Israeli infrastructure construction company Electra, alongside Alstom and bus transport operator Dan Public Transportation won a €2.6 billion contract to design, build, finance and maintain the Green line.
The estimated total cost of the three lines taken together is reported to be around 50 billion shekels (US$13 billion).
2) Suburban Rail Loop East, Melbourne, Australia: US$19.4-22.3 billion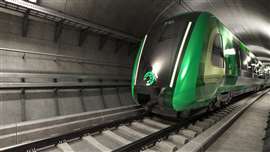 The Suburban Rail Loop (SRL) East is part of a major project to build a 90km-long (55.9 miles) orbital railway network around the city of Melbourne in Australia, connecting up existing suburban lines to high-growth regions of the city.
The multi-billion-dollar project is under construction in two stages, the first of which is SRL East, which connects Cheltenham to Box Hill. Work is scheduled to be completed by 2035. The entire SRL project is not due for completion until the 2050s.
The start of this month saw news that the government of Victoria has selected three contractors to deliver the first major tunnelling package on SRL East.
Acciona, Cimic Group's CPB Contractors and Ghella are lined up to build the 16km (10 miles) section of the project's 26km (16 miles) twin tunnels.
The three companies, working as the Suburban Connect consortium, will undertake tunnelling between Cheltenham and Glen Waverley, as well as building two new underground station boxes and undertaking construction works at the Southern Stabling Yard.
Major tunnelling works are expected to start in 2026.
3) Tel Aviv Metro, Israel: US$40 billion
The Tel Aviv Metro, which will involve the construction of three separate lines with a total length of 150km, will be Israel's most expensive infrastructure project at a cost of 150 billion shekels (US$40 billion).
NTA Metropolitan Mass Transit System, the company responsible for the design and construction of a mass transit system for Tel Aviv, is expected to announce winners of a bidding process to oversee the metro project soon, with work expected to start in 2024.
Various means of public transport will intersect with the Metro, including the Light Rail system (see above), Israel Rail and buses.
The 85km-long (52.8 miles) M1 Line will connect the northern and southern regions to employment and trade centres in Tel Aviv, the 26km-long (16.2 miles) M2 line will connect the eastern regions to central and southern Tel Aviv, and the 39km-long (24.2 miles) M3 line will connect employment centres on the metropolitan inner ring border.
The first parts of the Metro system are expected to start running in 2032.
4) Grand Paris Express, France: US$48 billion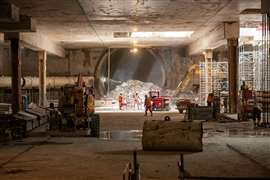 The Grand Paris Express is Europe's largest transport infrastructure project and will double the size of the Paris Métro when it is complete.
It will connect the city of Paris more cohesively with its airports, science hubs and suburban areas by building four new lines, 68 new stations and a 14km viaduct.
Tunnelling work started in 2018 and the first part of the project, an extension of Métro line 14 is due to open in 2024 in time for the Paris Olympics. The four new lines will enter service between 2025 and 2030.
Work is split into multiple packages with some of Europe's biggest contractors including: French firms Bouygues, Eiffage, Vinci; Swiss construction company Implenia; Spanish contractor Ferrovial; Italian construction company Webuild; and Dutch firm BAM.
Earlier this summer, Vinci won the first design-build contract on the project, a €2.7 billion (US$2.9 billion) deal to build the initial section of line 15 West. It involves the complete design and construction of 14km (8.7 miles) of tunnels, five stations, a rear station at Nanterre La Folie, and 16 service structures.
5) Chūō Shinkansen, Japan: US$64.4 billion
The Chuo Shinkansen project involves building a 286km (177.7 miles) high-speed, superconducting maglev rail line between Tokyo and Nagoya in Japan. There are also plans to extend it to Osaka.
The existing high-speed Tokaido Shinkansen already runs along the coast between Tokyo, Nagoya and Osaka but the new line will serve the same cities via an inland route at speeds of up to 500kmh (310 mph), cutting journey times.
Almost 90% of the line will be built through tunnels or underground. It is being built by first expanding on an existing maglev line, the Yamanashi test track, which was originally built for maglev research and development in the 1970s.
Construction work has already started on some of the tunnels that the line will require, including a 25km tunnel under the southern Japanese Alps, which is expected to be the deepest tunnel in Japan. Both that tunnel and a 7km stretch in Yamanashi and Shizuoka were originally expected to be completed by 2025 ahead of the Tokyo to Nagoya stretch of line opening by 2027.
However, the president of Central Japan Railway (known as JR Tokai inside Japan) said earlier this year that the line was unlikely to open in 2027 as planned.
The project has encountered problems including allegations of bid rigging among construction contractors to environmental protests. There have also been delays as a result of the Covid-19 pandemic as well as concerns that construction work could impact water flow in the Oi river.
The Nagoya-Osaka extension was originally planned to be completed by 2045 but has been moved forward to 2037. It is currently at the environmental assessment stage.
Joint ventures led by major contractors including Taisei, Kajima, Obayashi and Shimizu are mostly responsible for carrying out work in different packages on the Tokyo-Nagoya stretch of the line.
6) High Speed 2 (HS2), UK: US$122 billion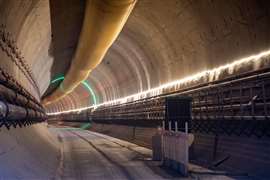 Britain's second high-speed rail line, HS2, is currently under construction but running over budget and behind schedule.
The first phase, which runs from London to Birmingham, is due for completion at some point between 2029 and 2033 and is currently in "peak construction".
Construction on Phase 2a, (West Midlands to Crewe) has been delayed for two years to reduce expenditure. Phase 2b (Crewe to Manchester) may now not open until 2035 to 2041.
Budget overruns meant that UK transport secretary Mark Harper announced in March that work on the London terminal at Euston would be paused for two years, with costs rising to £4.8 billion against an original budget of £2.6 billion. However, the government has said it is still committed to delivering HS2 from Euston to Manchester.
The move means that Old Oak Common will be HS2's only London station when services to and from Birmingham begin.
In June 2013, projected costs were put at £42.6 billion, with an extra £7.5 billion budgeted for rolling stock. By 2020, that figure rose to £98 billion.
The four main groups of contractors working on HS2 are: SCS JV (Skanska, Costain, Strabag), Align JV (Bouygues Travaux Publics, Sir Robert McAlpine and Volker Fitzpatrick, and EKFB (Eiffage, Kier, Ferrovial and BAM Nuttall).
As far as progress on the project is concerned, two tunnel boring machines have completed 75% of their excavations on the Chiltern tunnel, in work overseen by Align JV.
In London, SCS JV has excavated the first 1.6km of the 13.5km Northolt runnel connecting Old Oak Common to West Ruislip, with completion due in 2025. And two additional TBMs are due to launch from Victoria Road crossover box in Ealing, west London, in winter 2024.
7) California High-Speed Rail, USA: US$128 billion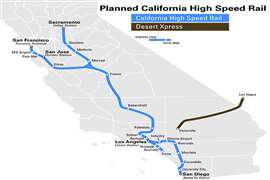 The controversial California High-Speed Rail project saw construction begin in 2015 for the first section of the line that is eventually supposed to run at speeds of up to 350kmh (217mph) from San Francisco to Los Angeles.
The California High Speed Rail Authority is currently overseeing the construction of the 119-mile (191.5km) Central Valley line, due for completion by 2020. And it has set an extension of that line to the full 171-mile (275km) Merced-Bakersfield segment as its "highest priority", with a target of passenger services starting by 2030-33.
But rising costs and delays have placed a question mark over whether the full length of the line will ever be completed.
Recent estimates put the cost of the full project at $128 billion. It was initially estimated in 2008 that the project would cost $33 billion.
As far as work on the Central Valley section is concerned, contractor Tutor Perini is leading work on Construction Package 1, comprising 51km (31.7 miles) of line from Avenue 17 north of Madera to East American Avenue south of Fresno, scheduled for completion by the end of 2025.
A joint venture between contractors Dragados and Flatiron hold a $1.23 billion contract to build the Central Valley section (CP 2-3) of the high-speed line, which runs for 97km (60 miles).
And California Rail Builders, a joint venture between Ferrovial-Agroman West and Griffith Company took responsibility for building CP 4, a 35km (21.8 miles) run of line adjoining the end of CP2-3 to the intersection of Poplar/Madera northwest of Shafter. Construction was due to complete in August this year.
In August this year, the California High-Speed Rail Authority released a Request for Qualifications to the industry for 220mph electrified high-speed trainsets. It said it had also started work to extend the 119-mile Central Valley section to 171 miles from Merced to Bakersfield.