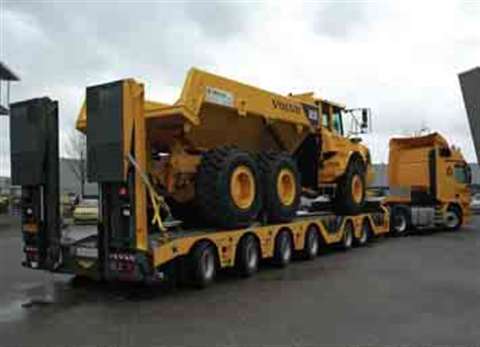 Dutch trailer manufacturer Broshuis from Kampen had reason to celebrate recently, writes special correspondent Gino Koster. First of all, 2005 marks the 120th anniversary of the Broshuis company, which, despite its old age, is fully alive. At a recent factory open day event some 700 guests from many European countries witnessed the latest large expansion of the factory. An extra 2500 m2 of production area has been built, mainly so that production can be increased to cope with the growing demand for specialised heavy trailers used by armed forces.
Other developments also continue, however. Broshuis showed a new three axle semi-low loader that has been developed especially for transporting self-propelled construction and agricultural machinery. The single and double ramps allow loading and unloading to be done quickly. Unloaded, the trailer has a deck height of 900 mm and it is suitable for loads up to 35 tonnes.
Thanks to the high ground clearance the trailer can access places on rough terrain. Loading on the gooseneck is also possible and the deck is especially suitable for access equipment and forklift trucks with their high point loading. The combined length is within 16.5 m and the trailer has a low tare weight.
Last but not least, Broshuis has designed a new system to widen trailers without using any loose planks-the additional deck width just folds on the side of the trailer.