Attachment change-over made safe
By Lindsay Gale12 May 2009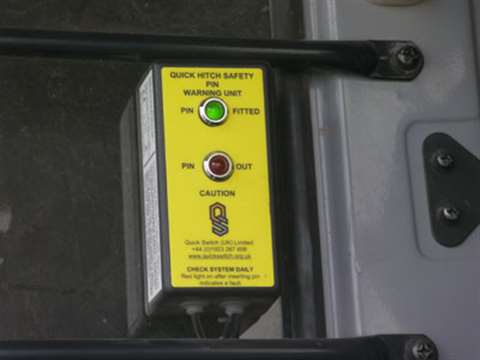 The use of attachments on machines invariable involves the machine that carries them being equipped with a quick coupler system at the end of the boom to allow for rapid tool change-over. In the past, many contractors have opted for semi-automatic versions, in part because of their lower cost.
However, safety concerns have been raised over this type of coupler system as a result of the number of fatal accidents that have resulted from the tool detaching from the coupler while in use.
In the UK, a voluntary agreement was reached between the Health & Safety Executive and European manufacturers at the end of 2008 - machines supplied into the UK market after 1 October of that year would not be supplied with these couplers. Further, a leading general contractor, Skanska, has banned the use of these coupler systems on any of its UK sites with effect from 1 November 2009.
The manufacturers' ban of course only applies to new machines, and there are therefore considerable numbers of machines still in use in the UK and around Europe that are fitted with the semi-automatic technology, initially suggesting that we have not seen the end of accidents.
However, a UK company has developed a warning device that it says has been designed specifically to address the issue of accidents caused by attachments becoming detached from their carrier due to coupler failure or misuse. According to Quick Switch inventor and company founder Tony Bianchi: "The semi-automatic quick coupler is an intrinsically safe product when used correctly. But all too often, operators are failing to manually insert the retaining pin, leaving buckets and attachments prone to becoming disconnected from the machine."
The Quick Switch is a detection system that employs a sensor positioned beside the safety pin aperture of a semi-automatic coupler that detects the presence or absence of the retaining pin. The sensor is connected to a warning device in the cab of the machine that sounds an audible alarm and also triggers a visual warning in the form of a flashing red LED if the operator attempts to use the machine without the retaining pin being fitted. When the pin is in place, a steady green light in the cab confirms the fact.
The Quick Switch sensor will not be fooled, said Mr Bianchi: "Because the sensor has quite a specific sensing range, we have used this to our advantage by installing the bracket and sensor in such a way that the correct sized pin must be used. An under-sized, inappropriate or temporary pin will not be detected or only detected intermittently, thereby activating the alarm."
The new system has undergone two full years of testing, including 12,000 live test hours and meets the requirements of the Supply of Machinery (Safety) Regulations 1992.
Initially, Quick Switch's primary focus is on supplying the system into the UK market, but Mr Bianchi told D&Ri that it would be available to anyone who wanted to buy it.