Attachments: A tool for every job
By Mike Hayes18 February 2020
Significant benefits can potentially be achieved in both productivity and efficiency, by operators who embrace and make good use of the latest attachments and coupling systems. Mike Hayes reports
When we consider construction technology, attachments may not immediately spring to mind. However, the rapid evolution of attachments has undoubtedly changed the way equipment is used on construction sites throughout Europe. Quick couplers, for example, now allow operators to simply and safely switch between attachments, while remaining inside the cab.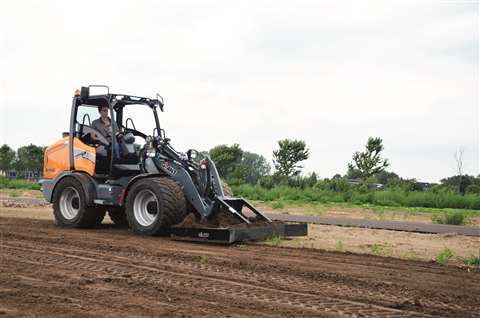 Dutch manufacturer of compact machinery and attachments Tobroco-Giant agrees that the coupling system is an increasingly important element of working with multiple tools.
The company said, "The more often attachments have to be changed in the working process, the more important is a quick and easy change from one tool to another so that different steps of the work procedure can be fulfilled quickly."
Versatile tools
Tobroco-Giant machines can all be equipped with a hydraulic mounting system and with multi quick couplers, the so-called 'multifasters'.
Using this system, hosepipes can be simply rearranged when changing the attachment and no pressure relief on the coupling is necessary, saving time when compared with the rearrangement of attachments required by conventional screw couplings.
Swedish tiltrotator specialist Steelwrist also makes quick couplers which include safety features such as the front pin lock, as well as their steel cast design.
The company's SQ quick coupler systems have the ability to change a hydraulic powered work tool in seconds without the operator needing to leave the cab.
As well as the advance of attachment systems, attachments themselves have taken a leap forward in recent times, becoming stronger, safer to use, more versatile and requiring less servicing.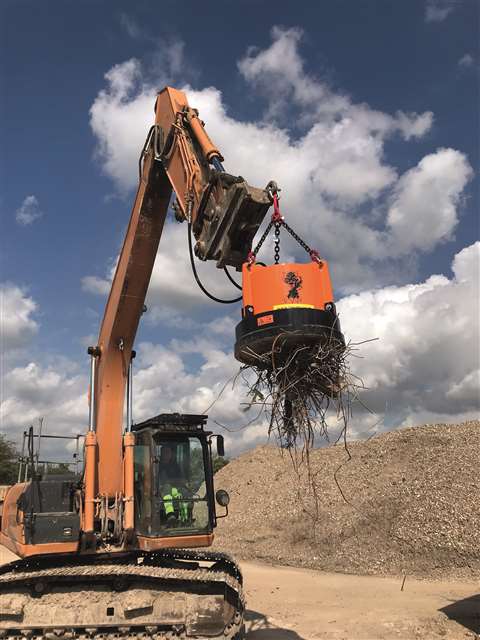 Take for example magnets, and the new Gida Magnet range from UK-based Inmalo. With steel remnants often scattered over sites, leaving them buried loses potential revenue from the scrap and poses a costly danger for vehicle tyres and crusher or screener belts.
Included in the company's attachment range is the HMG-T magnetic products with teeth, which help unearth buried or trapped metal debris below the surface.
Hydraulics plug straight into the excavator's breaker circuit, largely without the need to change any settings, making it easy to switch between attachments.
A high flow range, up to 200 litres per minute and back pressure allowance up to 40 bar ensure safe, smooth and constant power.
Connection by chains is standard, but Inmalo can also supply direct mounting head brackets for automatic quick couplers such as OilQuick and Lehnhoff.

In the first quarter of 2019, Italy-based Indeco released a number of new attachments, including the HP 100, the smallest in the company's range of hammers, designed specifically for the increasingly popular segment of mini-excavators.
According to Indeco, the challenge lay in trying to make a hammer that could work with a reduced oil flow rate – from 15l upwards – that would maintain maximum hydraulic efficiency despite weighing under 60kg. The HP 100 has a larger steel diameter than hammers in the same class and is said to ensure high productivity levels.
In October last year, German attachments specialist Kinshofer added the KFX-Series hydraulic breaker excavator attachments to its product line. The 14 models in the portfolio offer operators a wide range of weight and power options, making it easier to find a breaker that fits individual needs in road work, demolition, recycling, tunnelling and even underwater applications.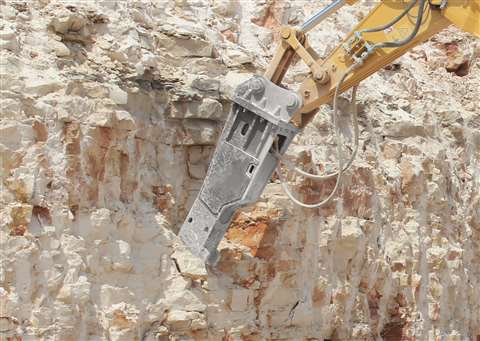 The smallest model in the series, the KFX 14 — designed for excavators weighing 7.2-13.6 tonnes — produces 2,000 joules and 600-900 blows per minute. At the upper end of the series, the KFX 200 — for 90.7-181.4 tonne machines — produces 35,000 joules and 150-250 blows per minute.
Cutting into the market
Echidna is an Australian company that produces mining and earthmoving attachments, including a range of rock saws. The company claims to be the first to produce saws with automatic braking and reversible rotation functions.
It recently launched its Omnicut saw, which it claims can cut up to ten times faster than tungsten-carbide blades, as it combines the hardness of diamond with the robust qualities of standard tungsten carbide.
The rock saw attachments are available for the European market for 1 to 100 tonne excavators and are currently supplied in the UK by Lemac Engineering.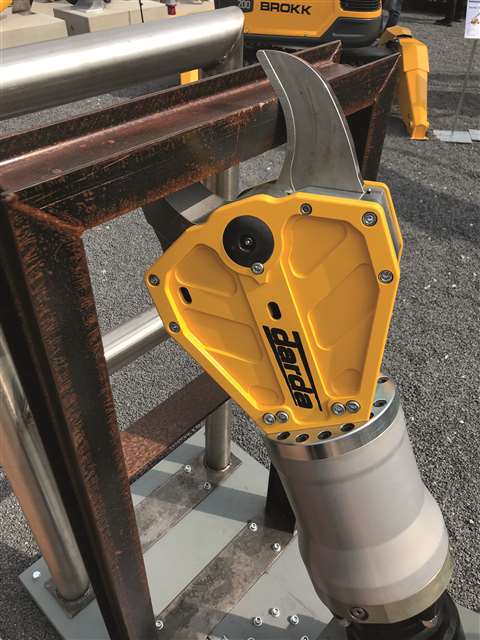 Darda's new Multi Cutter MC300 has a cutting force of 60 tonnes
German company Darda has expanded its Multi Cutter portfolio – the universal cutter now comes with a 350mm opening width, for carriers up to 9 tonnes.
After Darda's new Multi Cutter MC300 was presented to the public Bauma in Munich in April 2019, the manufacturer of environmentally friendly hydraulic demolition equipment showed the new tool at September's Recycling Aktiv show in Karlsruhe, also in a live test.
Based on the smaller MC200, the MC300 weighs 290kg and has a cutting force of 60 tonnes. With its 350mm opening width, the MC300 is designed for use with carriers from 2.5 tonnes to 9 tonnes. Darda itself says the cutter is most effective in combination with a remote-controlled Brokk demolition robot B200 or B300.
In recent months, Spanish manufacturer Xcentric has developed a series of crushing buckets. The company says its latest models have a new operating mechanics system and are simpler in terms of internal assembly. The new design needs no lubrication or drainage line, increasing maintenance intervals.
According to Xcentric, there has been a slight modification of the outside design and possible combinations regarding the adjustment of the granulometry have been significantly increased. The different positions have also been numbered to make the adjustment easier.
This breadth of positions in the new granulometry system allows the material to be crushed to such a small size that sand can be produced in some cases.
Another feature is the ease with which Xcentric can now replace the jaws in case of wear, as the bucket can be opened completely to perform this operation.
The tiltrotator revolution
Tiltrotators were first seen in the Nordic countries in the 1980s, but their benefits have more recently been recognised by operators across Europe and beyond.
Sven-Roger Ekström, a product manager at tiltorator manufacturer Rototilt, said, "The Nordic countries are still the main market for tiltrotators, by far. But we see a very interesting development in Central Europe and North America.
According to Ekström, last year's Bauma exhibition in Munich, provided the confirmation that the industry now understands tiltrotators. He told International Construction magazine, "A lot has happened in the last couple of years when it comes to the questions around tiltrotators. It has changed from curiosity to a growing demand. We were impressed at Bauma and got the feeling that the tiltrotator concept really is establishing. Not only has the awareness increased, also the competence about installing and use of tiltrotators."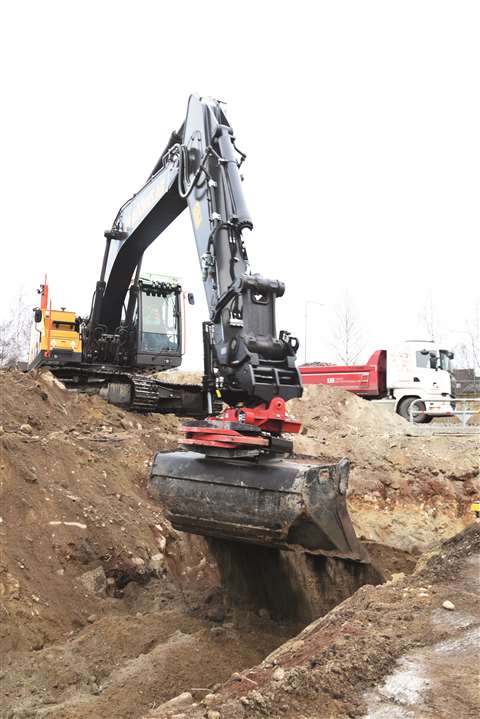 Rototilt is based in Sweden, along with the likes of fellow tiltrotator specialists Engcon and Steelwrist, but other manufacturers have been quick to move into this sector.
German attachment manufacturer Kinshofer released its own NOX range of tiltrotators, with 360° rotation and 50° tilting angles. The cylinderless attachment has only two greasing points and hydraulics integrated into the solid cast housing.
The attachment's patented tilting function is based on an elliptic piston design, with only one thread.
Caterpillar has also added tiltrotators to its attachment range. Rick Verstegen, work tools product application specialist at the company, notes that in Norway, Sweden, Denmark and Finland almost 100% of the excavators up to 30 tonnes are equipped with a tiltrotator and agrees that, worldwide, adoption is increasing.
He said, "Awareness is growing rapidly. In central and southern European countries as well as in the US, customers are starting to appreciate the benefits of using tiltrotators. Contractors and operators working especially in road construction, landscaping, as well as in sewer, water and utility applications, value the benefits the tiltrotator brings to the functionality of their excavators."
Allu 'transforms' Finnish road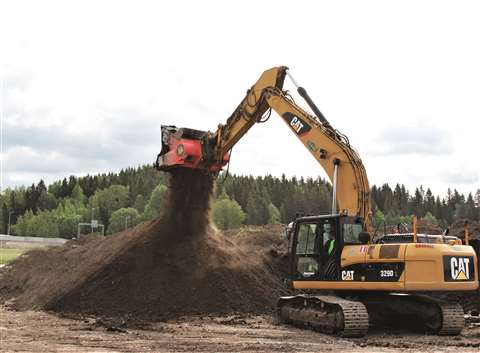 One of the main contractors on a ring road project in the Finnish city of Lahti is Skanska, which is using a new tool to make its work as efficient, cost effective and environmentally friendly as possible.
Allu DN Series Transformers have been put to work screening excavated materials for reuse on the project, thereby boosting the environmental credentials and efficiency of the project.
As part of its work on the project, Skanska Infra Oy, is responsible for landscaping and constructing road slopes, embankments and noise barriers. For this work, it has introduced the Allu DN 3-17 X75 screening attachment, designed for use by excavators up to 28 tonnes, as well as loaders, tractors and backhoe loaders up to 14 tonnes.
The Allu Transformer screens, crushes, aerates, blends, mixes, separates, feeds and loads materials. According to the company, the feed material is effectively transformed into a product of value, making operations on the project more efficient and profitable.
At the heart of the Transformer is the top screen of its bucket, where the screening blades spin between the top screen combs with the end material size being defined by the space between the combs.
Heavy cutters make short work of school project
Late in 2019, the Allingen demolition specialist Ottl Abbruch & Rückbau was awarded a contract to demolish a derelict school building in Munich. According to the contractor, the structure was built to be earthquake-proof and combined thick concrete and extreme reinforcement.
Ottl Abbruch & Rückbau brought a Cat 33 excavator on site and fitted it with CC35R combi cutters from Mantovanibenne. The cutters (or scissors), designed for use with excavators of between 30 and 40 tonnes, are built to tackle reinforced concrete, but also have metal-handling shear blades.
The tool's cutting force is 233t, allowing them to cut the building's round bars, which have a maximum diameter of 63mm.
The central double pin enables an opening width of 1100mm with a machine weight of approximately 3,500kg. The teeth are interchangeable, as are the 480mm-long knives, which can be rotated and exchanged. The speed valve, at 11.3 cycles/min, allows a closing time of 1.9s and an opening time of 3.4s.
Safety first with plug-and-play Bobcat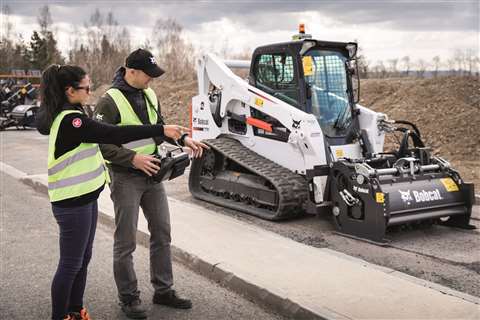 A somewhat different attachment is available from US-based manufacturer Bobcat, which has released its MaxControl remote operation system.
The plug and play system comprises an easily portable and industrial radio remote control solution that can be mounted and dismounted on machines very quickly.
Bobcat says MaxControl increases safety, comfort and productivity by distancing the operator from dust, noise, vibrations and other hazards encountered at the workface or on job sites that require special safety precautions.
The system is small enough to be easily carried to the machine and can be attached and operational in minutes and features an emergency stop button and drop and tilt detection.