Automated protection for road workers
By Thomas Allen18 August 2017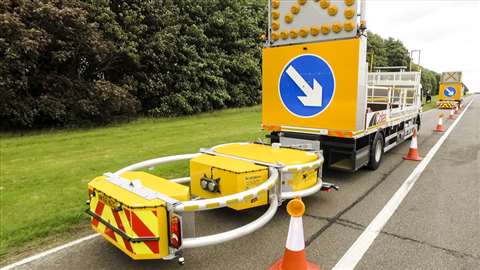 Colas, part of the Bouygues group, has developed what was said to be the world's first autonomous impact protection vehicle (AIPV) in partnership with US companies Royal Truck & Equipment (RT&E) and Micro Systems (MSI).
Intended to protect road workers on highways around the world, the AIPV removes the need for a driver to operate a vehicle that has been designed as a mobile crash barrier.
Initially deployed for use in the US military, the drone technology being used has been tailored by RT&E and MSI for use in the highways industry.
The AIPV is fitted with an electromagnetic applique kit and fully integrated sensor suite.
It has a leader/follower capability that enables it to follow a driver-operated leader vehicle. Navigation data, including vehicle speed and direction of travel, is transmitted from the leader vehicle to the follower vehicle so that it can follow the exact path and speed of the leader at each point along the route.
Before being declared ready for use on worksites in the US, the system underwent more than 200 hours of testing and training.
Mike Wilson, executive director for safety, engineering and standards at Highways England, the government-owned agency responsible for the country's motorways and main trunk roads, said, "We welcome this innovative work by Colas which, through the use of connected and autonomous vehicle technology, has the potential to help the sector address the risks road workers face on a daily basis."