Awards shortlist: Urban $10m or over
Delta Group
Country Australia
Project Sydney Metro City & South West
Client Transport for New South Wales
Sydney Metro is Australia's biggest public transport project. It will transform Sydney, delivering more trains and faster services for customers across the network. The Sydney Metro City & Southwest project extends the new metro network from the end of Sydney Metro Northwest at Chatswood, under Sydney Harbour, through the central business district (CBD) and west to Bankstown.
As part of Transport for NSW's plan to construct twin 15.5 km (9.6 mile) railway tunnels between Chatswood and Sydenham and six new metro stations, Delta Group was contracted to design and deliver concurrent, integrated early works programmes to facilitate the transfer and re-use of land at each of these new sites across metropolitan and CBD Sydney.
Erith Contractors
Country United Kingdom
Project Project Macallan
Client Cleveland Clinic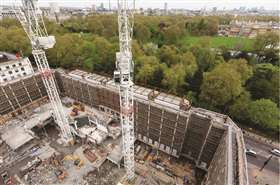 Erith commenced work on this multi-phase project to facilitate the creation of a state of the art medical clinic in Belgravia, London. This project involves the soft strip, hard demolition, façade retention to three elevations, underpinning, façade column lowering, new basement slab construction, temporary works and excavation for new attention tank.
Working with Embrace Building Wraps, a leader in the safe installation of printed building covers and hoarding, Erith fitted the largest ever building wrap in the United Kingdom, measuring 3,572 sq m (38,500 sq ft).
Nasdi
Country USA
Project Emerson College Little Building
Client Suffolk Construction and Emerson College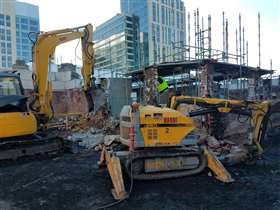 Nasdi was selected by Suffolk Construction and Emerson College, to perform the demolition and asbestos abatement of Emerson College's Little Building located in downtown Boston, Massachusetts. The college initiated this major renovation project to replace the deteriorating, unsafe façade of the college building, as well as to renovate the dining hall, increase student and general-purpose social space and to improve the extant stairwell egress. In addition, the plans were to reconfigure and substantially upgrade student rooms and add 290 new student beds to the 750 beds currently in the Little Building. Moreover, with this project, Emerson College once again established its civic and educational leadership by making significant additions to its housing capacity in partnership with Mayor Marty Walsh's mandate that Boston colleges seeks to house significantly more of its students on its own campuses.
Scudder Demolition
Country United Kingdom
Project Selfridges
Client Selfridges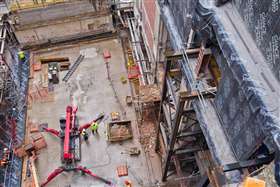 Major London department store Selfridges is undergoing a major refurbishment and renovation programme which is the biggest ever financial investment for a single project by a department store, anywhere in the world. Scudder Demolition's works have brought significant logistical benefits to store operations, in addition to an enhanced customer experience.
Scudder's team has played an integral part in the project by undertaking an extensive package of structural alterations in within the live retail environment.
Demolition & Recycling International wishes to thank all the awards judges for their time and effort analysing this year's entries. Look out for a feature on them in the September-October issue of D&Ri
The World Demolition Awards are part of the World Demolition Summit, which is organised in cooperation with the European Demolition Association and with the support of the National Demolition Association of the USA. Headline sponsor is Volvo Construction Equipment.
The awards ceremony takes place at the Aviva Stadium in Dublin, Ireland on Thursday 8 November. For more details please visit www.demolitionsummit.com