Barin bridges Hong Kong
By Euan Youdale12 May 2020
Italy-based Barin has put two of its bridge inspection units into operation in Japan in January.
The AB23/SL are working on Lantau Link bridges in the country. The Lantau Link is a 3.5km-long series of roads, railways and bridges, linking Hong Kong international airport to the urban areas of Hong Kong. it was inaugurated in 1997, and comprises the Tsing Ma suspension bridge, linking Tsing Yi to Ma Wan Island, the Stonecutters bridge and the Kap Shui Mun bridge, a cable-stayed bridge linking Ma Wan to Lantau island. Adjacent to the Lantau Link is the cable-stayed Ting Kau bridge.
The AB23/SL units are truck mounted on to a 5-axle,10x4 MAN chassis, produced in Germany. The bucket-type aerial platforms can work both underbridge and overhead to 26.5m working height. Maximum horizontal underbridge reach is 23m, while 30m underbridge vertical depth is possible.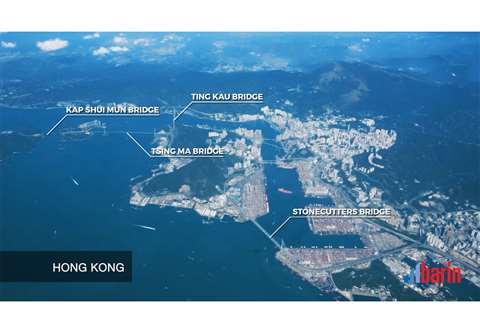 It can also overreach sidewalks up 4.05m wide and reach over bridge barriers up 5.5m high, with a platform capacity of 250kg.
The main feature of the machines is their ability to carry out launching manoeuvres through suspended spans of bridges.The pictures shows the model during training instructions.