Bauma premiere from Omme
By Euan Youdale27 February 2019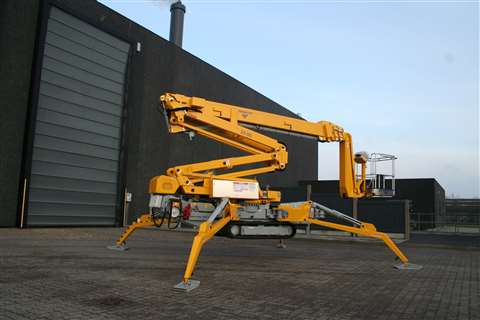 Omme Lift will premiere the compact, 25m tracked platform at Bauma 2019.
25.00 RXJ has a working height of 25m and an outreach of up to 12.5m. A dual parallelogram articulating riser gives 7m up-and-over free clearance and provides vertical wall tracking. This provides the user with a variety of options for both indoor and outdoor usage.
The compact machine has a transport length of 6.91m, which can be further reduced to 6.16m without the detachable basket. The transport width can be reduced to just 0.89m. The dimensions are designed for easy manoeuvrability in confined spaces, while the controls are simple to use and intuitive. Stabilizers allow the machine to be set-up on uneven levels up to 40%.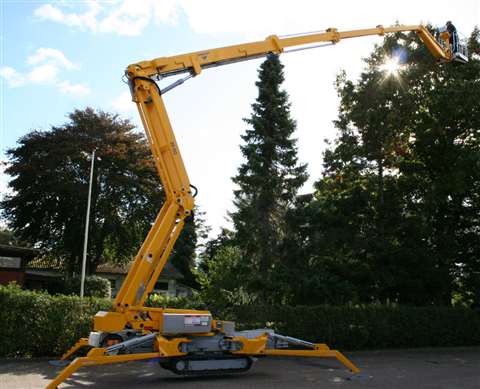 The standard version is a true diesel/battery hybrid with engine generated re-charge. "Battery power means no direct mains power annoyance with trailing power cables and voltage drop," said the company, "The lift is therefore equally efficient in indoor and in outdoor environments.
The crawler chassis is designed for powerful travel in trough terrain and to disperse the machine's weight widely. "Low ground pressure is important when operating on more sensitive surfaces such as tiles, marble, flagged foot paths, wooden floorings or if the platform is craned into multi-storey buildings where high reach is required but low weight a necessity," added the company.
Omme lift will also bring a wide range of its other crawler trailer and lifts to bauma, up to 42m, including the Ommelift Mini 12 EJ and 1700 EX trailer lifts, and the 4200 RJ tracked platform.