Before harness, responsible operation
By Brad Boehler17 March 2008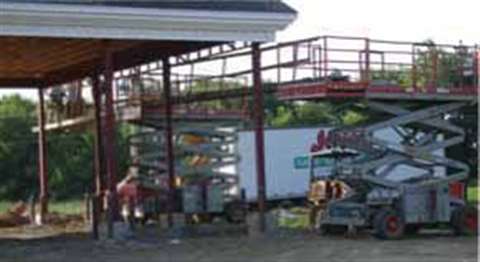 We are spending too much time endlessly debating the issue of harnesses and scissor lifts, says Skyjack's director of product safety, Brad Boehler. Instead, we should be concentrating on the main avoidable hazards, such as scissor tip overs and operators being pinned to obstacles.
As I write this piece, I am questioning why I can find so very little data regarding people falling from scissor lifts. After reading the article "Scissor Lifts + Humanity = Harness," (ALH July/August, page 40) which suggests that occupants are falling out of scissor lifts on a regular basis, as the director of product safety for a company that has specialized in the manufacture of scissor lifts for more than 20 years, I would expect to have received many reports of accidents resulting in death or serious injury to operators as the consequence of falls from the platforms of scissor lifts.
I decided to look back through some of the data I have collected and also consulted some industry experts with regard to their experiences. My conclusions are that very few people have actually fallen from height while appropriately operating or using a scissor lift and, furthermore, that the vast majority of the "falls" that I am aware of have been the result of occupants deliberately and inappropriately leaving the confines of the work platform, standing on the guardrails or utilizing some other means to attain additional elevation while within the boundaries of the platform.
I am aware of a handful of incidents in which someone standing on the platform of a scissor lift has, indeed, fallen to the ground. However, in each and every one of those rare cases, there has also been either a deliberate removal of some portion of the guardrail system or some other misuse of the guardrail. I have received no reports of someone falling from a scissor lift while standing on the platform with an intact, functional guardrail system.
Wearing fall protection while on a scissor lift, if one chooses to do so, is not prohibited. If utilized, I recommend use of a fall restraint system, with a short lanyard that will not permit a user to encounter a potential fall hazard, rather than a fall arrest system. When fall arrest equipment is chosen, it should be properly used with a lanyard that provides a minimum of slack. Unfortunately, many users misuse fall arrest equipment, by standing on guardrails or outside the confines of the platform, believing that they will be protected in the event of a fall. If you have to stand on the guardrails or employ some other technique to gain additional elevation to reach your objective, then you or your employer have selected the wrong tool for your task and need to take steps to find a safe way to perform your work.
Now, I know there exists some governmental data that suggests the frequency of falls from platforms may be significant, but my belief, after reviewing the details of some events, is that the referenced data is not properly coded and that most of the "falls" are actually tip-over incidents that are recorded as falls, simply because the occupant is reported to have "fallen" from the platform during the tip over event. There exist many anecdotal reports about being able to jump to safety from a tipping scissor lift and others about being "saved" from ejection, and possibly a far worse landing, as a result of being strapped to the platform.
The previously referenced article, sates that "scissor lifts operate in the real world where there are bumps, potholes, grades, moving vehicles and other obstructions. Any of which may cause the unit to lurch, move abruptly and tip over. In many instances where this has occurred, the guardrails were rendered useless as the occupant(s) sailed over them." In response, I have yet to receive any reports of anyone sailing over the guardrail of a unit which has remained upright and would argue that there is not a dynamic ejection hazard associated with scissor lifts as there is with boom lifts.
The foregoing begs the question of whether a scissor lift user is better off being harnessed into a tipping unit or not. I say, let's take one step back and prevent the tip over instead of trying to mitigate the effects of it.
The outcome of being strapped into a falling scissor lift is an unknown, but it is nearly certain that the occupants will be injured regardless of their fall protection choice. Properly trained operators know how to keep their lifts upright by avoiding "bumps, potholes, grades, moving vehicles and other obstructions," as well as a variety of other hazardous conditions, and this is where we, as an industry, should concentrate our efforts, rather than endlessly debating the scissor lift fall protection issue.
As far as I am concerned, a properly trained operator is capable of using any scissor lift in a safe manner that will return him or her home safely at the end of the day. I believe that, as an industry, we do ourselves a disservice every time we rehash the fall protection debate relative to scissor lifts. The vast majority of persons injured while using scissor lifts are injured as a result of tip over incidents or by pinning themselves, or others, between the lift and other objects.
As an industry, we have a moral duty to concentrate our efforts on the elimination of avoidable hazards, which for the most part can be accomplished with proper operator training. You do not need to wear personal fall protection on a scissor lift equipped with a functional and complete guardrail system. Keep your feet on the platform floor and all will be well. If you want to wear fall protection, go ahead, but I recommend a fall restraint system that will obviate the need to arrest a fall. Boom lift? Absolutely wear fall protection. That requisite has been summed up by the industry organization, AWPT, in its technical guidance note AWPT H1, available at www.awpt.org/publications/technical-guidance-notes/.
Now let's start the dialogue about preventing tip overs and pinning incidents.