Big launch for Atlas Copco
By Lindsay Gale20 March 2008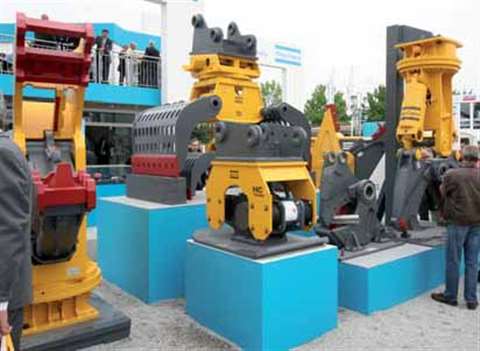 While the focus of attention on the Atlas Copco exhibit was on the HB 10000 hydraulic hammer, and it was indeed an impressive sight, there is also plenty to see in terms of other new demolition attachments. Early results of the first appearance of the HB 10000 indicated a good future for the tool, with interest expressed on the first two days of the show sufficient to exceed current production capacity to the end of the year should they turn in to orders. However, a number of other products are product groups were unveiled on the opening day that will find ready use in the demolition sector. Nevertheless,.
And so to the new tools. For pulverising applications comes the 2,930 kg (6,446 lb) BP 2900 bulk pulveriser for excavators weighing from 25–35 tonnes with a maximum jaw force of 114 tonnes. It is joined by the DP 2000 demolition pulveriser, an extension of the range created with the launch of the DP 2800 at the end of last year. The new tool weighs in at 2,050 kg (4,510 lb) and is designed for use with carrier weighing 18–27 tonnes, and provides a maximum cutting force of 265 tonnes.
Other tools more suited to general construction were also introduced, including compactors, grabs and a series of TEX breakers–8 basic models and 22 different versions to suit needs in different markets for shank sizes etc. Weights range from 15.5 to 31.5 kg. Four of the basic models have advanced vibro–reduction while the remaining four come as noise–reduced standard models.