Boels orders 354 Snorkel mast lifts
By Euan Youdale25 June 2021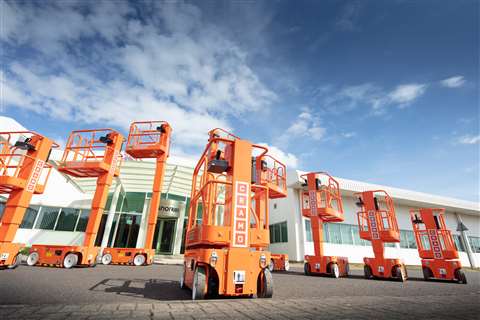 Boels has invested in 354 Snorkel TM12 mast lifts for its Cramo rental fleets across northern Europe, notably Scandinavia.
The deal, which was negotiated by Snorkel's Andrew Fishburn during the pandemic through a series of virtual meetings, was completed in March and deliveries from Snorkel's facility in the UK have now commenced.
The 354 vertical mast units, which are custom-painted in Boels orange, with the Cramo logo, are being delivered into Finland, Norway, Sweden, Estonia, and the Netherlands.
The TM12 was one of the original self propelled telescopic mast lifts introduced in the early 1990s, and delivers a maximum working height of 5.6m and platform capacity of 227kg, yet weighs just 830kg. Measuring 0.76m wide, the compact TM12 can easily pass through standard doorways and be carried in passenger elevators. A 0.5m roll-out extension deck and non-marking tyres come as standard.
The Boels-Cramo Group operates from 750 depots in 18 countries and employs 7,500 people.

Cramo product area manager for access equipment, Jacobo Campos said, "Compact telescopic mast lifts are a very popular product type with our customers, so we took the time to evaluate the options. The Snorkel TM12 is the original, and with the upgrades that have been made to this design over the years, along with Snorkel's unique dual-coat powder paint finish, we have selected a leading product for our fleet and our extensive customer base."
Andrew Fishburn, Snorkel vice president of strategic accounts – EMEA, added, "We are extremely proud to be supplying a market leader with Snorkel TM12's, and we thank Jacobo and the Boels-Cramo team for their consideration and the business."