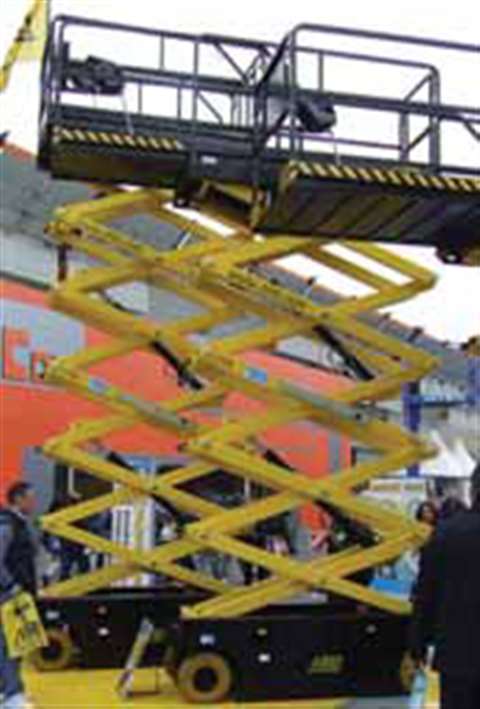 In terms of numbers, truck-mounted platforms led launches at SAIE, as a glance at the summary tables below reveals. Tallest was Barin's new 73 m working height AP 73/35 on a 42 t Volvo carrier, on loan from owner wind power generating company Asja Ambiente, who took delivery in August. Tristano Zuccolo, Barin's senior design engineer, told AI that Barin has three more units under construction and that it plans an 86 m model for delivery in 2009.
Also tall at Bologna was Socage's new 56 m working height Sioux TJ 56. The company, part of Fassi Group, has sold one unit to an airport in Saudi Arabia, and other business news is an agreement with Metz Aerials in Germany to jointly produce fire-fighting units (see News).
On CTE's stand was the 45 m working height Bizzocchi BHD450, an aerial platform/ladder combination. It was on the way to its buyer, the Bombeiros (fire brigade) in Covilhâ, Portugal. Marco Govoni, product sales manager, told AI the model is the introductory unit for its fire-fighting versions of the Bizzocchi product line, which the company says it is redesigning.
The news from another manufacturer of big truck-mounts, Oil & Steel, is that it has rationalised its Eagle S product line. General manager Andrea Certo said the Italian market had consumed production capacity in the past, but the company is now prepared to more aggressively sell the range into the rest of Europe.
However, the biggest news from Oil & Steel is its recent, 600-unit order for the Scorpio 18, an insulated, 18 m working height model developed for Italian power company Enel. Also insulated is Isoli's new, 16.5 m working height PT 165.
Lionlift said it has sold 10 of its 16 m working height GT 16-09 on Nissan carriers into France. CTE added a jib boom to its 19 m model to launch the new 21 m working height Z 21, and Tecchio showed the prototype of its 27 m working height K 427 DAT, mounted on a Durso 6 t GVW, 4x4 carrier.
OP Pagliero said it is prepared for strong sales, including those of its new, 27.3 m working height Multitel MX 270. Jerry Kist told AI that it will ship 850 truck-mounts this year and 1000 next year.
There were a lot of new crawlers (summarized in the box below left) at Bologna, too. Four new models, including two from Platform Basket, were in the 15 to 22 m working height range. CTE's offering, the 1600 kg, 13 m working height CS 135E, is small enough to fit inside a van for transport, said the company.
CMC's 41 m working height Elefant S41 just missed its planned debut at SAIE, and evidence of foreign demand for Italian spiders came from Silvano Prayer, export manager for CMC. He told AI that it is exporting kits of its 19 m crawler, launched eight months ago, to the Middle East, at a rate of 60 per year.
There were new scissors at SAIE, too. Tigieffe launched the six models of its new Airo X2 range of electric scissors, which replace the SF range when deliveries start in January. Working heights of the machine are from 8.3 to 14 m; capacities from 400 to 500 kg.
New from scissor specialist Iteco was the 14 m working height IT 12180 D/DE with 350 kg of capacity, which replaces the IT 12160 models. Iteco also showed the 6.5 m working height, 250 kg capacity IT 4680, distinguished by its 360 mm lateral platform extension.
To close out news about access equipment, Merlo said that first deliveries of its MPR aerial platforms will be in March/April. Paolo Peretti, brand communication manager, said the novel design "has opened up a lot of application ideas, such as harbour maintenance, airport operations, and steel frame erection."
Turning to telehandlers, Terexlift exhibited a prototype of the Girolift 4018 rotating model. According to preliminary specifications, it will have a maximum lift capacity of 4000 kg and lift height of 18 m, putting it between the company's current GTH-3518 R and -4020 R models. It will be in production sometime next year.
Manitou launched what it said is the biggest telehandler in the word, the 28350 kg MHT 10210 L Turbo. It can lift 21000 kg to 5.87 m and 1300 kg to its maximum lift height of 9.7 m.
Dieci's new model is the 6150 kg Dedalus 30.9, powered by an Iveco 60 kW engine. Its maximum lift capability is 3000 kg to 5.7 m and 1200 kg to maximum height of 8.7 m.