Breakers: Advanced technology for increasing demands
This year marks the 25th anniversary of the SB or solid body concept for hydraulic breakers and today, Epiroc said that the SB Hydraulic Breakers were a popular range of tools in its portfolio of hydraulic attachments.
The slim, lightweight solid body design is said to offer a number of advantages compared to the conventional hydraulic breakers which had already been around for some years. Epiroc suggested that outstanding durability and reliability, easier handling, lower fuel consumption and other benefits continued to make SB Hydraulic Breakers leaders in a competitive market.
First introduced by Atlas Copco in 1993, the solid body concept uses a patented internal component design that integrates the percussion mechanism and the guide system into a single piece. This is said to eliminate the weakest components of conventional breakers and gives SB breakers their outstanding durability.
The company said that compared to conventional hydraulic breakers of the same size, the solid body concept gave a slimmer, more compact design that allowed better visibility and handling, particularly in confined spaces.
Solid body breakers are also lighter, allowing a smaller excavator to be used for the same job, which in turn reduces carrier fuel consumption.
Epiroc added that the fact that solid body breakers had fewer parts than conventional hydraulic breakers reduced maintenance requirements and enhanced reliability. The attachments are designed for large diameter tools, which also contributes to their reliability.
SB Hydraulic Breakers are described as a reliable choice for demolishing light concrete structures and asphalt pavements, both outdoors and indoors.
SB breakers are manufactured in Epiroc's factory in Kalmar, Sweden. Designed for carriers in weight classes up to 24 tonnes, they are available in nine models with service weights ranging from 55kg to 1,060kg. The range is claimed to include models to match any micro or mini excavator, backhoe, skid steer loader or demolition robot.
Epiroc also claimed its premium SB series were the industry's only breakers equipped as standard with an integrated channel for water spraying, a feature designed to help improve the working environment on construction and demolition sites around the world.
With an integrated water channel, operators can spray water at the source of dust creation to keep dust levels down. This helps to improve the working environment, enhances visibility and prevents dust from seeping into the bushings. SB breakers are also designed to protect operators and equipment by reducing noise and vibration.
Epiroc Energy Recovery technology absorbs recoil energy, which is said to increase overall performance. The company said the result was a higher impact rate from the same hydraulic input with less vibration. The slim, compact design makes SB breakers easier to handle and improves operator visibility, it added.
Expanding fleet
When UK-based Wessex Demolition & Salvage expanded its fleet in response to new contracts, it purchased three new hydraulic breakers. Already using a Montabert V1200 breaker for over 10 years, the company decided that the new breakers should also be Montaberts supplied by Inmalo.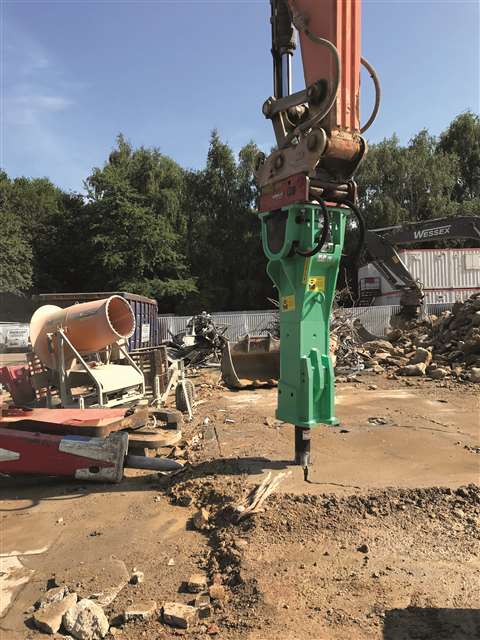 For Wessex, Inmalo has supplied the 501NG (780kg), V2500 (2,600kg) and the heavyweight V4500 (4,900kg) units to suit a range of applications and excavators for the most demanding of demolition contracts.
Richard Grant, managing director of Wessex Demolition, said, "We chose the Montabert hammers for their power and reliability plus Inmalo's professional back up. The improved design and technological advances were also important factors in the decision."
The 501NG breaker has been fitted to Wessex's Doosan DX140 excavator for the lighter jobs, while the V2500 and V4500 are working on the companies Volvo EC250 and Volvo EC480 excavators.
The V2500 and V4500 breakers with their automatic speed/power change are from the Heavy Range and are said to be ideal for demolition projects with heavy duty foundations or lighter slab. The range has models that are suitable for excavators from 18 to 80 tonnes.
Inmalo's Charles Polak said, "Wessex Demolition certainly made the right choice with these two breakers. Having seen the V4500 in action today on heavy concrete foundations, it made light work of it, increasing productivity and reducing time spent on site."
Three ranges
JCB Attachments offers three ranges of hydraulic breakers designed to work with its own excavators, backhoe loaders and compact machine lines, as well as universal breakers for fitment on other machine brands.
Both the contractor breakers and professional line of hydraulic hammers are supplied with a three-year warranty as standard.
There are three ranges of breakers – contractor breakers, professional breakers and handheld breakers.
Contractor hydraulic hammers have been specifically designed for JCB machinery as well as other brands of excavator and breaker tool carrier. The company said they provided "a genuine JCB product for users looking to retain genuine parts, expecting good quality and high productivity but with a budget to work to".
Each hammer has been extensively tested and matched to work perfectly with JCB carrier machines, it added, and is CE marked as appropriate.
The range includes 14 models, from the compact HM012T at just 120kg operating weight to suit mini and micro excavators, through to the 3.8 tonne HM380T that has been designed to work with excavators in the 40 to 60 tonne category. All models undergo final assembly in the UK, to the highest quality levels, said JCB, and are backed by a three-year manufacturer warranty.
The HM033T and above in the contractor breaker range have accumulators to protect the carrier machine from hydraulic pressure spikes, reducing possible wear and tear on the hydraulic system.
Contractor breakers use a single scaled design with the same maintenance requirements for each model. This ensures that dealer and customer service staff, particularly in a rental operation, can easily work on all hammers in the range.
The professional breaker range has been designed and built to work in specialist dedicated breaking applications. They are supplied "ready to go" with hoses, hangar bracket, moil and chisel tools. JCB said their body design provided maximum strength with lower weight, and the low maintenance accumulator helped reduce maintenance costs.
JCB's range of handheld breakers is built for demolition and breaking work with six models all claiming excellent power to weight ratio. They boast the lowest vibration levels of any equivalent breakers thanks to the vibro-damped handles, while extremely low noise levels are ensured, courtesy of a sealed hydraulic system. JCB said that with only two moving parts and constant lubrication by hydraulic oil, this led to a long service life, and each one is delivered ready to work.
Concrete demolition
Designed for concrete demolition, trenching and general excavation, the Bobcat HB Series of hydraulic breakers is intended for use on the company's compact loaders and excavators.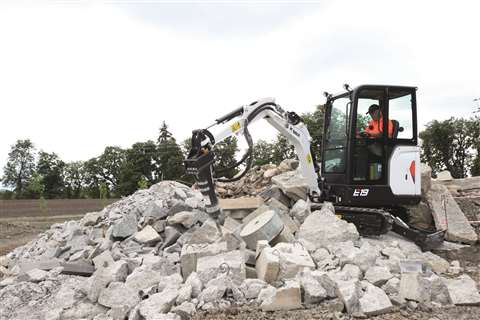 The Bobcat breaker range offers nine models running from the HB0280 breaker (minimum flow 13 to 23 litre/m) to the HB2380 (75 to 125 litre/m), offering high performance, greatly reduced maintenance and ease of use.
The breakers feature a frame with a cylindrical design, providing improved access to jobs in confined areas such as inside structures or holes. The breakers are equipped as standard with a special shield to protect hoses and fittings from being damaged when working close to the ground or in tight spots.
The design of the breaker's hydraulic system provides increased efficiency, ensuring a longer working time without risk of overheating. The breakers also incorporate an effective soundproofing system, whereby the striking assembly is held top and bottom by suspension systems that are not in contact with the outer cylindrical housing.
In addition, the breakers have an internal design with fewer moving parts and no tie rods. As a result, Bobcat said that the breakers could be completely disassembled in less than five minutes, without the need for special tooling, reducing maintenance costs even further.
The company added that the HB Series also pioneered a new way of working with a breaker. For the first time, either a bucket or a vibrating plate accessory can easily and quickly be fitted onto the breakers, it said.
All HB breakers share versatile mounting allowing use on both Bobcat compact loaders and excavators; silencing as standard; fewer moving parts for easy and minimal maintenance; and an automatic pressure-regulator that ensures the breaker works at its optimum operating pressure on all approved carriers
Another feature is a patented treated steel ring "clip" system, which retains the bushing of the tool and protects the greasing system. This ring is easily removed with a multi-purpose tool supplied with the breaker, to release the sliding bushing and the tool instantly.
Doosan offers the DXB range of five hydraulic breakers for use on medium and large excavators, covering carrier weights from 10 to 34 tonnes. Ideally suited for demolition work, the Doosan breaker range is also intended for general construction, rental, quarrying and mining applications.
The DXB series of hydraulic breakers comprises the DXB100H, DXB130H, DXB170H, DXB190H and DXB260H models, all claiming to share a simple, robust design providing both economical and reliable performance, low maintenance costs, operator comfort and carrier protection.
DXB technology is said to ensure the carrier is protected from the effects of reduction in pressure peaks. The breakers include an energy recovery system and a patented valve system, increasing overall performance; a high-quality piston and cylinder manufactured to precise tolerances; and an advanced dampening system to protect the breakers against blank firing.
The close tolerances of the parts used in the breakers result in lower maintenance costs.
At the top of the range, the Doosan DXB190H is suitable for 22 to 30 tonne excavators while the DXB260H breaker is designed for use on 27 to 34 tonne excavators.
The superior power-to-weight ratios of these breakers is said to provide efficient reduction of rock, boulders, concrete and other demolition waste, as well as excellent excavation work.
Plug-and-play
Caterpillar's B-Prefix hydraulic hammers, available in B4(s) and B6(s) silenced and B4 and B6 non-silenced versions, are designed for plug-and-play operation with a range of compact equipment – while claiming to deliver optimum lifecycle value.
The new hammers are suited for skid steer loaders, multi-terrain loaders, compact track loaders, mini hydraulic excavators (3 to 8 tonne operating weights), and backhoe loaders working in a range of construction and light-demolition applications, including site preparation, landscaping, masonry, and concrete breaking.
The B-Prefix hammers use a simple design that is said to ensure reliability, versatility, ease-of-use and maintenance. As a package solution, the matching Caterpillar-designed hydraulic kits are also offered and are said to be the best fit for Cat machines.
The hammers feature an industry-standard modular design with two moving parts in the piston and valve.
Flat-top mounting enables a compact working envelope, and compatibility with a full complement of brackets to suit preference of coupler, linkage kinematics or machine size.
Bushings are field-replaceable, and lower bushing can be rotated 90° for improved wear performance, while housings are designed to facilitate common maintenance items.
Tool types for the new hammers include moil, cone, parallel and transverse chisel, and blunt, allowing the hammer to be adapted to an extensive range of applications.
Intelligent protection
Back at Epiroc, the company is claiming a first in hydraulic breaker technology, as many of the company's rig-mounted heavy hydraulic breakers now feature its patented Intelligent Protection System (IPS).
Said to combine Epiroc's popular AutoControl and StartSelect functions seamlessly, this fully-automated system claims to provide simpler, more efficient and more economical operation than ever before.
AutoControl and StartSelect have been features on Epiroc hydraulic breakers for some years. AutoControl optimises breaker performance by automatically adjusting the piston stroke length.
The StartSelect system offers manual switching between two modes – the AutoStart mode enables easy positioning at the beginning of the breaking cycle, and in the AutoStop mode the breaker stops automatically to avoid blank firing at the end of the breaking cycle.
Epiroc said it was now taking these features to a higher level, with the functions now combined in Epiroc´s Intelligent Protection System (IPS).
IPS ensures that the hydraulic breaker always starts in the AutoStart mode. When the contact pressure between chisel and material increases and AutoControl switches from a short piston stroke to a long piston stroke IPS switches automatically to the AutoStop mode. When the chisel breaks through the material the breaker automatically shuts off and prevents blank firing.
Epiroc said the IPS made the breaking process simpler for the operator by automatically adapting the breaker's operating behaviour to any working condition. Uptime is higher since, with its fully automated functionality, IPS requires no operator intervention or reaction and therefore there is no interruption of the working process.
Initially, the Epiroc HB 2000, HB 2500, HB 3100, HB 3600 and HB 4700 were equipped with IPS, and over this year, all other heavy hydraulic breakers in Epiroc´s range have incorporated this syste