Cat's 313 excavator features next gen tech
By Mike Hayes28 July 2020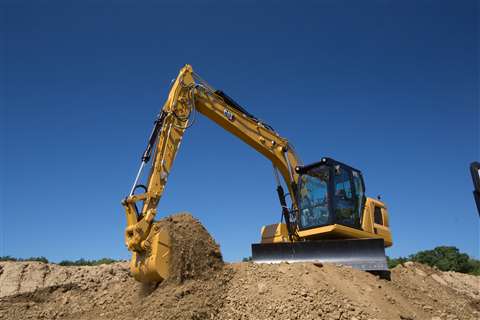 Caterpillar is set to launch its 313 excavator into Europe, with its next generation technology on board.
The machine will feature integrated software that, according to Finning – Cat's exclusive distributor in the UK, will improve operator efficiency by aiding payload and grade guidance.
The 313 is the first in Cat's new 13-tonne excavator range to launch with the new technology built in, promising additional benefits to the overall productivity of the machine.
Cat says the new onboard software, like smart mode, enables operators to adjust how they use their engines to be more efficient, reduce engine wear and emissions, potentially cutting maintenance costs by up to 25%, compared with the previous model.
Machine hours, performance and maintenance intervals can be monitored through onboard digital systems and delivered via Cat Connect, to enable contractors to monitor the performance of machine's in the fleet.
The model is also said to be compatible with a number of attachments that can expand its performance.
Steve Breen, head of construction at Finning UK & Ireland, says, "The new 313 models come with a set of in-built technologies that radically improve their efficiency.
"Externally, tools like Cat Link telematics mean operators can make the most out of their data. ProductLink and VisionLink enable users to collect data automatically from their equipment like location, fuel usage and idle time and visualise it to make informed decisions on the construction site."
Breen adds, "One of the other big changes with the new 313 excavator is the seat itself. Back pain is one of the most common reasons contractors miss work, so providing a more comfortable experience is central to a safer construction site. In addition, the new models the controls positioned directly in front of the operator, reducing chances of twisting and causing injury to the operator."