Cold weather packaged redesigned for Genie booms
By Lindsey Anderson09 October 2009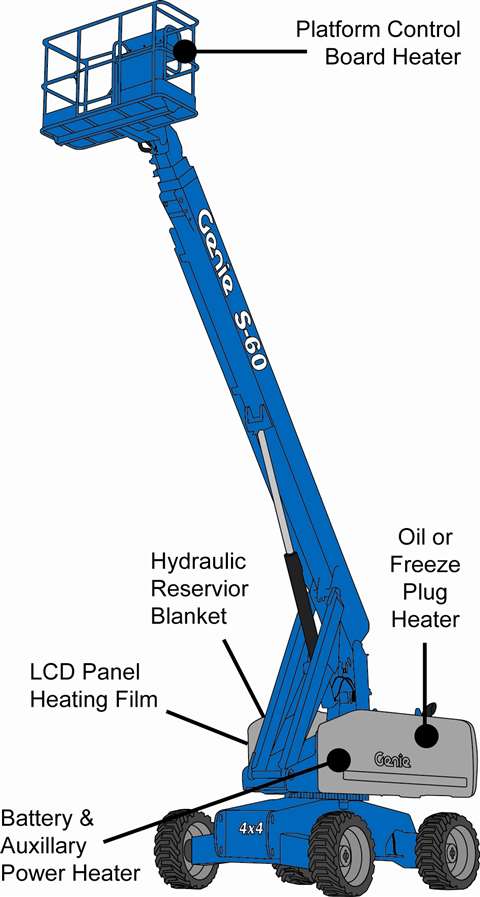 Terex Aerial Work Platforms (AWP) has redesigned a cold weather package for many of its Genie articulating and telescopic boom lifts.
The company said it has combined features of its new cold weather package and its former article and cold packages to give customers the best winter-ready options.
"The user will experience greater uptime with our cold weather package because it is designed to do two things: improve engine starting in cold conditions and optimize LCD display and hydraulic drive and function response," said Frank Schneider, Genie boom product manager, Terex AWP.
The redesigned package includes synthetic engine oil, a 110-volve AC warming blanket for the starter battery and either an oil pan heater or engine block heater depending on the unit's engine type.
The package can also include a ground-control LCD panel heating element, platform control board heater, 110-volt AC hydraulic reservoir warming blanket and platform function hydraulic oil recirculation.
It also features an oversized foot switch cover to accommodate larger winter footwear, the company said.
Terex AWP said the engine block heaters, synthetic oil and oil pan heathers improve cold engine cranking, while the LCD and platform control panel heaters allow LCD displays and electronic control membranes to respond more quickly in cold temperatures.
On certain makes that will have the 110-volt AC hydraulic reservoir warming blanket, hydraulic fluid will stay warm while the platform recirculation keeps warm fluid constantly flowing to and from the AWP's functions.