Collett starts in Ireland
By Alex Dahm09 October 2017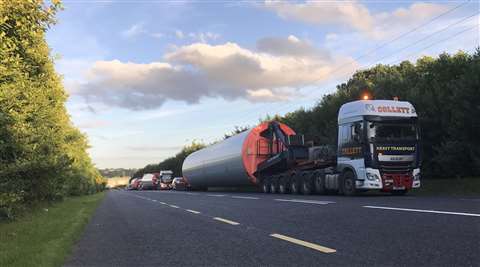 Specialized transport contractor Collett in the UK has set up a subsidiary company in Ireland.
Collett, run by managing director David Collett, has been operating in the UK and mainland Europe for more than 40 years. Anticipated higher workload and already winning more orders for projects in the Irish market has led to the opening. Collett said, "This demonstrates our commitment to the Irish market and to build stronger ties with our clients and suppliers."
The new company is registered in Ireland and has been granted a Road Transport Operator Licence by the Department of Transport in Ireland to operate legally within the province and avoid falling foul of the EU cabotage regulations, Collett said.
Business so far has included deliveries on the the Tullahennel and Meenwaun wind farm projects.