Concrete construction: Pour it on
By Richard High25 April 2008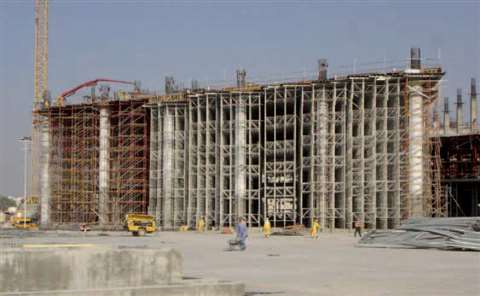 Innovations in concrete construction equipment are helping contractors acheive faster cycle times and perform larger pours on ever tighter construction schedules. Richard High reports on some of the largest projects currently taking place and looks at some of the newest equipment available.
Contractors active in the Middle East are often want to claim their projects break some record or other; largest car park, biggest shopping centre; highest flagpole. However, Joannou & Paraskevaides (J&P) senior projects manager, Ken Paterson might just have a better claim than most for the work J&P carried out at Qatar's Hamad Medical City (HMC).
J&P's US$ 118 million contract covered all the major concrete works over a total floor area of 355000 m2. "We formed 285000 m2 of slabs - 285 to 1000 mm thick - in 16 months, at an average of 18000 m2 per month. In our best month we did 26000 m2.
"Besides that we poured 245000 m3of concrete and used 26 tonnes of reinforcement on the 2.5 by 2.5 m beams. These aren't things you see every day. I think this is the largest hospital complex in the world and the biggest post tensioned concrete job too," said Mr Paterson.
According to Mr Paterson, the client, Qatar's public works authority Ashghal, chose to complete the job in post-tensioned concrete because, "you can replace reinforcement with post tensioned rods, which means increasing the floor space, while reducing the weight on the foundations. It also costs less," said Mr Paterson.
Key to the success of the project was the support J&P received from all its sub-contractors and suppliers. "RMD Kwikform really came up trumps on designing and supplying the formwork we needed, when we needed it, where we needed it. Josef Gartner, who did the 33000 m2 post tensioned cable wall façade, in just four months, also pulled out all the stops," said Mr Paterson.
RMD, which produced over 300 working drawings and advised on site on a daily basis, supplied its Alshor Plus for three main aspects of the project. "In the main building we used 2000 m2 per floor, where it was assembled into large, lightweight table forms for rapid falsework movement and floor cycle times," said RMD's general manager, Michael Oates.
Elsewhere, said Mr Oates, Alshor was used as four legged "simple" towers. Along the perimeter of the building it was also used to support a 1 m thick, cantilevered slab. "This overhangs by 4 m at heights of around 26 m, although in one area it was actually 46 m," added Mr Oates.
With so much work on site RMD had its own supply yard. "Calculations where made to estimate as best as possible what the peak usage would be. The core stock was over 80 trailers of equipment, or 1100 tonnes, which changed shape and configuration almost on a daily basis for six months," added Mr Oates.
Climbing high
In the US concrete contractors are also busy claiming records. Earlier this year Chicago's 92 storey, 415 m high Trump Tower completed its 61 x 20 x 3 m foundation podium using 3800 m3 of self-consolidating concrete (SCC).
Local contractor James McHugh Construction needed 30 concrete trucks working 24 hours to complete the pour. However, with construction of the US$ 600 million tower's superstructure now underway McHugh is looking to break another record. Once complete in March 2009 it will be the tallest reinforced concrete building in the US.
Almost US$ 130 million will be spent on the concrete elements, which are expected to total 138000 m3. Construction of the upper floors is using a mix of Peri's Domino, TRIO and Rundflex panels and the Multiflex and Skydeck systems for the slabs.
Architect Skidmore, Owings & Merrill's design includes setbacks positioned at various heights. However, meeting the "aggressive" one floor per week plan calls for a huge amount of formwork.
Like RMD, Peri has a site office and a resident engineer to keep track of the 16900 Multiprops, 2600 Peri Euro Prop (PEP) and 7500 MRK frames used so far. In addition to this, Automatic Climbing System (ACS) units spanning 9.1 m are anchored to the 1.5 x 1.7 m peripheral columns, formed using custom-made Vario panels.
With the lower floors complete 34 Rail Climbing System (RCS-P) units will be used on the upper levels. They will completely enclose the floors under construction in conjunction with the eight ACS units.
To overcome high winds, and boost safety, McHugh is also using a hydraulically jacked, CPP (Climbing Perimeter Protection) system, specially developed by Peri for use on high-rise projects. "Together these systems allow for protection against falling and the strong winds experienced at great heights. Productivity also rises thanks to the increased perception of safety on the slab edges," said Peri's spokesman.
Another large pour in the US has recently been completed by Brundage-Bone Concrete Pumping. Using two Schwing S 61 SX booms and an S 41 SX it claims to have poured 68580 m3 of SSC concrete to complete expansion of Intel's Chandler production facility in Arizona.
To expedite construction of the 107 x 488 m FAB 32 site, which includes 780, 11 m high columns, was divided into two. On the north side of the site, the 61 m booms used their 56 m horizontal reach to complete 18 pours on the sub-floor level, 10 slab on grade pours and 10 waffle deck pours.
On the south of the site the S 41 SX, Schwing's newest machine, used its 39 m boom with 29 m reach, and four-section roll and fold mast, to pump concrete around the columns.
Road works
Also pushing production boundaries is China's Guangdong Changda Company. For construction of a 24 km long section of the Meilong Highway, which connects Meizhou City to Longchuan in Guangdong Province, the company was looking to reduce costs and increase productivity. Following discussions with several slipform paver manufacturers it chose to use Gomaco's GP-4000 slipform paver with an in-the-pan dowel bar inserter (IDBI).
The 8.75 m wide road has a thickness of 260 mm, with transverse joints at 4.8 m spacings from joint to joint. "It was a challenging project with many tunnels and turns throughout the mountainous area. With this being the case, Changda liked the short front-to-back dimension of our GP-4000.
"Front-to-back lengths become very important when paving roads that have many turns in them. Longer machines cannot meet accuracy tolerances as well when the paver is going through many transitions in cross fall or super elevations," said Tim Nash, Gomaco's international sales manager, Asia Pacific.
Besides this, said Mr Nash, the IDBI's insertion process features a patented bar trolley for placement of the bars onto the insertion tray, improved fork design with six-point capture, reduced fork size for minimizing insertion scar to the fresh concrete, and the patented "Smart Cylinder" insertion mechanism. This "strategically" applies vibration to the inserter forks for accurate bar placement and superior consolidation of the insertion puncture.
With an emphasis on re-filling the insertion puncture holes finishing is a dual process that uses an oscillating straightedge, followed by a tamper bar before the material reaches the final section of the forming mold. "Compact transport dimensions and the ability to use the same paver and mold converted over for non-DBI paving meant Guangdong Changda achieved well over 600 m per day during the project," said Mr Nash.
Stadium climb
Infrastructure demands of a different kind have seen construction of a new sports stadium in Kuwait. The Jaber Al-Ahmed International Stadium, designed by Weidleplan Consulting, takes its inspiration from the region's wooden merchant ships and will hold 60000 spectators once complete this month (December).
The Mohammed Abdulmohsin Al-Kharafi & Sons W.L.L. and Philipp Holzmann joint venture started work in mid 2004 with Germany-based Doka supplying a formwork solution that required no falsework support.
The structure's shell required 52 hollow wall piers. Stepped beams cantilever out as much as 50 m from the tops of the walls, rising to a height of 65 m. These carry the roof construction and the grandstands, and are stiffened in the horizontal by connecting cross-beams, also made of reinforced concrete.
The wall piers used eight complete sets of formwork - Top 50 large-area formwork on 150 F climbing brackets. When it came to the inclined cantilevering stepped beams, the contracting JV were looking for an operator-friendly, wind-stable formwork solution, according to project engineer Adel Hamdy.
"The Doka solution does away with the need for equipment-intensive, high-cost falsework supports for the up to 65 m high stepped beams," said Mr Hamdy. " Instead, a special balanced-cantilever formwork was developed that can be 'jumped' in a similar way to a climbing formwork. This permits huge savings in terms of falsework and labour costs."
However, the system has to sustain not only its own dead weight and the wind loads, but the weight of the fresh concrete as well, and transfer these loads into the previously cured section. In each set of formwork, elements of Doka's Top 50 large-area formwork are set up on two steel girders.
These are fixed in two climbing-shoes on the underside of the stepped beam. At the top, the whole system is back-stayed with 10 m long tie-rods.
The two 36 mm diameter tie-rods, each with a failure load of 100 tonnes, begin at the outermost extremity of the formwork-set and end in the back-stay unit. This is made up of steel girders, which transfer the 70 tonne load of the fresh concrete into the previously finished section.
Instead of supporting the stepped beam entirely with falsework, the climbing balanced-cantilever formwork was "tied" to the structure and moved by crane. After the form-ties were detached, the wall element was tilted 100 mm back from the cured concrete. The system was held in place by crane, and the tie-rods of the back-stays were then detached.
The crane hoisted the 14 tonne formwork unit up and along to the next casting section, where it engaged in the previously mounted suspension shoes. After this, the back-stay unit was relocated to the next section and the 10 m long tie-rods fixed in place. The reinforcement operations on the next casting section could now begin.
Once the reinforcement was placed, the base slab of the stepped beam was cast, with the inside formwork mounted and tied to the outside formwork. Finally, the crew cast the walls and the cover-slab in one single pour.
New equipment
While concrete contractors push production barriers and claim world records, equipment manufacturers have also been hitting some major milestones. Germany-based Liebherr, for example, has just produced its 40000th truck mixer at its Bad Schussenried manufacturing plant in Germany.
Besides reaching this milestone Liebherr has also been busy launching new products. The largest of these is its new, modular Betomix mixing plant. It can be supplied with a range of options and accessories, enabling operation in the most hostile of environments. For cold climates this means being capable of operating below freezing point, which entails enclosing, insulating and heating the complete plant.
In warmer regions crushed ice can be added to the mixer to lower the concrete's temperature making it suitable for transportation and pouring. A flexible plant layout also means the unit can also be integrated into an existing production facility "without difficulty", according to the company.
Available with a ring-pan, or a twin-shaft mixer, loading is via an elevator or a belt conveyor. Liebherr's newest belt conveyor, the LTB, is designed for use on its truck mixers. An add-on option it can deliver up to 70 m3 of concrete, sand, gravel or other bulk materials per hour and incorporates a load-sensing hydraulic pump.
New from Italy's Imer Group are the ORU Multis 750/500 mobile plant and the ORU Day MS 2250/1500 mixing unit. The ORU Multis 750/500 has a maximum capacity of 30 m3 per hour, and is "designed to meet the specific requirements of the ready-mix concrete sector, [but] is also capable of adapting to the needs of the prefabrication segment."
Easily transportable for a quick installation-to-startup time it is also simple to operate and requires minimal foundations. Versatility comes with the combination of scraping arms and horizontal storage bins. The "wet" version is supplied with the mixing unit pre-wired and pre-assembled.
The new ORU Day MS 2250/1500 can be combined with horizontal hoppers (fixed plant) or a mobile storage unit. Its compact dimensions mean it can be transported on a standard trailer. Loading is possible from three sides, while the mixing unit comprises a steel frame that forms a single monobloc.
Slipformers
Still at the larger end of new equipment available is Power Curbers' latest version of its 5700 curb-and-gutter, sidewalk and barrier slipform paving machine, the 5700-C.
Features include the ability to pour on the left or right hand side, while a new swivel chute means it can pour in a single traffic lane - the concrete truck in front of the machine instead of to the side. Water capacity has been increased to 500 litres, while fuel capacity is now 250 litres.
The 5700-C has a choice of control systems, including a new electronic one. Sensor adjustment has also been increased. Screens on the operator's panel allow the operator to determine if there is a cord problem, a sensor problem, or an amplifier problem and adjust quickly before a problem occurs in the curb. The operator's platform has also been raised for better visibility.
Elsewhere, Power Pavers' new SF-2700 and the SF-3000 are two-track slipform pavers capable of paving widths from 3.65 to 8.23 m (9.75 m with extensions).
The SF-2700 is a low-profile machine with a narrow side clearance for use in residential, street, rehab and overlay work. It is easily set up for paving since it can be transported without disassembly.
The SF-3000 is suitable for tight surface specifications on highways, roads and airports. For easy loading, hydraulic loading legs lift 1.06 m so that a lowboy can be backed under the machine. The SF-3000 pours slabs with a depth of up to 610 mm.