Construction technology: connectivity is key
When it comes to construction technology, Dr Burcin Kaplanoglu, executive director, innovation officer, Oracle, surely has one of the most impressive CVs in the industry. He has been at Oracle for around two years and before this spent over 15 years at Lendlease where he was vice president, director of operations at Lendlease's Telecommunication Infrastructure Business Unit. Kaplanoglu is also adjunct professor at Northwestern University's McCormick School of Engineering in the US.
Speaking at Digital Construction Week in the UK, with an espresso in front of him and a long flight recently behind him, Kaplanoglu is animated company as he discusses the challenges and opportunities for the construction industry regarding new technology.
"Adoption comes in waves, right? I think we're in a wave now and I don't know when the next wave is going to start, but we're in a wave and it's going quite fast," he comments.
"There are the early adopters and they're doing quite well. They're getting publicity out of it and people paying attention to them. It's helping them win work. Then there's the other ones who are watching it and they're like, 'I'm only going to do it when it becomes a real threat to me', but I think that's applicable to every industry."
Innovation Lab
Kaplanoglu is also – honestly, it's enough to make one feel distinctly unaccomplished – the co-founder of the Oracle Construction and Engineering Innovation Lab which is one of the key projects he has helped implement.
The Lab is based in Chicago, US, and is a site where the company can design and test new products. According to Kaplanoglu, the key is that it is a permanent space where customers and those in the industry can come and physically see the technology for themselves.
"We are the first tech company to own a construction site in this space, to actually try this. It really boils down to process and the people. By having a physical site, we are working with our customers to improve the process but also improving their skills. Adoption is a major issue in the industry. But we clearly see that, until you tackle the process issues with your customers, you're not actually improving."
It certainly makes sense that having a physical site where this technology can be viewed in action could make a big difference. It is one thing to read about virtual reality or remote operated equipment, and quite another to see it in person. As the old saying goes, seeing is believing. The Lab has received over 650 guests in its first year of operation, with visitors from as far afield as Sweden, Australia, New Zealand and Japan.
Smart machines
There are many different aspects of construction technology, but when Kaplanoglu is asked if he can pinpoint what excites him the most about this field there is no hesitation before he answers, "Machine learning and what we can do with machine learning."
The amount of data that construction equipment themselves, and construction projects, generate is enormous and thanks to machine learning this data can be modelled and understood. This can lead to something that Kaplanoglu says it absolutely critical to the industry: predictable outcomes.
"We're building these models to figure out what are the risks of our projects and how can we make our project outcomes predictable? Everybody's looking for predictable outcomes. How can I predict what will be the outcome and then, if there's risks, how can I mitigate them? I want higher profit margins. I work in a high-risk industry and many companies know they are only few bad projects away from financial problems."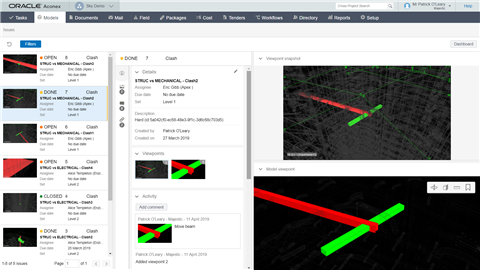 Key to machine learning – and to BIM, virtual and augmented reality, remote operation and other aspects of construction technology – is the strength and speed of the network connection.
This is why 5G is seen by many as being significant for the industry as high speed and low latency will enable data processing to happen much quicker, be that for virtual reality or autonomous construction equipment.
"We can have amazing artificial intelligence but, on site or off site, if you don't have the connectivity, it doesn't matter. It's like pieces of the puzzle; you need to connect all these things together."
It seems that the future of construction is for jobsites and processes to be more connected than ever as the industry works towards predictable outcomes and, with it, more projects being delivered on time and on budget.