D-Series grapples launched
Kinshofer, a leading global manufacturer of excavator and loader crane attachments, offers its D-Series grapples with a new light, compact and flexible shell, said to be ideal for sorting and demolition. The attachments feature 360°endless rotation for precise positioning to give construction, demolition and recycling contractors optimal control when grabbing materials. The grapples are available for 2 to 80 t excavators.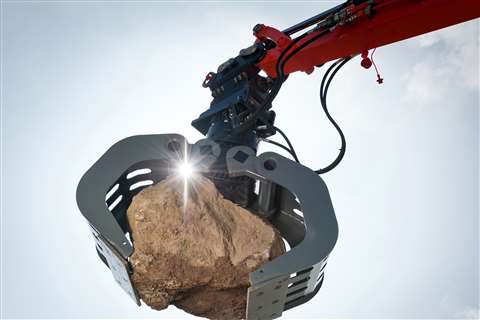 "The D-Series provides contractors with exceptional job site versatility," said Francois Martin, Kinshofer North America general manager.
"The powerful grapples allow operators to easily grab, sort and move a variety of materials. Further, their design incorporates multiple features that reduce maintenance and extend service life."
Conventional heavy-duty hydraulic cylinders with hydraulic damping protection power the D-Series, while Kinshofer's patented HPXdrive powers the D04HPX, D06HPX, D09HPX and D35HPX.
According to Kinshofer, the cylinderless HPXdrive system provides constant closing force compared to competitive grapples and reduces overall cost of ownership by about 50% compared to conventional models.
The D-Series' streamlined design offers a compact footprint for working in tight areas, such as urban demolition sites. The robust Delta-box frame provides durability and reliability for demanding applications such as quarries and large-scale demolition, while the dust-proof axle bearing points keep out dust and debris.