Downtime Index: machine use recovers strongly
By Murray Pollok03 June 2020
The weekly Downtime Index rose 15% from 79 in week 21 to 91 in week 22, reflecting a strong recovery in construction equipment use from the depths of the Covid-19 crisis two months ago.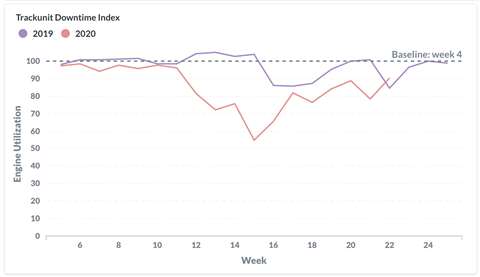 The Index – calculated by Trackunit and tracking the utilisation of more than 150,000 off-road machines in North America and Europe – saw sharp improvements across Europe. The Index fell slightly in North America, likely reflecting the Memorial Day weekend holiday.
The results means that the Index exceeded 90 for the first time after 10 successive weeks at sub-90 levels and from a low point of around 55 in mid-April. What is even more encouraging is that the Index level of 91 last week actually exceeded that of the same week in 2019, although last year's figure reflected a one-week reduction reflecting a holiday period.
The Index is calculated by telematics specialist Trackunit, with changes in harmonised engine utilisation - defined as voltage activity on a machine's alternator - expressed as an index to allow for quick international comparisons. Trackunit is publishing the data as a planning aid for the industry as it wrestles with the pandemic.
The data comes from off-highway machines including both end user and rental owned machines, with approximately 40% being aerial platforms, a staple product in the rental industry. KHL Group is the exclusive media partner and is currently publishing weekly updates on the Index.
In terms of machine use – defined by a vehicle being operated for more than an hour during the week – the figures are also positive. There was an increase in activity rate of 8.2% to around 60%, which indicates that 12,000 more machines were turned on and worked on North American and European construction sites. The activity rate was identical to that of the same week a year ago.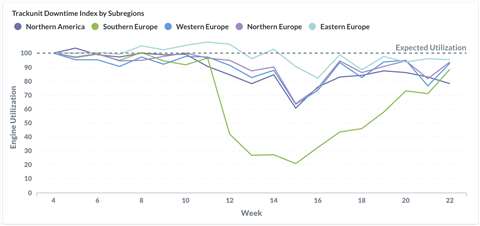 Trackunit reports that Southern Europe saw double-digit utilsation growth for the seventh week in a row, driven by improvements in Spain. The Index rose from 71 to 89, which represents an increase of 24.7%.
The Index website can be found at www.downtimeindex.com