Drive on road AND rail
By Christian Shelton03 May 2017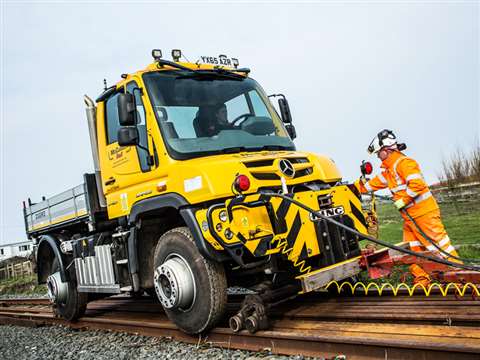 UK railway maintenance contractor McCulloch Rail has purchased a new road-rail vehicle: the Mercedes-Benz Unimog. The company required a vehicle that could work equally well on-road, across rough unmade ground, and on train lines.
The specialist vehicle is a Euro VI U427 model and was supplied by specialist vehicle dealer South Cave Tractors, which is based in Yorkshire, UK. Its 200 kW (272 hp) six-cylinder engine drives through a fully synchronised manual transmission that has eight forward and eight reverse gears.
In addition to its road wheels, the 13-tonne (gross vehicle weight) chassis is fitted with special rail wheels by German specialist Zagro. These can be lowered to enable the truck to drive along railway tracks, then raised again when not required.
According to South Cave Tractors, a road-rail vehicle typically requires a level crossing or RRAP (road/rail access point) to join the track. However, the Unimog's off-road capability means that even if none is available nearby, it can still cross any ground necessary to get to work.
The Unimog has a factory-fitted dropside body and can tow a large trailer. This means it can transport a full complement of tools and machinery to even remote rail locations.
"No other machine does what the Unimog can do," said Danny McCulloch, one of the founders of McCulloch Rail. "It can be driven on road at 56 mph yet is also capable of handling the roughest cross-country terrain. It can haul a heavy trailer with specialist plant or machinery, and ours can even run on the railway line. It does everything."
According to South Cave Tractors, the off-road heritage of the Unimog stretches back more than 70 years. The first model was launched in 1946 and South Cave Tractors claims that today it is widely acknowledged as one of the world's leading all-terrain vehicles that thrives in harsh operating conditions.
There are two core variants of Unimog: an implement carrier with front, side and rear attachment points; and a base truck for a range of other bodies. All Unimogs have 4x4 chassis with single rear wheels, which follow the track created by the front wheels. Gross weights vary from 7.5 to 16 tonnes and engines from 156 hp to 300 hp.