ERA CO2 calculator gets 1000s of visits
By Murray Pollok22 June 2021
More than 850 CO2 emission calculations have been carried out using the European Rental Association's CO2 Calculator since its launch in January this year. There have been over 3,400 visits to the dedicated website.
The calculator is free to use and is available on a dedicated website alongside the association's Total Cost of Ownership (TCO) calculator.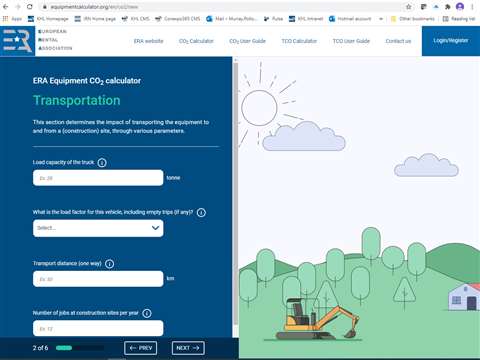 There are now 1,668 registered users for the two calculators, with 38% being rental companies, 27% from equipment manufacturers and 35% other businesses, including contractors.
Around 80% of the users are from Europe, although the calculators are free to use worldwide.
The website allows any equipment owner or user to insert a particular equipment type and model and calculate the expected CO2 emissions.
The calculator takes into account transport and the CO2 emissions associated with energy in different countries in Europe.
At the ERA's recent general assemblty, Michel Petitjean, ERA's Secretary General, said the calculator is now being ammended to allow users to input multiple machines in a single calculation. This could allow, for example, a user to estimate CO2 emissions from an entire fleet of equipment used on a single site for a prolonged period.
Both calculators can be found here.