Eagle Crusher shows off UltraMax with feeder option
By Leila Steed10 March 2020
Eagle Crusher is displaying its new UtlraMax 1200-CC with Pre-Screen feeder at ConExpo's Central Hall.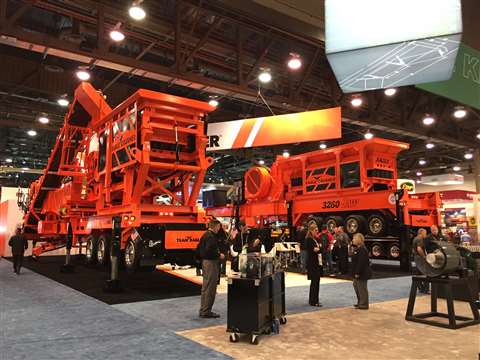 Daniel Friedman, Eagle Crusher's director of marketing, said: We're pleased to introduce our new 1200 closed-circuit plant with pre-screen feeder option, allowing asphalt producers as well as concrete recyclers to have a new option to remove unnecessary materials that are either at spec, or for concrete recyclers, remove dirt so that they can produce a clean product quickly and easily."
The plant is suited to large-scale projects, produces high volumes of material at or near spec.
The new pre-screen feeder has a 1.21 x 1.52 m (4 x 5 ft) two-deck screen ahead of the impactor, which allows materials to be removed prior to crushing.
Daniel said this helps reduce wear and impact on the plant and also increases overall tonnage for producers.
The self-contained UltraMax 1200-CC is also available with a diesel/electric or an all-electric engine.