Enerpac lock-grip pullers
By Christian Shelton10 May 2019
Enerpac has launched a range of lock-grip pullers for removing shaft-mounted parts. There are two types of puller available: mechanical and hydraulic.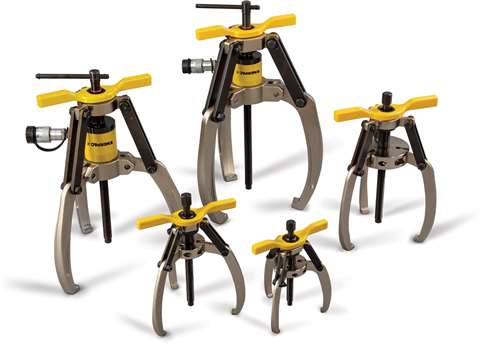 The LGM-Series mechanical lock-grip pullers are designed for pulling small- to medium-sized wheels, sprockets, bearings and other similar shaft-mounted parts. According to Enerpac, the puller's self-centering closing system allows all jaws to move simultaneously, making it easy for a single operator to mount the puller and to perform the application.
The LGH-Series hydraulic lock-grip pullers have the pulling force applied by a standard 700 bar hydraulic cylinder. They can apply up to 64 tonnes of force and are suitable for removing larger shaft-mounted objects up to 660 mm in diameter, said Enerpac.
Both types of puller have an adjustable handle designed to simplify the positioning of the jaws during use, thus speeding up operation. A locking mechanism is designed to help prevent jaws from slipping off while pulling. A wide spreading width on the jaws enables the lock-grip pullers to be used on thick objects, said Enerpac, while a spindle protector helps prevent damage to a spindle when pulling against a flat surface.
Master puller sets are available that include an LGH-Series puller, a cross puller, a bearing separator, a bearing cup puller, a detachable hollow cylinder, a hose and gauge, and a pump. There are also set options available that include hand, air, electric and cordless pumps.