Engines and components: driving ahead
By Mike Osenga, Alex Dahm and Ian Cameron26 October 2020
In addition to the inevitable supply chain interruptions the Covid-19 virus has had further impact on the engine and components sector.
It led the European Parliament to extend, by 12 months, the Stage 5 exhaust emission transition deadlines for certain categories of engines to be fitted in non-road mobile machinery (NRMM) and tractors.
Commenting on the vote, Riccardo Viaggi, secretary general at CECE, the Committee for European Construction Equipment, which represents the interests of 1,200 construction equipment manufacturers through national trade associations in 13 European countries, said, "The Parliament's vote was vital to prevent further economic damage caused by the Covid-19 pandemic to our manufacturing industries and protect thousands of qualified jobs that depend on them.
"In response to a joint industry request in March, the European Commission tabled a proposal in June to postpone the 30th June and 31st December 2020 deadlines for the production and placing on the market of NRMM fitted with <56 kW and ≥130 kW transition engines."
While less of an upheaval in terms of necessary changes than it was to meet the previous standard, the extra time should provide some welcome relief in the form of a little breathing space for OEM's engineering departments.
Hydrogen as a fuel to replace petrol or diesel, especially for heavy trucks, is in the news again. Crane manufacturer Liebherr's Components Division is developing what it describes as climate-friendly injection solutions for hydrogen. The company says, "As the internal combustion engine is still the dominant form of propulsion for mobility today, Liebherr's Components Division sees it as a logical step to also advance the internal combustion engine for the use of carbon dioxide-neutral fuels."
Liebherr is working on direct hydrogen injection "that is ready for series production in correlation with the binding carbon dioxide targets for trucks introduced in 2019." The first engine tests are scheduled before the end of 2020.
Power take off
In a move aimed at increasing the capability and flexibility it offers, the Cummins B6.7 and L9 Performance Series Power Units (diesel engines) will have new engine power take off (PTO) capabilities that are suitable for crane applications.
Cummins' Performance Series are available from 75 to 503 kW (100 to 675 hp) delivered as a complete ready-made package. This comprises engine, exhaust aftertreatment system, radiator and cooling system, plus ancillaries such as mounting feet, hoses and an air cleaner. More than 60 % of the content is pre- approved to make the machine integration process simpler and quicker.
Jeremy Harsin, Cummins off-highway marketing director, said, "To increase the flexibility and capability of the power units, we are integrating new single and dual rear-engine power take-offs (REPTO). These complement their standard PTO capability used for items such as hydraulic pumps.
As an example, fitted with the dual REPTO, the L9 will have a total drive capability of 560 Nm. This will make the engine capable of driving additional pumping capability through SAE B 2 and 4 bolt mounts. Integrated into the flywheel housing, the dual REPTO's added weight is approximately 100 kg.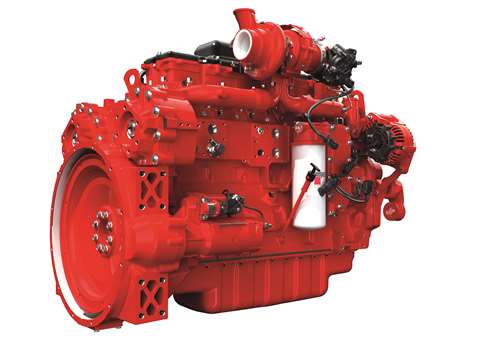 "For crane manufacturers, they have the ability to efficiently drive more from the engine without the need for additional aftermarket systems. This would support driving hydraulic pumps for all sorts of machine functions from steering systems to fans, etc. It will reduce installation costs and complexity, for a more integrated solution," says Harsin. Single and dual REPTO options will also be available for Cummins B6.7 and L9 base engines, supplied without power unit parts.
Big diesel
John Deere Power Systems (JDPS) has announced updates in both its engine and powertrain component ranges. They include the introduction of the new 18.0 L diesel engine, coming in 2022 and the North American debut of the latest versions of its electric off-highway drivetrain components.
Introduction of the 18.0 L model in 2022 will move the top end of the JDPS power range to more than 650 kW. The engine, the largest ever from John Deere, will be built at the company's Engine Works facility in Iowa, USA.
Like the company's 13.6 L engine, the rear gear train on the larger 18.0 L is designed to reduce noise as well as torsional and crank stress. The overall design will also include a three-piece wiring harness with a protective channel.
Talking of the 13.6 L, full production is due to start later in 2020. It is available in the 300 to 510 kW power range and has self-adjusting hydraulic lash adjusters (hydraulic tappets) and high-pressure common-rail fuel injection. Model-based controls will enable advanced prognostics capabilities, with fewer sensors and improved transient response, the company says. The auxiliary drive can take full power off the front of the crankshaft and offers forward-facing SAE A, B, B-B and C drives and a rear-facing SAE C auxiliary drive.
For aftertreatment, the 13.6 L will have an inline integrated emissions control system (IECS) from John Deere. It will be a single canister with integrated mixer and DEF (diesel exhaust fluid) injector.
Ryan Cawelti, manager, worldwide engine market planning at JDPS, said the 13.6 L now includes a no-DPF solution for both Tier 4 Final variable and constant speed markets, in addition to the dual certified solution for Tier 4 Final/Stage 5 markets.
Down the capacity scale, the big news with the JDPS 4.5 L engine range will be expansion of the non-EGR (exhaust gas recirculation) offering in 2021. The John Deere 4.5 L engine ranges from 55 to 129 kW. This includes single and series turbocharged versions covering 63 to 129 kW. The expanded options offer configurations with and without a diesel particulate filter (DPF) for both variable and constant speed markets.
JCB Power Systems is also extending its industrial engine range, with the six-cylinder Dieselmax 672. It is an electronically-controlled, common-rail design for lower certified markets and many components are shared with units used in the company's excavators. The 7.2 litre engine is rated at 212 kW (284hp), at 2,000 min-1. It uses a cylinder, block and bedplate design based on the 444/448 Dieselmax.
No exhaust aftertreatment is needed and the common rail system contributes to high performance with class-leading fuel economy, the company says. It benefits from single-sided service access and has automatic auxiliary drive belt tensioning and a 2,000-hour valve clearance adjustment interval to reduce service downtime.
In other news, Mitsubishi released a compact diesel three engine line up to comply with the EU Stage V regulations to reduce the footprint and total cost of ownership for operation and maintenance. The three engine models can meet the regulations without the addition of any after treatment system.
The new Mitsubishi diesels are the L3E, a three-cylinder, 0.95 litre water-cooled engine available in two power options; 13.4 kW at 2,700 min-1 and 15.8 kW at 3,000 min-1 and the S3L2, a three-cylinder, 1.3 litre water-cooled model with an output of 18.4 kW at 2,500 min-1.
One or two engines
While the trend towards using one engine instead of two on larger cranes brings efficiencies, this could result in suboptimal emissions and fuel economy, according to Jacobs Vehicle Systems. The company has developed two in-engine technologies that address this crane powertrain conundrum.
Two-step VVA (variable valve actuation) is designed for mixed mode and stationery equipment. It optimises the engine's combustion cycle for operation, emissions and fuel consumption by changing the intake and-or exhaust valve motions between two modes.
Cylinder deactivation (CDA) deactivates a number of cylinders during low-load or idle engine running situations, resulting in optimised thermal running conditions of the after treatment systems. Combined with fuel injection controls, both emission and fuel consumption can be improved.
CDA and two-step VVA can be combined as modular systems within the same engine kit hardware. While VVA addresses operating conditions faced by off-road and power generation applications, CDA is more valuable to off-road operation. Crane operators could benefit from a hybrid of the two, Jacobs said.
Moving along the drivetrain, Dana Incorporated has introduced a new series of eight Spicer Torque-Hub drives, expanding the company's offering of drive and motion technologies for crawler cranes and other large tracked vehicles.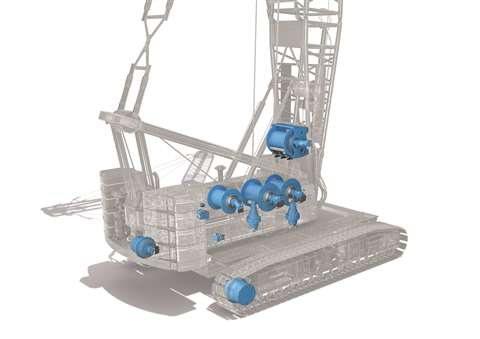 With torque ratings from 80,000 Nm up to 450,000 Nm, the new drives offer flexible packaging and gear ratios to meet manufacturer preferences for tracked and wheeled applications. Spicer Torque-Hub drives can be packaged with Brevini hydraulic pumps and motors, the company said.
Going electric
Electrification can bring savings in relation to productivity (cost of operation), air quality and carbon dioxide emissions, but the best solution is strongly dependent on vehicle parameters and duty cycle. OEMs need to identify this potential across their range of machines and have the information to select modular systems that bring advantages across the fleet.
UK-based global engineering and environmental consultancy Ricardo says it is well-placed to advise. It has electrification experience across all sectors, works on off-highway propulsion systems, has expertise in virtual engineering, and runs a programme of research and development. It says it offers "prioritised approaches that drive costs out of electrification and maximise efficiency, where we see strong pull from our global customers."
The Ricardo Architecture Independent Modelling Tool is used to find the optimum xEV system for each machine and duty cycle and explore opportunities to rationalise the powertrains of the existing product line-up. Combining simulation outputs with Ricardo's cost model allows trade-offs and sensitivities to be explored to identify the most cost-efficient solutions for end users.
John Deere Power Systems has expanded its range of OEM electric drivetrain components. The JDPS portfolio is designed to be modular for ease of OEM integration, minimising the need to re-engineer vehicles for testing and implementing electrification.
Those components include a family of high power, high speed e-machines packaged with John Deere Electronic Solutions (JDES) inverters. A compact speed adapter connects the e-machines to an array of existing pump drive and gearbox offerings to provide flexible power generation or traction drive solutions.
First shown in March 2020 was an electrically-driven three-speed transmission to go alongside the previously announced single-speed electric gearbox. JDPS said the gearboxes have options to connect with existing on-highway or industrial axles via standard driveshafts. Transmission options include inline single or dropbox dual driveshaft outputs, as well as single- or multi-speed options, with parking brakes and disconnects.
Increasing drivetrain torque for mobile cranes
To increase the drivetrain torque when pulling away from rest and when accelerating, Finnish gearbox specialist Katsa has developed a two-speed drivetrain gearbox for heavy electric utility vehicles, including electric trucks, mobile cranes and other special mobile equipment.
With increased torque the electric motor can be selected based on nominal drive cycle, while peak torques are achieved with the gearbox. The gearbox has two ratios and speed ranges. First gear can have a speed reduction ratio between 2 and 4 : 1. Second gear is a direct drive 1:1 ratio. Gear shifting is mechanical via a pneumatic or hydraulic cylinder. A synchroniser unit is incorporated to ensure smooth engagement.
It can be used with motors up to 350 kW and there is a range of mounting options, including direct SAE flange or shafts.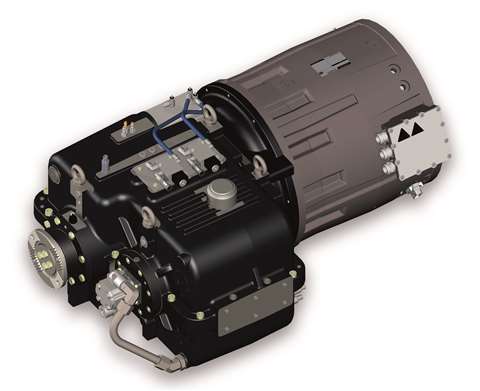 Kubota's new 300 hp diesel
Author: Mike Osenga
Kubota Engine America Corp. (KEA) has introduced the largest diesel engine in the company's history with the unveiling of the model S7509, a six-cylinder 300 hp unit. Production will be in Japan and the global launch is scheduled for 2023.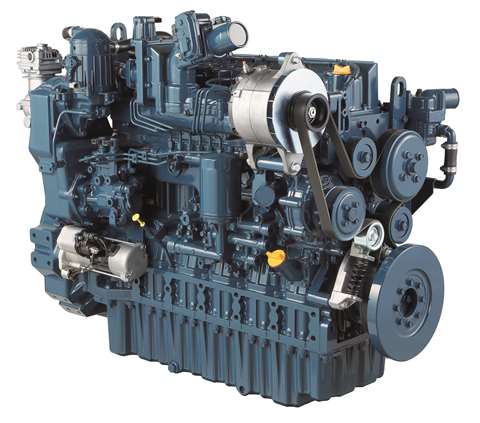 It is a 7.5 litre Tier 4 Final/Stage 5 diesel with a rated output of 306.2 hp (228.4 kW) at 1,900 min-1. Kubota says the new engine has a maximum torque of 1,324.7 Nm at 1,500 to 1,600 min-1.
Bore and stroke is 110 x 132 mm and it is a turbocharged and turbo-aftercooled design with diesel oxidation catalyst (DOC), diesel particulate filter (DPF) and selective catalytic reduction (SCR) aftertreatment system. Further, it has a direct injection, common rail fuel system.
The engine is 1,160 mm long, 713 mm wide and 987 mm high, excluding the DPF and SCR mufflers and the cooling fan. Dry weight is listed as 1,000 kg.
Other design features include 100 % power take-off at the flywheel and fan side, as well as a selection of flywheel housings and flywheels for OEM coupling. The exhaust side auxiliary PTO takes up to two hydraulic pumps in addition to the intake side PTO. The engine also has one-side maintenance and an automatic belt tensioner.
"This is the significant second step up in horsepower for Kubota's 09 series in recent years, following the launch of the 211 hp V5009 at ConExpo-Con/Agg in 2017, which began production this year," said Tomokazu Matsushita, KEA president.