Erkat helps users breathe easier
By Steve Ducker04 December 2017
German manufacturer Erkat has developed what it calls a simple, robust and reliable dust extraction system to meet the requirements of demolition companies, by bringing the mist as near as possible to the working environment for the driver to make the necessary adjustments.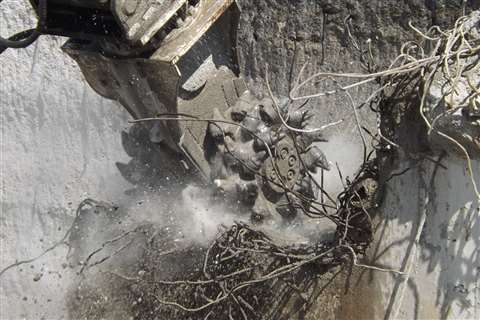 Using proven components, Erkat developed a universal console fitted with integrated water spraying nozzles. The mist is applied directly to the cutting head or the milling area, the hose is routed under the dipper arm for optimum positioning, and the water supply is fed via a separate tank outside the machine.
To achieve effective dust extraction, a water pressure of at least 15 to 20 bar is required. Optionally, the universal console can be fitted with an additional supply line hydraulic filter to protect the hydraulic motor.
This new system is already being used successfully with the transverse cutting heads of the company's ER 1500 and ER 1700 rotary drum cutters. Further models are under development.
For indoor use where water spraying is not possible, Erkat also offers a new extraction system for dry dust removal system. A mobile system with dust extraction air tubes provides optimal dust extraction directly where dust forms.
On construction sites in particular there is a backlog demand of protective measures as most building materials contain quartz. This triggers the disease silicosis, which can lead to lung cancer. According to a study in the USA, more than 700 people in Los Angeles alone die every year as a result of dust generated on construction sites.