Excavators: A closer look at bigger diggers
By Mike Hayes11 November 2020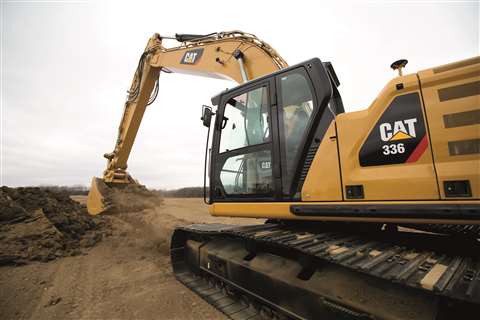 Machines built to move large amounts of heavy materials can still be both refined and intelligent…
It's fair to say that compact excavators have received the lion's share of press attention in recent years – largely due to the sudden proliferation of zero-local-emission machines being introduced to operate in urban areas.
Heavy projects, however, generally require bigger machines and there are some excellent models on the market – surprisingly agile and with benefits that include more operator comfort than ever before, as well as excellent stats for efficiency and productivity.
A case in point is Cat's new pair of 36 tonne excavators, the 336 and 336 GC. Cat says the new machines will offer greater operating efficiency, as well as lower fuel and maintenance costs, while offering operators greater comfort and improved performance.
The excavators are well equipped with technology; in fact, according to Cat, the 336 has the industry's leading level of factory-fitted gadgetry.
The manufacturer says this on-board Cat Connect technology can boost efficiency by up to 45% beyond the capability of the traditional grading process.
Operators can make use of the Cat Grade with 2D system, through the standard touchscreen monitor, to enhance the accuracy of the depth, slope and horizontal distance to grade. This system can also be upgraded to Advanced 2D or 3D.
Standard Grade Assist is another integrated system, which automates the movements of the boom, stick and bucket, allowing operators to dig with a single lever, making it easier to stay on grade.
Rapid weighing and real-time payload estimates are available through the Cat Payload, another on-board system with the potential to significantly increase efficiency.
Doosan has reduced the DX420LC-7's power modes to four, down from its predecessor's eight
Other pieces of tech kit integrated into the new excavators include E-fence, which prevents the machine from moving outside of set parameters, and CatLINK, keeping office staff up to date with jobsite operations, as well as providing customers with valuable machine data.
Synchronised power
Beyond this high technology that sits within the 336 excavators, Cat promises all important fuel savings – potentially up to 15%. The machines include Smart mode, which synchronises engine and hydraulic power to digging conditions, with engine speed being reduced automatically, when there is a reduction in demand for hydraulic power.
Cat also claims the new machines can reduce the overall cost of ownership, with the potential for extended service intervals (a 3,000-hour service life for the hydraulic return filter; a 1,000-hour service interval for the fuel system filters). All in, Cat says the new machines will reduce maintenance costs by up to 15%, compared with the previous series.
Inside the cab, operators could be pleased to see a choice of packages, with even the entry-level format including keyless push-button start, a 203mm touchscreen monitor and sound-suppressed ROPS structures.
Automatic climate control maintains a constant internal temperature, while more comfort comes in the shape of an integrated Bluetooth radio, with USB ports for charging today's obligatory electronic products.
Upgrade models boast tilt-up consoles for easy cab entry/exit, as well as (in the 336 only) 360-degree visibility, via images from multiple cameras mounted around the machine.
With a step up in weight, Doosan's DX420LC-7 is selling itself on a combined message of power and simplicity. Launched by Doosan Infracore Europe, the new machine is powered by a Stage V-compliant Scania DC13 diesel engine, which provides an impressive 257kW of power, making this the biggest engine in the segment.
Simplified operation
The engine's sophisticated after-treatment system means no exhaust gas recirculation is required; this, coupled with Doosan's Smart Power Control technology (SPC3) gives the excavator improved fuel efficiency to the tune of between 3 and 10%.
The DX420LC-7's predecessor boasted eight power modes, whereas the new model has just four. This simplification of operation, says Doosan, means less time spent considering power options and more digging. Operators now choose between P+, P, S or E in both one-way or two-way working modes.
When a machine of this size is working long shifts – and shifting a lot of material – incremental gains can add up, so the 2% gain in productivity promised by Doosan with the new machine is worth consideration. It comes from a combination of the SPC3 system and the new Doosan Mottrol main control valve. The company says the DX420LC-7 achieved the best performance for a machine of this size, across digging, lifting, swing and tractive forces applications, during testing.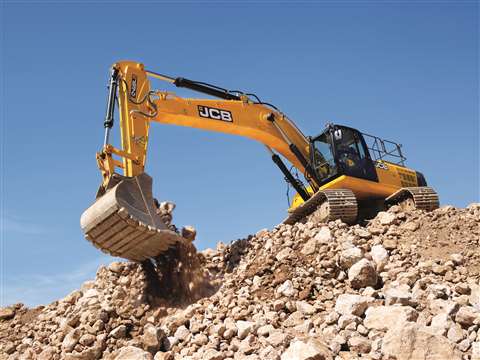 While the job of operating the machine has been simplified, the operator's surroundings have become more sophisticated.
New features inside the cab include a 203mm touch-enabled panel (30% larger than on the previous model), improved air conditioning system, two-step seat heating and an LED cab space lamp.
In terms of safety, while 360-degree cameras are standard, optional extras include multiple LED lights, ultrasonic detection of obstacles and side protection or a catwalk.
Competitive offerings
As with the smaller machine from Cat, the DX420LC-7's engine has an after-treatment system that helps reduce maintenance. For example, Doosan says the DPF has a regeneration interval of 60 hours (6 times longer than the predecessor model), and an ash cleaning interval of 6,000 hours. The operator does not even have to leave the seat to see the ash build up and check that a regeneration has been successfully undertaken.
The machine's performance can be tracked using the factory-installed DoosanCONNECT fleet management system, and Doosan has taken the step of offering customers free mobile connection on all its DX-7 generation excavators.
JCB's heaviest crawler excavator is the 37 tonne JS370, which is powered by a Tier 4 Final-compliant 210kW, 6-cylinder MTU engine.
While the machine's hefty 266 kNm bucket tearout makes it, according to the company, up to 12% more productive than its closest competitors, it also boasts a quickhitch system that improves the speed of attachment changes.
The JS370 has four work modes: Auto, Economy, Precision and Lifting. These performance modes increase the versatility of the machine, but it's structural strength is also worthy of note.
The machine has a reinforced boom and dipper, made of high-tensile-strength steel, with single-piece wrapper plates and internal baffle plates to increase lifespan.
The high-strength undercarriage on the excavator is a fully-welded X-frame construction for long-term durability, while the rigid upper frame provides enhanced support.
The machine's turret is then welded to both the upper and lower undercarriage frames, with stiff, durable doors providing further strength.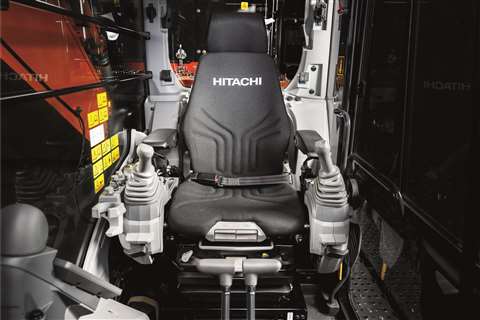 In terms of operator comfort, the JS370 has a cushioned boom and dipper ends, reducing shock loadings, protecting the machine and minimising impact on the operator. It also has six viscous rubber mounts to reduce noise and vibration.
A 70/30 front screen split gives the operator an enhanced view of the front right track, while a large laminated glass roof window promises good all-round visibility.
JCB is marketing the JS370 as an affordable and productive workhorse and says it has been designed to minimise maintenance and simplify servicing.
Improved up-time
To that end, its bonnets open and close with gas-assisted cylinders while the service bays are large and wide for easy access.
1,000-hour boom and dipper greasing intervals and a 5,000-hour oil life improve uptime and grease points and filters (engine oil, hydraulic oil and fuel) are centralised for safe and easy access.
Hitachi has four excavators in its next generation Zaxis-7 range, each with a Stage V-compliant engine.
According to the company, fuel savings of up to 20% over predecessor models can be achieved with the excavators in PWR mode, due to the HIOS-V hydraulic system, which also boosts efficiency in the swing, boom lowering and arm bucket roll-out.
Front speed has also been increased, along with engine output, while a new ECO gauge, which displays on the 203mm monitor, can help operators improve the fuel efficiency of the new machines.
Many of the features run across the new Zaxis-7 large excavator range, but looking at the machines individually, the ZX530LCH-7 has 30% greater traction force than the ZX490LCH-7, as well as increased steering force for manoeuvrability on sites with inclines.
The ZX690LCR-7 and ZX890LCR-7 models, built with reinforced parts, are primarily designed for the digging and loading of heavy materials.
Inside the cab, space has been increased and noise and vibration levels reduced – solid benefits for operators working in mining and quarrying environments.
Other benefits include the synchronised motion of the seat and console – to reduce operator fatigue – and the adjustable three-position console height.
Smart data integration
Hitachi says machine operation has been simplified through the ergonomic design of the console and switches.
In terms of fleet management, Hitachi's remote monitoring systems – Owner's Site and ConSite –send daily operational data via GPRS or satellite from the excavator to Global e-Service.
ConSite summarises the information in a monthly email, while the ConSite Pocket app shows real-time alerts for any potential issues.
On the new machines, two sensors also detect if the oil quality has deteriorated and the data is transmitted to Global e-Service. As well as giving customers peace of mind, the technology has the potential to lower costs by reducing maintenance and unscheduled downtime.
Diggers can always 'do more'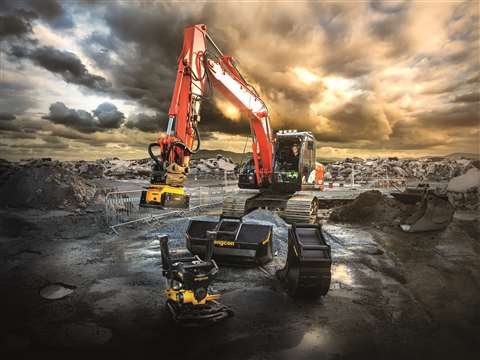 Tiltrotator manufacturer Engcon has launched its 'Do more. Earn more' campaign to highlight the benefits of excavators using tiltrotator attachments.
Those benefits, says Tiltrotator, include greater productivity, reduced costs, less fuel, enhanced safety for operators and a reduction in environmental impact.
The company adds that, in combination with numerous other tools, including its EC-Oil automatic mounting system, excavators can become highly efficient multi-taskers across a variety of applications.
Engcon's founder, Stig Engström, said, "'Do more. Earn more' will revolutionise digging all over the world and we want Europe, North America, Australia and Asia to follow in the Nordic region's footsteps and the progress they have made. But we do not want to stop there! If all the excavators in the world were to consider ways to improve efficiencies, there would be enormous benefits for the environment and also for the individual excavator operator, who has the opportunity to develop a more profitable business."
Taking a job to the Finnish
Finnish construction contractor, Maanrakennus Mykrä, recently added a Hyundai HX520L, 52 tonne excavator to the company's fleet, purchased from Finnish Hyundai dealer, Suomen Telakone.
The machine is now the biggest excavator owned by the company and is used for heavy demolition projects. The company also fitted a 28m-reach bespoke boom to the machine for specialist demolition work.
One of the first jobs for the HX520L was to demolish the main building of the Kullaa College of Forestry in Ulvila.
Juha Mykrä, CEO of sales at Maanrakennus Mykrä said, "25 years after purchasing our first demolition machine, we have bought our first excavator with a high-reach demolition boom. The comprehensively equipped demolition machine brings many welcome changes to the way we work."
He added, "Previously, we used an ordinary long-boom machine for high-work demolition, and we extended the machine's reach by 'piling up slopes'…However, the design [of the Hyundai HX520L] with its modular boom joint, makes it possible to swap to the traditional Hyundai boom onsite quickly – making it a very versatile machine."
The high-reach boom was supplied by UK-based Kocurek Excavators, a specialist in the supply of bespoke excavator equipment and machine modifications. Kocurek is known for modifications to demolition and materials handling machines.
The new machine will be taking on a number of tasks in addition to demolition work, and the company specified more modifications to the machine, including a Kocurek modified 'tilting' cabin which is 'demolition site safe', complete with automatic air conditioning and a heated air seat.
The machine also has an eight-tonne counterweight at the rear with an extendible undercarriage for additional stability. Hyundai's 360-degree AAVM (Advanced Around View Monitoring) safety system is also installed, with cameras located at the rear of the machine and on the boom. The company also specified an on-board dust suppression system for the demolition environment.
The machine's basic operating weight is 52 tonnes, however with the extra equipment – including a Daemo DMR800 sorting grapple – it is 65 tonnes. The HX520L is powered by a Scania DC13 084A, 6-cylinder, 12.7-litre, Stage IV engine.
Liebherr crawlers a hit in Sweden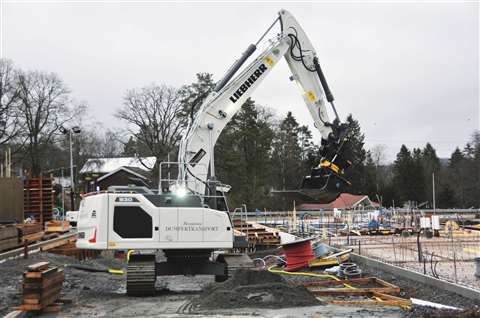 Liebherr's latest generation crawler excavators – Generation 8 – have been making in-roads into the Swedish market.
The German OEM said it completely revised the basic concept of the machines to boost their performance and increase comfort for operators.
The series incorporates higher engine power and a heavier counterweight, allowing for higher bucket capacities.
At the same time, according to Swedish operators, fuel consumption is kept low.
The R 924 crawler excavator, owned by Eggvena Shakts, was the first generation 8 excavator to be delivered on Swedish soil. The operator, Benny Anderssons, said the machine's average fuel consumption was as low as 9.9 litres per hour.
Another Swedish contractor, Borgstena Dumpertransport, purchased an R 930. One of the company's operators, Anders Bjelkenberg , said the excavator produced "eight days of work on a full tank", reckoning fuel consumption averaged approximately 11 litres per hour.
The praise Liebherr has received for its Generation 8 machines seems to have had a beneficial effect as, since last year, sales of Liebherr excavators have doubled in Sweden.
The series comprises seven models – R 922, R 924, R 926, R 930, R 934, R 938 and R 945, with all engines complying with the requirements of EU emission stage V.
Topcon's connective qualities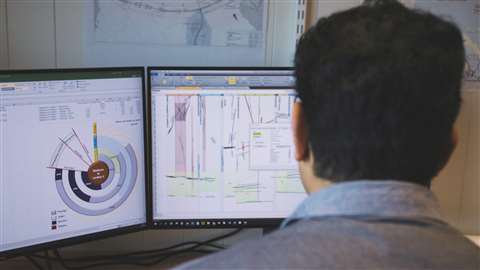 Nordøyvegen is one of the biggest civil engineering projects in Norway's history, with a plan to connect five islands in Ålesund Municipality to the mainland in Møre og Romsdal county, through a network of tunnels and bridges.
The cornerstone of this construction project is the excavation of rock and the subsequent use of the material to create sea fillings, which act as a stable base for the bridges.
The rock used for these fillings is actually being retrieved from the tunnels currently being worked on, meaning all material is locally sourced.
The most challenging aspect for main contractor Skanska is ensuring enough blast rock is retrieved to create a base, and that it is extracted according to schedule.
If this part of the build is held up or delayed, then it will have a huge knock-on effect further down the line, hindering teams engaged in sea filling, foundation work and bridge building.
When creating roadways that connect land mass divided by bodies of water, a stable base is vital to the construction process, meaning that the excavation, production and transportation of blasted rock is arguably the most important step in the whole project. It's therefore imperative that Skanska has an optimised digital workflow. This is where Topcon's MAGNET Project software comes in, as the platform can be used to manage, plan and evaluate the entire project.
MAGNET Project provides everything needed for an entirely streamlined digital earthworks workflow, giving the contractor the ability to plan, manage and follow-up the project, evaluate different production options and costs, and create realistic and accurate earthwork plans visualised on a map.
The software also supports line-of-balance scheduling through the use of a unique time-versus-location diagram, with mass haul optimisation and an interactive map of the construction site integrated into the tool.
This allows for location-based construction planning and scheduling, helping project managers to find the most efficient construction sequences and avoid production interruptions, resource clashes and construction delays all in one go.
This kind of application, says Topcon, can save an abundance of time on jobs as big as Nordøyvegen as well as boost workflow and project efficiency.
Grzegorz Gucwa, production manager at Skanska, said, "A great advantage is the ability to gather all your information in once place.
"You can check in on what's happening at different locations daily. You can also see how various activities interact and progress and, above all, it helped us plan the project starting from an early tender stage.
"Now, in the construction phase, it helps us realise our strategy and lets us keep tabs on all daily operations."
This article first appeared in the October 2020 issue of Construction Europe. Subscribe to digital issues of the magazine here.