Faber Bau buys Goldhofer semitrailers
By Christian Shelton14 July 2017
German civil engineering and construction company Faber Bau has expanded its semitrailer capacity with the purchase of two Goldhofer low loader semitrailers: a STZ-L 3 A RM and a STZ-L 4 A RM.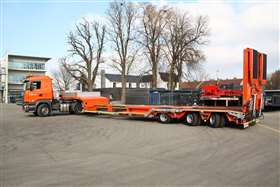 The two vehicles, with 3 and 4 axles respectively, have quick-change cargo deck systems and remotely controlled force-steered axles, designed to provide optimum flexibility and manoeuvrability.
According to Goldhofer, the development of the four-axle semitrailer, which has a payload of 42 tons, presented its engineers with a number of challenges. The main requirement was to have a low loader with an extension capability to achieve a loading length of up to 12.80 metres. At the same time the overall length was not to exceed 16.50m so as to avoid the need for transport permits. "Meeting both these requirements in one and the same vehicle was a real challenge but, in close consultation with our people, Goldhofer's engineers mastered it brilliantly," said Markus Kasper, head of Mechanical Engineering at Faber Bau. "The extendable deck is a big advantage for us because we can use it to move big asphalt pavers, and not just the usual excavators, wheel loaders, finishers and rollers." Faber Bau chose a Scania R 730 as the tractor for the STZ-L in this configuration.